Time & Date:
November 14, 2005 @ 2:41 am
Categories:
You don't see many chicken fights these days. At least at my age you don't see many. In fact, it took me a few minutes to even remember what they are called. Of course, the two drunk girls are making out, so evidently this is a little more than just a good ol' fashion chicken fight. They're always a lot more fun when you have a couple of drunk hotties going at it. It's even more fun when one of them is sitting on your shoulders, her legs wrapped around your neck.
I've never seen any nudity during a chicken fight either, so this is a rare find. And the chances that we get a double titty slip of two very nice breasteses is even more rare. The guy underneath, looking up the girls shirt has the right idea, though. I picture him saying, "Dude, this is totally worth it".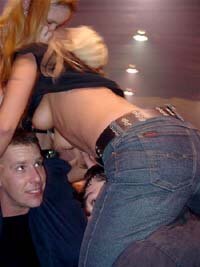 Free Sites:
Uncensored Drunks / Dumpster Sluts / Home Made Videos
Sponsored By:
Wild College Parties
2 Responses to "Oops! Double Titty Slip During Drunken Chicken Fight"
Benny Said:
January 1st, 2006 at 1:34 pm

Isn't chicken fight when two chickens fight, and "chick fight" when two ladies fight?

yo Said:
October 2nd, 2007 at 10:17 am

looks more like they're making out than fighting
Leave a Comment