Time & Date:
May 16, 2006 @ 2:30 am
Categories:
A couple of drunk hotties, like we have here, hanging out at a dive like that, totally stick-out, like a couple of rich gals in the ghetto. I'm sure they were both, or their boyfriends, were fighting off drunk and horny dudes every other minute. Especially when they're wearing some sheer and sexy blouses, with no bra. That's probably why she's so tired and laying on her girlfriend's lap.
As I'm sure you have already noticed, this drunk blonde cutie has laid her head down to rest, only to accidentally let her titty slip out of her blouse. Apparently, she nor her girlfriend, stroking her hair and yapping on the phone, notices a thing, but the photographer does. Somewhere, she's told her titty is slipping and she goes to cover-up, but covers the wrong boob. God, I love braless-careless women.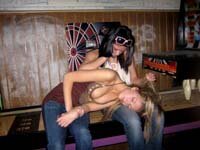 Free Sites:
Rate Nude Girls / Home Teen Series / Sexy, Drunk & Funny
Sponsored By:
Candid Voyeurs
Leave a Comment