Time & Date:
August 15, 2006 @ 5:41 pm
Categories:
To be honest, I don't think I would have kahones to sneak-up behind a chick, and rip her bikini/top open, exposing her tits to everybody around. Of course, I would be a willing participant to have ring-side seats for such an event. Lucky for the rest of us, that can't bring ourselves to rip a girl's clothes off in public, that we have guys that can do it, like our friend below.
There's no shame in his game. He's grinning from ear-to-ear. She doesn't seem to mind it all that much, either. I mean, she's laughing about the situation. Unfortunately, she covered her tits before the camera could take a shot, but she still looks damn hot. I can imagine those perky, little tits of hers look just as good of the rest of her.
Apparently, the Eminem wanna-be, in the corner, is too cool to be getting half-naked with a couple of cute college party girls.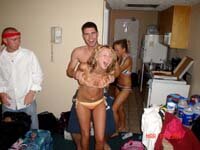 Free Sites:
Home Made Videos / Stile Project / Drunk College Pics
Sponsored By:
Stupid Drunk Coeds
2 Responses to "Drunk College Girl's Bikini Ripped Open"
Jack the Gripper Said:
August 15th, 2006 at 7:12 pm

Is that nipplage I see between the index and middle finger of her right hand? I think she's one of those broads with light pink nipples you can barely see.

Anon Said:
January 30th, 2007 at 4:09 pm

That girl's name is Ciara
Leave a Comment