Time & Date:
September 30, 2006 @ 11:07 pm
Categories:
I really prefer women with smaller tits, but the apparent drawback of having tiny tater tots are a lot of downblouse shots, of their exposed little boobies. Obviously, that's not a drawback for us, but I can see where a chick might not be all that content with that situation. Especially, after they're already shitfaced, where checking to see if their nipple/tit has slipped out.
This drunk dancing club girl seems to be getting so jiggy-with-it that her little tit is about to pop right out of her dress, but I think she's in the clear from a full-on titty slip, because her boobies aren't big enough to make it that far. Unfortunately, for her, her dress top/blouse is loose enough where we get a nice, little downblouse shot of her tits/nipples, whatever. It looks like she has some really big areolas/nipples from the little bit we can see. I think I need to see more to make an official judgement.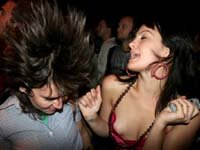 Free Sites:
Exhibitionism / Nude Club Pics / Amateur Made Videos
Sponsored By:
Crazy Club Chicks
3 Responses to "Downblouse Nip Slip on Dancing Club Girl"
Murdoch Said:
October 1st, 2006 at 5:35 am

Good pic, you can tell she's really lost herself in the groove. She's also got some itty bitty titties on her.

I must admit though, I couldn't help wondering what the deal is with the other girl's crazy hair. Maybe it was theme night at the club.

Saqib Abbas Said:
October 3rd, 2006 at 9:16 am

i like it ……………simply

Karen Said:
December 14th, 2010 at 7:31 am

Trust me, it happens if you have fake boobs too. I had "a little work done" on mine and I noticed this hapen a couple of times.
Leave a Comment