Time & Date:
February 1, 2007 @ 6:01 pm
Categories:
This is woman who needs no introduction. These days, Tara Reid is kind of a sorry excuse for a "celebrity", since she's now mostly famous for being stumbling drunk somewhere and accidentally exposing her tits or ass. In this photo, she's still looking pretty hot, so I'm not sure how long ago it was taken. Either she's recently cleaned herslef up, or this was taken before she became a lush.
Obviously, this photo is not your traditional nip slip, like we're used to seeing, but definitely inadvertently exposing her nipples to the public. Even though her original nip slip showed us all her jacked-up boobs, I still enjoy looking at them. After all, it's STILL Tara Reid's tits!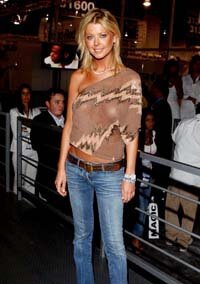 Free Sites:
Celebrity Nipples / Celebrity TGP / Real Celebrity Sluts
Sponsored By:
Mr. Skin's Nude Celebrities
5 Responses to "Celebrity Nipple Slip - Tara Reid"
Leave a Comment