Time & Date:
March 26, 2007 @ 9:39 pm
Categories:
I don't know what's going on here. I think she's doing some kind of weird booty dance, while hanging over the DJ booth. If the chick in the yellow, dancing behind our slipee, was a dude, I would think they were doing it on the dance floor. Apparently, she doesn't notice her very visible nip slip, because it's her whole titty hanging out in the open. I would think she would be aware of that.
I always love when chicks go without a bra on, but when there's barely any material, loosely clinging on to those braless bosoms, with plenty of possibilities of accidental exposure; well, that just drives me crazy. I think I've seen more nip slips with women wearing tops, such as this one. The great thing is that their tits/nipples easily can slip out each side. I love where women's fashion is going; they just keep getting closer and closer to being completely naked.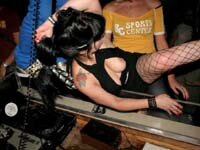 Free Sites:
Exhibitonism / Stile Project / Teen Amateurs
Sponsored By:
Sex in the VIP
2 Responses to "Drunk Club Girl Slips Her Nip While Dancing"
Matthew W. Said:
April 19th, 2007 at 9:40 pm

Is this site dying? It sure seems that way. You used to update quite a bit, and this was one of my favorites. I keep checking back, to find nothing new :*( What have you been working on instead?

It'd be nice to see a couple new pictures. We miss em.

guide Said:
January 4th, 2009 at 10:37 am

You have a great website. Keep up the good work.
Leave a Comment