Time & Date:
September 15, 2006 @ 6:18 pm
Categories:
I've alwaysed loved when club girl cuties get all into their dancing, at the clubs. They're off in their own little world, shaking and gyrating those hips, and moving all sexy like. They may or may not know that there's a swarm of drunk and horny dudes gathering, all drooling over one girl, but these dancing girls always keep-on going. I think that's when women are at their sexiest; when they're feeling it all over their hot, little bodies and not holding back even a little bit.
It appears this drunk club girl is dancing, and caught-up in the moment, but there are a lot of possibilities, since we can only see the top half of her body. For instance, she could be taking a little mustach ride, judging by the look on her face, and her arms swung-up, over her head, like that. But, whatever she's doing, her bikini top has loosened and is slipping off her cute, tiny tits, and that's what we're here for.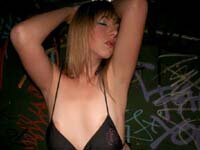 Free Sites:
Wild Amateurs / Peep Hole Cams / Floppy Tit Babes
Sponsored By:
Drunk Club Cuties
Time & Date:
August 21, 2006 @ 9:30 pm
Categories:
Ok, it's time to bust out your magnifying glass for this nip slip, or actually more of an areola slip, in this case. It's either the lighting in the photo, or this drunk college chick has very light-colored nipples. If you look closely at her left boob (her left, your right), you will notice her nipple is just barely hanging-on to the inside of her bra, revealing her areola. I know it's not a full nip slip, but she's pretty sexy, so I'll take what I can get.
I don't know about you, but if I were that dude she's grabbing for, I would drop that beer and be putting my hands to better use, and more than likely, head for a dark and private corner or room. If a girl knows that there are people watching, she will let you get only so-far, but sometimes they get a little turned-on if you're secretly doing it, where no one can see what's going on, but the chance of getting caught sends them over the edge.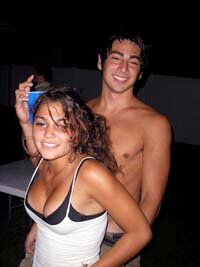 Free Sites:
Uncensored Drunks / Peep Hole Cams / Sexy, Drunk & Funny
Sponsored By:
Party Pimps
Time & Date:
July 20, 2006 @ 1:11 am
Categories:
I'm betting the cute party girl, with the antennas, has a beautiful rack underneath that bikini top. She's showing us enough cleavage where, if we think and imagine it really hard, we can get a pretty good idea of what those boobs of hers looks like. She even inadvertently took it a step further, by accidentally letting her nipple/areola slip, so we can now even get a better mental image. I'm liking what I'm imagining, too.

Evidently, they're at, or getting ready for some sort of costume party, though, I'm not quite sure what they're supposed to be. Then again, any half-naked (or fully naked) woman can wear whatever the hell she wants, because these two party girls won't be getting any arguments from the men folk. Especially, if their titty/nipple is slipping out of their top.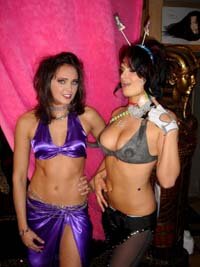 Free Sites:
Uncensored Drunks / Exhibitionism / Sexy, Drunk & Funny
Sponsored By:
Crazy Club Chicks
Time & Date:
July 18, 2006 @ 7:53 pm
Categories:
Once in a great while, you attend a wild party where the booze is flowing and the cute girls are horny. Just mixing those two ingredients (alcohol, horny girls) can equal one hell of a party. It's rare, but it does happen, and that's when a couple of the more loose women get so drunk that they start putting on a little lesbian sex show, for both themselves and all the boys cheering them on. As you can see, these two wasted coeds are about to go the distance. One girl's boob is about to pop right out of her bra, as she's fingering her girlfriend's pussy.
I used to live in a very well-known party house, in my city, and on a number of occasions, both straight and lesbian couples would break into some sort of sexual performance, right in front of the whole party. The strange thing was it became such a regular thing amongest our circle of friends and party pals, that no one cheered them on. No one gawked as they gratified eachother. They just went along and did there thing, as if no one was in the room.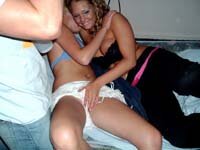 Free Sites:
Home Made Videos / Peep Hole Cams / Drunk College Pics
Sponsored By:
Wild College Parties
Time & Date:
July 12, 2006 @ 11:45 pm
Categories:
I loooooove them club girls! It's the whole atmosphere, or ambiance, of the night club environment, that really adds to their sex appeal. I mean, having a hot body and some cool, skimpy clothes is the main ingredients, but you throw that hot, little bod up on a dance platform, with all the lights and booming beats, and watch her shake her tail feather, she's going to become all the more appealing.
If you look closely, on the girl-in-black's slotted top, you will notice her areola/nipple peeking out, into the public. It might have something do with the dude holding her while her girlfriend gropes her tits, but it's those strategically slotted top that ultimately reveals her nipple(s). I guess a top like that would be perfect for sneaking a little sucky-sucky here and there.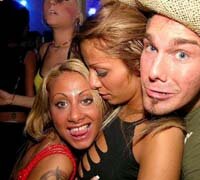 Free Sites:
Uncensored Drunks / Stile Project / Nude Club Pics
Sponsored By:
Sex in the VIP
Time & Date:
June 27, 2006 @ 8:42 pm
Categories:
I'm only guessing that this is some sort of formal event, and not a full-on bar or pub. I see a few tuxedos in the background and the lights are a bit bright for a dingy bar. More than likely, it's some sort of charity or auction, or some sort of function where rich people get dressed-up and spend a shitload of money for a dinner.
Definitely the cutest one of the bunch, the girl in the middle has one of her nipples slipping right out the top of her dress or blouse. She appears to have tiny tits, so I can easily see how her strapless attire can slip down over her little speed bumps without much trouble, drunk and careless, or not.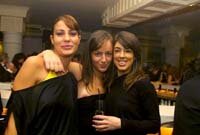 Free Sites:
Rate Nude Girls / Exhibitionism / Adult Ipod Videos
Sponsored By:
Drunk Girls in Public
Time & Date:
June 20, 2006 @ 10:25 pm
Categories:
I think Jessica Alba is one of the most beautiful women walking on the face of this earth, right now. I've been a fan of hers since I saw, "Never Been Kissed", with Drew Barrymore. I believe she broke into stardom after appearing as the lead role in the television series, "Dark Angel", but her acting credits go back as far as 1994. Of course, I'd be lying if I said Jessica Alba is a great actress, but she's very easy on the eyes, so I can sit through just about anything she's in.
I just hope, one day soon, that Jessica Alba's career begins to tank, just so she'll be forced to go into softcore porn to keep the paychecks coming in. I mean, we have been seeing more and more of her lately. Unfortunately, looking her film schedule, she has a LOT of flicks coming out in the near future, so we're going to have to wait out her career to see her get naked. It's bittersweet situation; we get to see more of Jessica Alba, but not "MORE" of Jessica Alba. At least, not yet.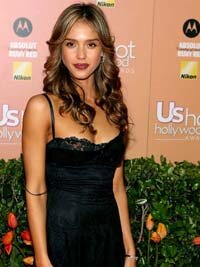 Free Sites:
Celebrity Nipples / Celebrity Movie Blog / Nude Celebrity Post
Sponsored By:
Paparazzi Filth Exposed
Time & Date:
June 15, 2006 @ 1:20 am
Categories:
To me, it seems kind of weird when two chicks become dance partners, because there's no men around. It doesn't bother me, or anything, but could you imagine if dudes did the same thing? Unless you're a regualr at the "Blue Oyster Bar", that sort of thing just doesn't happen, lucky for us. It's an unwritten rule; men just don't touch other men, unless it's for sports, of course.
Judging by the angle and position of the crowd around these two drunk club girls, I'd say they're in embraced in a dip. With no bra under that flimsy, little top of hers, and bending over backwards, I don't see any other outcome besides her nipples/tits being exposed. I blew this photo up a bit so you could see her nipple/areola better. It might've been a full titty slip on her way up, by the looks of it, but the photographer caught her before hand. It's still a great downblouse shot, though.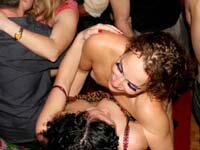 Free Sites:
Drunk University Girls / Dumpster Sluts / Nude Club Pics
Sponsored By:
Sex in the VIP
Time & Date:
June 13, 2006 @ 1:18 am
Categories:
It looks like a night out with the girls, getting dressed-up all sexy (maybe even a little skanky

), hit the clubs, have a few drinks and do some dancing. After a few more drinks, maybe do some dirty dancing with one of their girlfriends. That always gets our attention. And before they know it, they're on their backs, legs spread, in some strange dude's dirty apartment. A night that they usually hope they forget.
I was always under the impression that it was the mandatory dress code for women to wear all black, when they're out on the town. This drunk, ethnic cutie is standing out in more ways than one. Besides her green dress while surrounding by girls in black, she's also letting her nipple slip out the top of her dress. Now, if she just leaves her boob swing freely, she won't have to do a drunken lesbian dance to get the men's attention.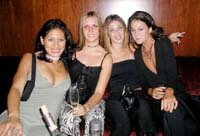 Free Sites:
Uncensored Drunks / Home Made Videos / Night Club Galleries
Sponsored By:
Drunk Club Cuties
Time & Date:
May 22, 2006 @ 3:14 am
Categories:
At first, I was going to say that this party girl was a bit more sophisticated than what we usually see here, but when a woman wears an open blouse, she's even more susceptible to a nipple slip than most. And how I could I really say that this one's classier when her nip has slipped out into the public, like all the rest? I just can't. I won't!
It appears that both this blonde party gal and her boyfriend have a thing for showing off their chests. Like, "Hey! Look at me!" The only difference is that with her, it's hot; with him, it's not. Although she obviously had a boob job to make her little tits, that perky, but she still have a nice set of torpedos on her, nonetheless.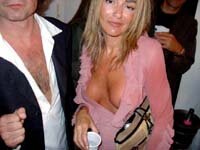 Free Sites:
Uncensored Drunks / Home Teen Series / Teen Rave Pics
Sponsored By:
Candid Crush
« Previous Page | Next Page »