Time & Date:
October 17, 2005 @ 1:33 am
Categories:
I've been wanting to post this photo for a while now. I just love getting just a glimpse of the curves of that club girl's great ass. Then, throwing the other drunk hottie in there, acting like she's licking her friend's pussy, just pushed it over the top in the 'hotness' category
Beautiful girls, like these two, actually do get this freaky in public, at the clubs. In fact, this little display of sexuality is weak compared to what I've seen while partying at the night clubs. This photo is still hot as hell, though!
Free Sites:
Viva Voyeur / Drunk Galleries / Night Club Galleries
Sponsored By:
Sex In The VIP
Time & Date:
October 14, 2005 @ 7:42 pm
Categories:
I ran across this very hot video the other day of awesome upskirt and ass shots of wild party girls bustin' a move. I have no affiliation with this video or it's makers, but trust me, it's pretty hot. Enjoy.
Time & Date:
October 12, 2005 @ 6:06 am
Categories:
This one is for those of you who like nothing more than to look up and see a nice and big, phat, juicy ass. I don't want to say 'fat', because she obviously isn't fat, but just a 'big girl'. She looks like she kinda has that club girl/rocker vibe going on too, which makes me think she's a little on the slutty side.

Have you ever had a girl with a big, juicy butt, just shake it and jiggle it in front of your face? As long is it's not cottage cheese, it's a beautiful site! It makes you want to just take a bite of her ass. If you've ever been with a girl with a big butt, you know what kinds of other fun you can have with it too.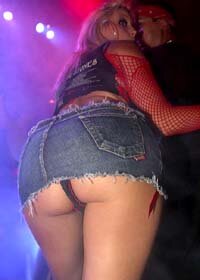 Free Sites:
Dumpster Sluts / Amateurs Gone Wild / Amateur Voyeur Movies
Sponsored By:
Public Thongs
Time & Date:
October 3, 2005 @ 10:33 pm
Categories:
I think it's totally hot when girls wear them jeans with the waistband cut off, and then just the top of their thong hanging out, over their hips. It's such a tease and it makes me definitely want to see more of her. I don't know how true it is, but I was once told that Mariah Carey, of all people, started that style. Either way, I'm diggin' it.
I'm not sure if this hot club girl was intending to show off her thong this much or not. It looks like the way she's bent down, she accidentally is loosing her jeans. And talk about the site she's left us with…man, it's a nice mental image.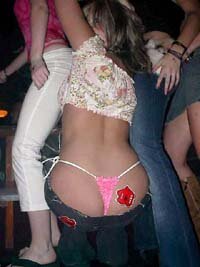 Free Sites:
Amateurs Gone Wild / Dumpster Sluts / Peep Hole Cams
Sponsored By:
Hips & Thongs
Time & Date:
September 29, 2005 @ 2:04 am
Categories:
I don't know about you, but I love a nice, hot ass wiggling and jiggling in front of my face. It's even hotter though, when I get to see it when a chick doesn't even realize we're getting a gander at the goods.
This booze drinking, club girl has a great ass, with a nice, non-distracting thong for maximum viewablility of that tight, shaking ass. I'm not sure if this is what she had in mind when putting together her outfit, whether or not us horny, perverted dudes are looking up her dress while she dances at the clubs. Either way, she did a nice job making it easy for us to enjoy.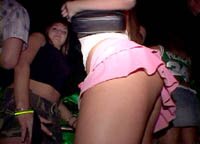 Free Sites:
Uncensored Drunks / Teen Rave Pictures / Indie Nudes
Sponsored By:
Party Girl Upskirts
Time & Date:
September 28, 2005 @ 8:27 pm
Categories:
Can you imagine, being a man, walking into your bathroom to find some drunk hottie passed out on the floor, ass up and face down? I mean, just looking at this picture I want to reach out and grab on to that tight, round ass of hers! And then, for her gaurd to be completely down, the temptaion of taking advatage of that situation would just be too much. I think I would run out screaming! Then I would be jerking off about the whole next week.
I used to party with this hot model. As I've said before, she could party hard. I don't know how many times I've found her literally passed out, while still sitting on the toilet. Pants down, around the ankles and all. It was hilarious everytime too! And no, I never took advantage of those situations.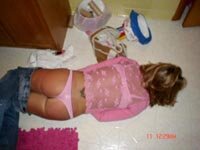 Free Sites:
Drunk Galleries / Sleeping Sex / College Dorm Spy
Sponsored By:
Wild College Parties
Time & Date:
September 21, 2005 @ 11:33 pm
Categories:
I know you're really not seeing anything extremely special with this picture, but there's just something really hot about it. Maybe it's the fancy, sassy thong she's showing, or maybe it's the fact that you *know* that that ass crack leads to something very beautiful. That's right, a hot, sexy ass!
I know the dude dancing with this chick just can't wait to get into those pants. Especially when she's teasing him like that. She's just b egging for it.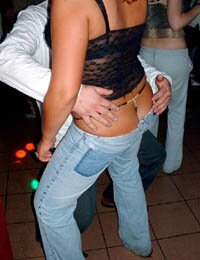 Free Sites:
Naughty Amateur Movies / Wild Aussie Parties / Night Club Galleries
Sponsored By:
Hips & Thongs
« Previous Page |