Time & Date:
May 3, 2007 @ 11:02 pm
Categories:
What is it about about cute college coeds, prancing around in tiny bikinis, getting drunk that's so appealing? Actually, I think I just answered my own question. I mean, that's damn-near the perfect girl. We just need to throw some promiscuity into the mix and voila! The perfect girl. For that day/night, anyway. Get them around enough cheering men and those tiny bikinis might just actually come off completely in front of the whole crowd.
I know there's not much of a nipple slipping on this one, but the areola making it's appearance is always a good sign that a nipple might show-up very soon. Plus, drunk party girls on boats bring out the exhibitionist in them for some reason, but I'm not going to argue with it. I'm a firm believer that all women should express themselves with nudity! Well…maybe not ALL women. There's a few out there that should keep themselves covered as much as possible.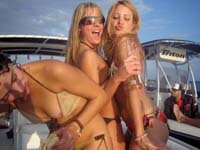 Free Sites:
Uncensored Drunks / Party Galleries / Drunk College Pics
Sponsored By:
Girls Gone Wild
..:: Official Web Site
Time & Date:
April 24, 2007 @ 9:44 pm
Categories:
Ah, yes. There's nothing like getting drunk on the beach, under the piping hot sun. Of course, I'm being sarcastic, but a hot sun has never stopped from drinking before. Apparently, it's not stopping these cute and wild honies, either, which is great otherwise we might not be seeing her nipple/titty slipping out of her bikini right now.
The beach in my town, we are not allowed to drink on the beach, so that would be a luxury for me. No thongs allowed on the beach either! What kind of beach doesn't allow girls in thongs or drinking? Mine, apparently, but that's not the point. The point is I rarely get to see this drunk girls on the beach.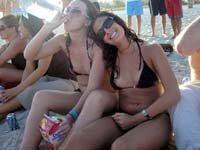 Free Sites:
Drunk Galleries / Nipple Post / Big Floppy Tits
Sponsored By:
Crazy Drunk Chicks
Time & Date:
July 2, 2006 @ 6:57 pm
Categories:
I must be out of the loop, because I didn't even know Courtney Cox had a baby. Lucky for us, she did have a baby, otherwise we may have never gotten a glimpse of Courtney Cox's tits. I always thought Courtney has a nice rack, but I was always under the impression that she had a boob-job. As you can see, those puppies are all-natural, and also very nice. Especially after spitting out offspring.
I remember Courtney Cox when she made her TV debut, as a Bruce Springsteen groupie, invited on stage to dance, during, "Dancing in the Dark" video, back in the mid-80s. She went on to play Alex Keaton's (Michael J. Fox) girlfriend in the popular 80's TV show, "Family Ties". She did a lot more work, but I don't remember her showing up again, until, "Ace Ventura: Pet Detective", then, of course, her big hit show, "Friends", which made her a star. I believe it was her role in the "Scream" triolgy that made her virtually a household name. Then, for some reason, she ended up marrying and reproducing with ultra-weirdo, David Arquette. Hence the hyphenated name, Courtney Cox-Arquette. Who the hell knows what goes through the minds of women when it comes to love. We shall see if their marriage lasts, though. Most Hollywood marriages never make it. Feel free to keep showing us your boobs, though, Courtney! We like 'em a lot!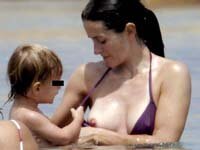 Free Sites:
Celebrity Nipples / Celebrity Movie Blog / Nude Celebrity Post
Sponsored By:
Mr Skin's Nude Celebs
Time & Date:
June 21, 2006 @ 4:15 am
Categories:
You know this chick is a real party girl. When a drunk girl straddles some dude, while in her loose bra and panties, on the beach, in front of a crowd, you know a girl like that doesn't fuck around when it comes to having a good time. I've dated a few girls that were really wild, like this and there were nights with them that I wanted to last forever.
To me, it appears they're playing some sort of drunken beach game, like something you would see on MTV's spring break. Either that, or they're with some chartered group of young couples on some tropical location, where they can be drunk and naughty and still show their face at their jobs or in public, when they return. But when you break it all down, who really gives a shit what they're doing? There's a young, drunk female accidentally letting her nipple(s) slip out in public. And that's what we're here for.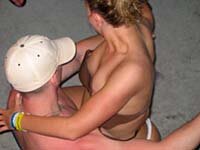 Free Sites:
Drunk Galleries / Dumpster Sluts / Adult Ipod Videos
Sponsored By:
Party Pimps
Time & Date:
June 13, 2006 @ 9:46 pm
Categories:
There's no sign that this girl is drunk, so I'm going to assume that she's not. And you got to love a girl who likes to play her video games, braless. You would think her tits jiggling around freely would be distracting for her, and us, but apprently she has no problem with it, and I most definitely don't have a problem with it.
Something tells me that this gamer chick really doesn't care if her titties have slipped out of her top. I mean, look how loose it is. She had to realize that her tits would be, at least, somewhat exposed to the public, in a less obvious way. Her boobs aren't big enough to stay behind her top, anyway, but I'm digging her cute, little titties. I love it when girls have their nipples pierced, as well.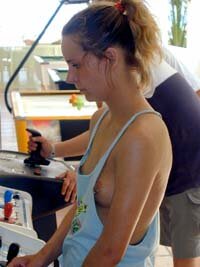 Free Sites:
Drunk Galleries / Peep Hole Cams / Accidental Voyeur
Sponsored By:
Candid Crush
Time & Date:
June 8, 2006 @ 2:23 am
Categories:
I can never figure out why when girls get drunk, they flash their tits and/or a couple of their girlfriends will either grab their tit or suck on their nipples. Of course, I enjoy seeing it as much as they next guy, but women's thought process just baffles me, sometimes. I mean, when I get shit faced, I don't pull down my pants and have a couple of my buddies start juggling my nuts in their mouth, let alone in front of a camera!
Case in point, this busty, drunk blonde lifts up her shirt/bikini for the camera, her two drunk girlfriends start sucking on her nipples. It's the perfect setting. A vacation warm, tropical island with just the girls. Their whole trip consists of drinking on the beach all day, hitting the clubs at night, getting laid by some random guys, and slipping in a few hours of sleep, here and there. Sounds like a great trip to me! Especially if I'm one of the lucky dudes that gets to go home with them.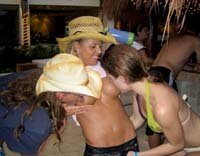 Free Sites:
Drunk Galleries / Dumpster Sluts / My Drunk Girls
Sponsored By:
Girls Gone Wild
..:: Official Web Site
Time & Date:
May 20, 2006 @ 7:27 pm
Categories:
I've always thought bikinis at the beach are such a cruel tease for men. I mean, you have this beautiful girl walking around with only enough material just barely covering where we all really want to see. You know, to get the full picture. Then, men are shamed if they look at her. What kind of crazy shit is that? They're only a tug-on-the-bikini-string away from being completely topless, and we are only men. Women should expect to deal with us drooling all over them.
I'm not exactly sure what's going on here. Did she undo her top herself, did her top accidentally come untied, or does the dude grinding into her ass from behind, have sneaky fingers? No matter how you look at it, it turns out as a very pleasant surprise. Especially, since she has such a great, all-natural rack. I think I would get hypnotized by watch her bare boobies bouncing and dancing around.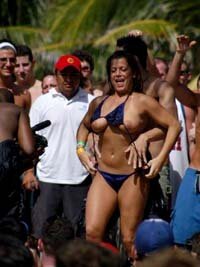 Free Sites:
Dumpster Sluts / Peep Hole Cams / Exhibitionism
Sponsored By:
Party Pimps
Time & Date:
March 9, 2006 @ 1:30 am
Categories:
A lot of you have probably seen this photo before, floating around the Net. There's a good reason for that; because she's a total cutie and she's flashing her great pair of all-natural boobs. I know it's not a nipple slip, but trying to keep up with the of nipples and tits theme, I decided this girl was just too good not to post.
Since Spring is finally coming in the U.S., that means Spring Break is also coming up. Another reason I wanted to post this girl, becasue she is obviously a spring breaker showing of her 'dirty girl' side for the rest of the week. They say 73% of girls have sex on spring break vacation, and almost 20%, with multiple partners. Those are some pretty good averages.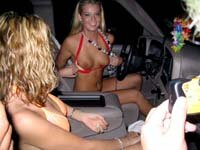 Free Sites:
My Drunk Teens / Exhibitionism / Drunk College Pics
Sponsored By:
Endless Spring Break
..:: from Girls Gone Wild
Time & Date:
March 7, 2006 @ 4:18 am
Categories:
I'm not usually attracted to fake tits, but I tend to make an exception when they're so big and hard, they're busting out of a girl's bikini. A tit's a tit, and if they're in plain site, I'm going to check them out no matter if they're fake or not. Especially when the girl looks a bit schnokered and has all the right curves. Being accompanied by a cute, little Asian honey always helps too.

Too bad the photographer didn't continue to follow this girl around more, because I bet her nipple completly slipped out, eventually. Unfortunately, we only get a tease, with her areola just barely coming out the top. Those massive mammaries sure look like they are about to explode out of her bikini top, though. If you look carefully, you can see the outline of her nipple/areola, through the bikini, on her other boob.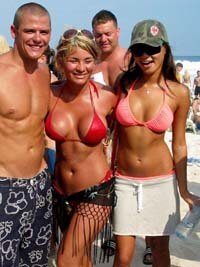 Free Sites:
Rate Nude Girls / Dumpster Sluts / Accidental Voyeur
Sponsored By:
Candid Crush
Time & Date:
January 26, 2006 @ 8:59 pm
Categories:
I know most of the girls at events such as this eventually go topless at one point or another. What would be the point of going to spring break and college boat parties, like Lake Havasu, and others around the US and maybe even the world. Sure there will be drunk girls in bikinis, but you can get that at most beaches. It's the fact that drunk girls get so horny and uninhibited. They start exposing themselves, getting frisky and sometimes even live sex shows.
I like it better that this girl still has her bikini top on, but her erect nipple is just poking it's head out the side. She has a wasted look about her and she's wearing a lot of beads, so I'm assuming she was probably flashing her tit by pulling her top to the side. She's just too shit-faced to realize she didn't cover her boob up enough.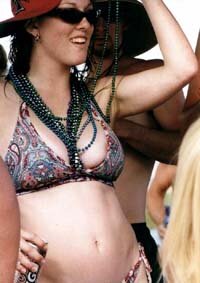 Free Sites:
Drunk Galleries / Home Voyeur Vids / Sexy Drunk Funny
Sponsored By:
Party Pimps
| Next Page »