Time & Date:
December 19, 2005 @ 4:11 am
Categories:
Well, we definitely know that this titty/nipple slip is not accidental, yet it's not intended either. That's when option 'C' comes in; the forced titty slip. I usually see the forced slips of girls doing it to their girlfriends to be funny, but once in a while a super wasted girl will also think it's funny when some drunk, horny dude forces the slip.
Evidently, this is what we have here. Since these girls are average in looks, they probably don't mind as much the drunk, horny guy, wearing beer goggles, whipping out their tit, and what looks like trying to pinch her nipple in the process. All of this right in the middle of the crowded bar. Very nice. It looks like the guy picked the best pair of fun bags in the bunch to expose, as well.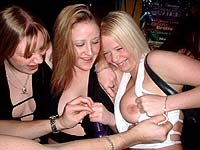 Free Sites:
Uncensored Drunks / Dumpster Sluts / Drunk Girl Galleries
Sponsored By:
Real Drunk Girls
Time & Date:
@ 12:06 am
Categories:
This girl might have slipped a nipple anyway, without her helping. The laces for her top are totally loose and untied, and the material looks kinda flimsy. But if a girl wants to help herself expose her tits, and flash her nipple in public, that's just fine with me.
I am very curious what she's pouring on herself. I'm also curious as to what she's got strapped around her head. It looks like it's some sort of leather BDSM device, which makes her a bit of a kinky girl.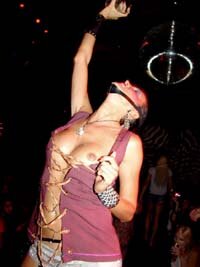 Free Sites:
Teen Rave Pictures / Home Made Videos / Hi-Rez Nips
Sponsored By:
Crazy Club Flashers
Time & Date:
December 16, 2005 @ 4:41 am
Categories:
First of all, try to block out the two fruit loops on the left. I was going to take them out of the photo completely, but it ruined the picture as a whole. Maybe if you keep your left eye closed and then look, you can block them out. It shouldn't be too hard, after all, there are some breasteses hanging out.
These photos were taken in some night club. It's hard to tell because this photo is so dark (even after I lightened it up quite a bit), but I saw other photos from this series. I'm not sure if her bra and blouse are slipping down, or if she had some help getting those off and over her shoulders. Both her blouse and bra straps seem loose enough for this to be accidental, but that's a pretty big double titty slip, if that's the case. I'm just going to believe it's accidental, because it's hotter that way.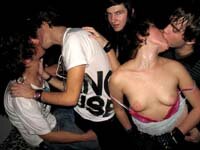 Free Sites:
Uncensored Drunks / Teen Rave Pictures / Sexy Drunk & Funny
Sponsored By:
Sex In The VIP
Time & Date:
December 15, 2005 @ 3:23 am
Categories:
This group of party girls look a bit too giddy to be sober. A drunken girls' night out on the town. No men around to have to act proper in front of, and they can be as wild and dirty as they want. They say that women are much dirtier than men when they get together. I used to know this male stripper and he told me that I wouldn't believe it if I saw it. He lost a lot of respect for women after working in that field for many years. That doesn't mean he didn't keep on nailing them though.
Apparently, these girls are being a little reckless that night and having a good time, while one of them is starting to slip out of her top. Now if she were leaning in just a smidgen more, we might have gotten a clearer shot of those nipples.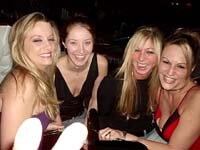 Free Sites:
Drunk Galleries / Home Made Videos / Rate Nude Girls
Sponsored By:
Drunk Girls Blowjob
Time & Date:
December 14, 2005 @ 8:37 pm
Categories:
I definitely wouldn't turn this chick away, but she's a little too much on the 'bimbo' side for me. It's probably those big ol' fake jugs that brings out the bimbo in her. Those things look like they would hurt if someone were to hug her tightly.
It looks like her bra is a little too loose and those fake titties are just a little too bouyant. Thus, we have her nipples working their way to the top edge of her bra. I bet you would get a nice view of her nips if she were to bend down in front of you, like when she's serving you drinks. She probably made out like a bandit that night in tips.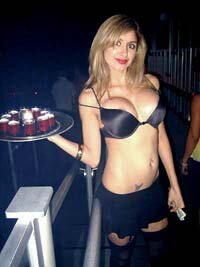 Free Sites:
Viva Voyeur / Peep Hole Cams / Hi-Rez Babes
Sponsored By:
Drunk Girls
Time & Date:
December 13, 2005 @ 10:32 pm
Categories:
I'm not sure if this drunk club girl cutie is a victim of the camera flash or if she's actually walking around in a mesh, see-thru top. I would assume she's a victim of the flash, like so many see-thru nipple/titty shots these days. On the other hand, you never know. The night clubs let you get away with a lot more revealing and risque clothing.
She's not all that much of a looker, in my opinion, but if she's advertising that tight little bod to the public, I'd be more than happy to accomodate her. Especially is she were to flash her pussy to me in public too.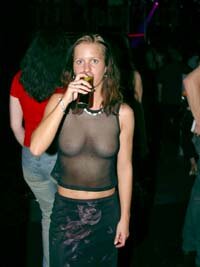 Free Sites:
Drunk Galleries / Teen Rave Pictures / Amateur Photo Album
Sponsored By:
Drunk Club Cuties
Time & Date:
@ 5:38 am
Categories:
This photo always cracks me up. First, for some reason it reminds me of an image that you would see in a hotel brochure, in the "local night life" section. At least when you look at it as a thumbnail. Also, the action shot shows that they're both doing some corny dance moves. Something Carlton Banks (Fresh Prince) would be doing to a Tom Jones tune.
That's quite a slip from this angle. No wonder that guy has that goofy smirk on his face. Actually, he probably can't see it where he's at. Her blouse is undone quite a bit, which tells me she doesn't notice that she's unbuttoned almost all the way down to her waiste. It all works out great for us.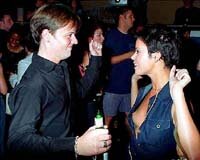 Free Sites:
Amateurs Gone Wild / Rate Nude Girls / Drunk Video
Sponsored By:
Wild Club Videos
Time & Date:
December 12, 2005 @ 7:00 pm
Categories:
Damn! This photo is hot even if her nipples weren't slipping out the top of her bra. Those great, curvy hips are killing me, and her nice tummy just adds definition to her curves. I bet she has a hot, little ass behind those tight, Daisy Duke, short-shorts too.
My guess is that this drunk and sexy club girl is just flashing the camerman her bra-covered boobs during a wild moment she was having. Her nipples slipping out of her bra was merely accidental. More than likely she was bustin' a move on the dance floor and those big natural tits bounced their way almost out of her bra.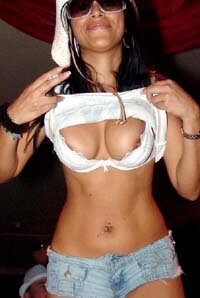 Free Sites:
Viva Voyeur / Exhibitionism / Sexy & Funny
Sponsored By:
Crazy Club Flashers
Time & Date:
December 10, 2005 @ 11:34 pm
Categories:
When it's me dancing with some drunk girl that's doing some kind of dirty, ghetto dancing, I love it. But when I see it and I'm not involved I just want to laugh and shake my head, because it looks so ridiculous no matter who's dancing like that.
Now, if I were to look up and see some drunk party girl with her ass hanging out or her skirt, shaking her stuff, I might be a little more interested. It goes from 'ridiculous' to 'hot'. If that were me dancing with her, I'd have my hands all over that hot, bare ass, in public and in front of everybody.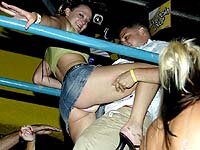 Free Sites:
Teen Rave Pictures / Dumpster Sluts / Amateurs Gone Wild
Sponsored By:
Party Girl Upskirts
Time & Date:
@ 3:06 pm
Categories:
I'm not sure if these two club girl hotties are helping the middle girl cover her nip slip, or if they're pulling down her blouse to get at the nipple of them big fake boobs. Either way, it makes for a hot and voyueristic photo.
Personally, I've seen some wild and crazy things going on inside night clubs. A lot of partying, a lot of nakedness. I've never actually seen anyone having sex though. When I say 'sex', I mean anything sexual, like nipple sucking, cock stroking and, of course, actual fucking. I wouldn't mind watching a few girls like these go at it in that back booth though.
Free Sites:
Viva Voyeur / Rate Nude Girls / Peep Hole Cams
Sponsored By:
Sex In The VIP
« Previous Page | Next Page »