Time & Date:
March 12, 2006 @ 1:17 am
Categories:
I've always enjoyed watching drunk college girls, in front of the whole crowd, ripping off their t-shirt or just getting naked, all together. One rare occasssions, you even get a public sex show with some of the more extreme and more shitfaced girls. I'll probably always love that scenario, but I always wondered what compels a chick to do that. It must be the massive amount of attention they get when they show even a little bit of skin, because I can't think of any other reason why a girl would want to get naked and/or have sex in front of a huge crowd of drunk men. Besides for maybe being an exhibitionist, I just don't get it. I applaud it, but don't get it.
Now, I'm sure the way this drunk college girl's titties are slipping out of her skimpy top, is planned. I can't see any girl wearing a shirt like hers without expecting her boobs to be showing at some point. Plus, her pretty, little titties are decorated with some hot, 'nipple bling'. I think she came prepared to win some sort of drunken-titty-flashing contest as soon as she got enough booze into her system. Keep on keepin'-on, honey!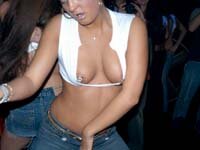 Free Sites:
My Drunk Teens / Amateur Made Videos / Drunk Girl Galleries
Sponsored By:
Silly Drunk Coeds
Time & Date:
March 9, 2006 @ 1:30 am
Categories:
A lot of you have probably seen this photo before, floating around the Net. There's a good reason for that; because she's a total cutie and she's flashing her great pair of all-natural boobs. I know it's not a nipple slip, but trying to keep up with the of nipples and tits theme, I decided this girl was just too good not to post.
Since Spring is finally coming in the U.S., that means Spring Break is also coming up. Another reason I wanted to post this girl, becasue she is obviously a spring breaker showing of her 'dirty girl' side for the rest of the week. They say 73% of girls have sex on spring break vacation, and almost 20%, with multiple partners. Those are some pretty good averages.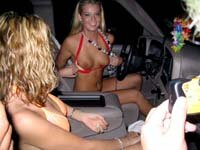 Free Sites:
My Drunk Teens / Exhibitionism / Drunk College Pics
Sponsored By:
Endless Spring Break
..:: from Girls Gone Wild
Time & Date:
March 8, 2006 @ 6:08 am
Categories:
I've been to some pretty wild and crazy college parties in my day. Intense binge-drinking, horny naked girlies and whoring myself around with just about any drunk girl that would have me. It was just pure, unadulterated, reckless behaviour and I would repeat every minute of it if I had the chance. It wasn't until I got older that the parties just kept getting wilder and wilder.
I think this girl in the light top got a little more attention than she bargained for. Obviously wanting some kind of attention, by climbing onto the countertop to dance, her nipple was worked itself out of her top. She looks like she's a real party girl, too. Drunk, reckless and having one helluva time! Sounds like my kinda girl. If I were at that party, I would be all over her.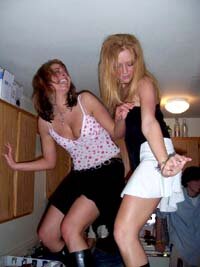 Free Sites:
Drunk Galleries / Teen Rave Pics / Beer Bong Coeds
Sponsored By:
Wild College Parties
Time & Date:
March 7, 2006 @ 4:18 am
Categories:
I'm not usually attracted to fake tits, but I tend to make an exception when they're so big and hard, they're busting out of a girl's bikini. A tit's a tit, and if they're in plain site, I'm going to check them out no matter if they're fake or not. Especially when the girl looks a bit schnokered and has all the right curves. Being accompanied by a cute, little Asian honey always helps too.

Too bad the photographer didn't continue to follow this girl around more, because I bet her nipple completly slipped out, eventually. Unfortunately, we only get a tease, with her areola just barely coming out the top. Those massive mammaries sure look like they are about to explode out of her bikini top, though. If you look carefully, you can see the outline of her nipple/areola, through the bikini, on her other boob.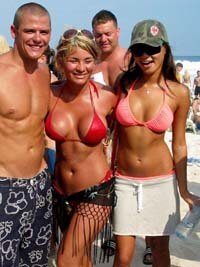 Free Sites:
Rate Nude Girls / Dumpster Sluts / Accidental Voyeur
Sponsored By:
Candid Crush
Time & Date:
March 6, 2006 @ 3:43 am
Categories:
Apparently, when a girl pulls another girl's top down (or up), revealing her boobs/nipples is like when us guys depants one of our buddies. Which is always a funny thing to do, except when you're the one being depantsed. Then it's kind of embarassing. It wouldn't stop me from doing to someone else again, though. It appears girls also think it's funny to expose another girl's boobs. I don't know how funny it is, but it's always nice to get a little peek.
The blonde in the little black cocktail number, doesn't appear to be trying too hard to stop her friend from pulliung her boob out. Well, maybe not her full boob, because it looks like her tits are too tiny to actually be pulled out of that top. Nonetheless, we still have have an exposed nipple. A slip by the girl who owns the boobs, but a forced slip, by her drunk friend.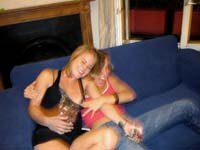 Free Sites:
Uncensored Drunks / Peep Hole Cams / Exhibitionism
Sponsored By:
Girls Get Crazy
Time & Date:
March 5, 2006 @ 12:46 am
Categories:
Over the years, I've noticed that girls with big, natural boobs have to be careful when they're wearing tiny bikinis. Somehow, those big funbags work themselves out of there and nipples are exposed very easily. I used to date this girl in college. She was this tiny Puerto Rican hottie, but she had these huge natural tits that just bounced and jiggled at all the right moments. I bought her a bikini for this trip to the Bahamas I was taking her on. The whole trip she was slipping nipples, left and right. It was great for me, because I would get so horny, I would have to keep taking her back to the hotel room and get a quickie in.
I'm not sure what these drunk party girls are up to in this photo, but I'm kind of wishing I was there. A couple of cuties in bikinis and I see some beer bottles in the background. That's all I need for my own little party. Whatever this chick is doing, it's caused her nipple to make a special appearance, and judging by the finger-pointing in the cornor of the photo, we're not the only ones noticing it.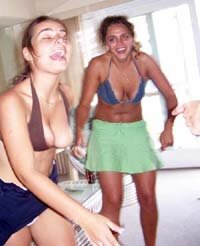 Free Sites:
My Drunk Teens / Dumpster Sluts / Home Made Videos
Sponsored By:
Girls Gone Wild
..:: Official Web Site
Time & Date:
February 28, 2006 @ 11:57 am
Categories:
I love it when drunk and horny girls start to get crazy at parties. When I say, 'Crazy', I mean uncontrollably sexual and naked in public. Yeah, it's still cool when it's at a bar or some wild wet t-shirt type contest, but when it's at a house party, it just seems more personable. Like, you might actually have a chance at nailing that drunk and horny babe, and the competition is much less, too.
This is definitely the type of girls I like to be around when I'm out partying. Hell, it's the type of girl I wan to be around all the time! I mean, you got to love a girl so willing to remove her panties, pull up her skirt and spread her legs in public, in front of all the party patrons. Maybe she's waiting to be mounted by that line of men behind her. I would be pushing, shoving and cutting-in-line to get the first crack at her shaved muff.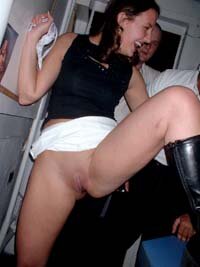 Free Sites:
Amateurs Gone Wild / Dumpster Sluts / Drunk Video
Sponsored By:
Party Girl Upskirts
Time & Date:
@ 3:21 am
Categories:
I might have the look of a psychopath on my face too, if I were shitfaced with beautiful half-naked drunk college girls around me! I would be in drunk-and-horny heaven. Of course, I don't know if I would have the balls to take it upon myself to pull these drunk coed cutie's bikini tops up, but I'm enjoying seeing the end result.
Unfortunately, these girls went and covered their boobs before we could get a look at them, but the coed cutie in the pink bikini-top, wasn't able to cover her nipple in time. They don't look all that pissed off about their drunk male friend pulling up their tops and exposing their boobies. Sounds like my kinda girls! Too bad there aren't more women like that, out there, that will just let whoever check out their goodies, and maybe even let us feel them up while we're at it. I think we should present this proposal to various women's organizations. Whatta ya think?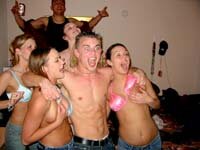 Free Sites:
My Drunk Teens / Stile Project / Drunk College Pics
Sponsored By:
Wild College Parties
Time & Date:
February 22, 2006 @ 5:40 pm
Categories:
Mmm-mmm, sloppy-drunk college girls attemtping to be sexy in front of the boys. You gotta love it! I always wondered why it's acceptable for drunk girls to make-out and feel eachother up just because they're drunk, but if a girl does that with a man she's labeled a slut. I don't see what the problem is. I like drunk and easy women hanging all over me, as long as we're going to some place private shortly afterwards.
Not only are there booze bottles everywhere, but you can tell just by the looks on their faces that these college party girls are completely sloshed. What I like about this areola/nip slip is that she's not wearing something loose where her titty could easily escape the confines of clothing. This is a slip out of the bra AND her top. Which means it took a lot for her little boob to make a public appearance. The photographer wasn't the only one noticing her nipple slipping, because I see a finger in the corner pointing as well.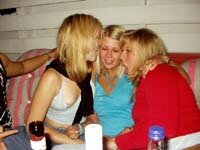 Free Sites:
Uncensored Drunks / Splinter Home Video / Exhibitionism
Sponsored By:
Drunk Girls
Time & Date:
@ 1:07 am
Categories:
Well, if this girl's blouse isn't an attention-getter, then I don't what is. She mine as well just pull her big ol' floppy knockers out of her top and walk around like that. It is kind of sexy, except for the fact that it looks like something her grandmother knitted for her for christmas. I guess, as long as she's flashing some skin, accidental or intentional, she can dress like a bag lady for all I care.
Judging by her heavy-metal wrist band, her messed up hair, and, of course, her overall outfit, I'm going to say she was doing some heavy duty partying that night. She's a bit on the 'chunky' side for my tastes, but she would be a great drunk sex partner. Once you get your buzz on, those big ol' titties are going to start to look mighty scrumptious, and something tells me she would greatly appreciate the attention; therefore she just might be willing to go that extra dirty distance.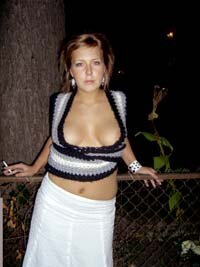 Free Sites:
Drunk Galleries / Home Made Videos / Sexy, Drunk & Funny
Sponsored By:
Girls Get Crazy
« Previous Page | Next Page »