Time & Date:
January 17, 2006 @ 4:17 am
Categories:
This drunk college coed doesn't look too comfortable being surrounded by at least three drunk and horny frat boys. It looks like she's trying to get up from the table, while the frat guys are pulling down her top, exposing her cute little melons. A 'forced' nipple or titty slip, if you will. Of course, she could always be sitting back down, at the table, welcoming a group-grope from drunken college dudes.
Personally, I've never had the pleasure of being involved in many acts of drunken revelry, many of my friends have. I was involved once or twice, but it was never with the ideal group of girls. The group of girls I did want to jump into the mix with, well…I just never had the opportunity. I still get jealous when I hear about it from my buddies who were there, and I must say I totally missed out!

Lots of drinking and "partying" in posh hotel rooms. Some of the most beautiful women I knew, getting rear-ended. Girls I thought were innocent, deep-throating my friends. A girl I had a sexual crush on, I heard was getting it at both ends. Damn! I wish I was there!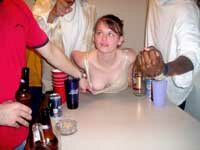 Free Sites:
Rate Nude Girls / Peep Hole Cams / Drunk College Pics
Sponsored By:
Wild College Parties
Time & Date:
January 16, 2006 @ 10:54 pm
Categories:
Bijou Phillips has been apart of my fantasies ever since I saw the movie, "Bully" (a movie I highly reccomend, by the way), where she played a great 'cheap slut'. Actually, she gets naked quite often on-screen and she's not shy about showing off her hot little body. So a nip slip on Bijou isn't necessarily a big deal when it comes to her, but it's still an accidental slip. If you've never heard of her, you will soon, I'm sure. She's been moving up in the acting world, taking the indie-films route.
She's the daughter of John Phillips, of The Mamas & the Papas, and sister to Chynna & McKenzie Phillips, of Wilson-Phillips fame. That's right, the sister of the two hotties in Wilson-Phillips, and not fatty, Carnie Wilson. She was also a top super-model when she was in her mid-teens, where she was a very well-known party girl in NYC's Manhattan, living in her own loft apartment and already a familar face at famous night clubs, before she was even 18 years old! Currently, only at 25 y.o., she has lived quite the life. I've been seeing her in more & more movies lately and I will be there, front and center, to see her get naked for her fans again!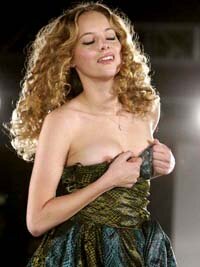 Free Sites:
Celebrity Nipples / Celebrity Movie Blog / Nude Celebrity Post
Sponsored By:
Paparazzi Filth Exposed
Time & Date:
January 14, 2006 @ 12:33 am
Categories:
I love when I catch a nipple/titty slip that's not obvious. You know what I mean? Tara Reid's famed nipple slip was obvious, this photo below, is not obvious. It makes me feel special when I get the opportunity to catch the inconspicuous nip slips.
I kind of wish that it was the busty gal in the middle that was accidentally letting her titty slip, but I guess beggars can't be choosers. The slipee is still fairly cute and I wouldn't hesitate to wrap my lips around those nipples of hers. Just as long as her two friends join in later.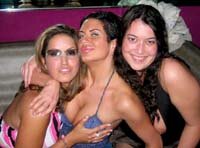 Free Sites:
Uncensored Drunks / Drunk Girl Galleries / Fuck This Porn
Sponsored By:
Sex In The VIP
Time & Date:
January 12, 2006 @ 8:40 pm
Categories:
Pinching a girl's nipples is always a great time! Especially when it's some sloppy-drunk girl that barely knows what's going on. At least, that's what appears to be happening here.
I can't tell if the nipple pincher is male or female, but whoever it is, they kind of came up on her from behind. I wish I knew if the drunk girl was flashing her titty at the time, or if it's an actual nipple slip and someone in the crowd took upon themselves to take action, reaching around to grab her exposed nipple. Of course, there's always the possibility that the pincher pulled out her boob on his own.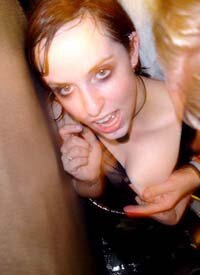 Free Sites:
Drunk Galleries / Dumpster Sluts / Wasted Coeds
Sponsored By:
Wild Club Videos
Time & Date:
January 11, 2006 @ 6:44 pm
Categories:
Now, this is what I call a beautiful nipple. Of course, the ample bosoms her lovely nipples are resting on ain't too shabby either, and they definitely accent the nipple. I'm guessing those boobs are fake, because she has nothing to support them, in what might be considered a blouse of string. Fake or real, I wouldn't be kicking her out of the sack, so I guess it really doesn't matter.
Apparently, this wild club girl is quite proud of the tits and nipples she packing, otherwise she wouldn't be showing us, and especially in a public setting. She has every right to be proud of those guns and I, for one, encourage her to show off her luscious, pointy nipples and ample, firm breasts more often.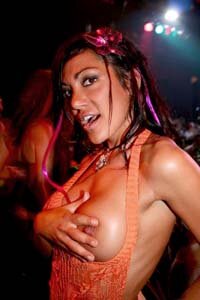 Free Sites:
Amateur Album / Stile Project / Night Club Galleries
Sponsored By:
Crazy Club Flashers
Time & Date:
January 10, 2006 @ 8:15 pm
Categories:
Sexy party girls hittin' the town. What more can you say about a group of girlfriends going out to have some fun, get drunk and maybe even go for a ride on the bologna pony at the end of the night? Sounds like my kinda girls!
One thing I can say, is that the drunk club cutie in the black is about let something slip out. In fact, if that slinky cocktail dress slips just a fracture more, we might have a full nipple exposed to us all.
Free Sites:
Rate Nude Girls / Drunk Galleries / Home Made Videos
Sponsored By:
Drunk Club Cuties
Time & Date:
January 9, 2006 @ 7:07 pm
Categories:
Sophie Marceau is a gorgeous french actress, for those of you who have never heard of her. Sophie has also starred in several American movies, most notably as Princess Isabelle in Mel Gibson's "Braveheart". I also remember her starring as the female lead in some stupid-ass David Spade flick called, "Lost & Found". She was the only REAL reason you could sit through that movie. I believe she was also a Bond Girl at one time, as well.
She usually does french films, so I have no idea what kind of career she has in France, but here she's pretty much just there for eye-candy in most American movies. That's fine by me, because Sophie Marceau is very easy on the eyes, and when she lets her full titty hang out in public, it makes her all the more special.. Plus, Sophie is no stranger nipple/titty slips. She's been caught with her boob blowing in the breeze before.
Free Sites:
Celebrity Nipples / Celebrity Movie Blog / Nude Celebrity Post
Sponsored By:
Celeb Tits & Nipple Slips
Time & Date:
@ 1:13 am
Categories:
When I hear the word, "dangle", the first image that pops into my mind is two beautiful boobies swaying and dangling in my face, as some hottie rides me like a horny cowgirl on crack. Yee-Haw! It's always a beautiful image to look up and seeing those puppies swinging, gently smacking you in the face every now and then.
This drunk party girl isn't riding anyone yet, but she's getting into position it looks like. I'm not sure what she's doing or what she's doing it on. I'm guessing it's drunken acrobatics for the camera, which happens quite often at parties. The type of photos that are sometimes embarrassing after you've sobered up. This downblouse shot may be embarrassing for the girl, but I'm sure most of you will agree, that she has left us with one hot and sexy photo.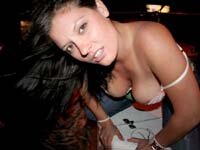 Free Sites:
Viva Voyeur / Peep Hole Cams / Sexy, Drunk & Funny
Sponsored By:
Wild College Parties
Time & Date:
January 6, 2006 @ 12:37 am
Categories:
It always seems that the girls with the smaller tits loose their halter-tops. They don't have those larger lumps in their chest to stop their top from slipping down. Don't get me wrong…small tits are great! They just can't hold up a girl's top as well, which in turn, helps us out with maximum viewing pleasure.
I can't figure out where this girl is, but I'm going to guess and say some sort of outdoor festival. Plus, she looks like she's got a bottle of something in her hand. Possibly a bottle of booze? It also looks like the photographer of this photo is the only one who noticed her nipple popping out og her top, because it looks like there might be others also snapping photos of her rather picturesque chest.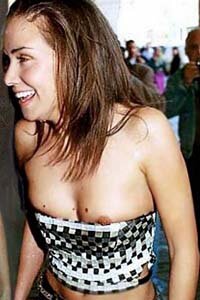 Free Sites:
Drunk Galleries / Stile project / Show Off Galleries
Sponsored By:
Public Exposure
Time & Date:
January 5, 2006 @ 5:50 pm
Categories:
You got to love a couple of sexy and wild college girls, laying together and holding eachother. Even if it is just goofing around for a photo opp. Seeing that Victoria's Secret bag in the background makes me think we have at least one little sex kitten, between these two college cuties.
Apparently, the girl in pink didn't figure-in that arching her back in that nice and loose blouse, with no bra, might expose beautiful, natural boobs, or in this case her nipple/areola. Of course, she's more than likely amoungst other women, so why would she even care if her boob pops out of her top? Either way, it all works out wonderfully for us!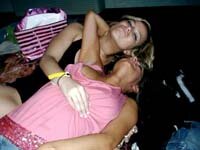 Free Sites:
Rate Nude Girls / Home Made Videos / Max Nipple Pics
Sponsored By:
Girls Get Crazy
« Previous Page | Next Page »