Time & Date:
February 11, 2006 @ 4:09 pm
Categories:
In most cases, aging rocker-bimbos, with big fake boobs and draped in faux-bling, don't do a thing for me. She might catch my eye, because, after all, I am a man and just about any girl wearing a tight t-shirt of types is going to grab my attention. Especially is that big ol' fake titty is poking out the side, completely exposed in public.
When I first saw this photo I thought it was a full-on titty slip, where somehow her boob found it's way out the side of her top, through the arm hole. After closer inspection, I don't see how that big, hard boob would be able to escape her tight shirt, and especially at that angle. So apparently, like a lot of girls with boob-jobs, she likes to show them off to anyone will pay attention. It works, becasue it got my attention!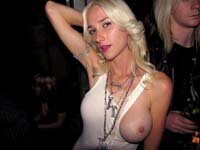 Free Sites:
Rate Nude Girls / Viva Voyeur / Sexy, Drunk & Funny
Sponsored By:
Crazy Club Flashers
Time & Date:
February 6, 2006 @ 10:40 pm
Categories:
I always knew that DJs got a lot of action from the ladies, but this ridiculous! Well, not really. It actually pretty hot to have a sexy naked women standing by your side as you perform. I used to perform in a rock band, but I never had naked girl at my side. After the show, the 'naked ladies' situation was a different story.

I can't seem to figure out what a naked club girl is doing in the DJ booth. It's not a strip club and everyone else around her is full dressed and minding their own business. Amazingly, not even the DJs are paying any attention to her. She's just hanging out, completely nude, except for her high-heels, and snapping her fingers to the beat. Maybe she's sucking off the DJs and they had to take a quick time-out to change the record. She's just waiting for them to finish so she can get back to the business of sucking. I think I'll take a number and get in line.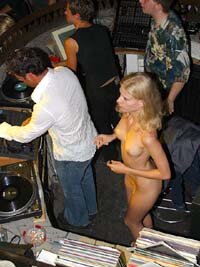 Free Sites:
Drunk Galleries / Viva Voyeur / Exhibitionism
Sponsored By:
Sex in the VIP
Time & Date:
January 31, 2006 @ 10:43 pm
Categories:
There's nothing like two drunk club girl cuties putting on a show for the men, by making-out on the dance floor. I'm sure you've seen these girls out at the clubs before. Maybe not these two, but the type of girls who are feeling eachother up while batting their eyes at the drunk, drooling men watching them.
I really dig how sexually aggressive the club girl in gold in. She wants her girlfriend's tongue in her mouth, and she's not taking 'no' for an answer. It appears that she's so excited that her intense nipple erection is forcing her whole tit right out the top of her jumpsuit, or whatever the hell it is she's wearing. It's begging to be sucked and I'm more than willing to oblige many times over.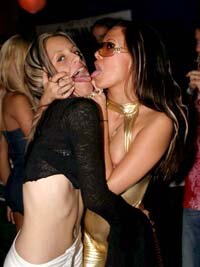 Free Sites:
Drunk Galleries / Rate Nude Girls / Peep Hole Cams
Sponsored By:
Drunk Club Cuties
Time & Date:
January 30, 2006 @ 2:46 am
Categories:
I've always loved college girls! I still do, actually. I'm not too old yet, where that might be considered 'perverted'. I just like how curious, reckless, cute and naive they are. They remind me of "daddy's girl" gone wild, which is a turn-on for me, because I love corrupting good-girls. It seems like a much bigger conquest when a chick basically tells you, "I'm not that kinda girl", and you get her to do it anyway.
Obviously, this was supposed to be some sassy all-girl pose gone awry. While the other two college coeds just have their hands covering their boobs, the third girl flahses a bit more cleavage, and accidentally flips her nipple out of her bra and top, using her thumbs. She looks like a cutie too. I would love to get her drunk and naked anytime, and her two girlfriends can join the party too!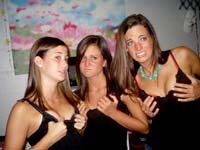 Free Sites:
Uncensored Drunks / Teen Rave Pictures / Fuck This Porn
Sponsored By:
Hardcore Partying
Time & Date:
January 27, 2006 @ 11:24 pm
Categories:
I have always been more of a beer-bong type of guy, rather than a keg-stand type of guy. I can't knock it though, because I've never tried it. My thoughts on it are that I don't like to work too hard to ingest my alcohol. I have run into this scenario a few times, though. Some drunk coed cutie wants to be one of the boys and do a keg stand, only to have their skimpy top slip off, or their enormous tits pop right out. It's a beautiful thing.
Evidently, this college party girl doesn't mind that her tiny, little titties are exposed, because her cute friend had enough time to jump under her to line her tongue up with the keg stand girl's erect nipples. I figure it's either that, or that beer is far too important to get down, and she'll cover her tits back up later. I think this titty slip was inevitable, because she doesn't have much 'titty' to keep that top on.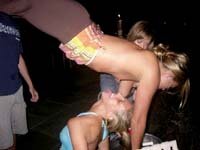 Free Sites:
Viva Voyeur / Rate Nude Girls / Accidental Voyeur
Sponsored By:
Wild College Parties
Time & Date:
@ 1:49 pm
Categories:
I've always thought it's kind of hot when a girl is passed-out drunk and exposing herself somwhere. I mean, I would never physically do anything to her while she was unconscious, but it's a nice fantasy, trust me. I think it's because girls are so much more 'proper' and cleaner than dudes, so when they just let it go and all hang out, it's like you get to see something rare. It's even hotter when the girl is all prim, because then you know it's extremely rare.
In this case, as you can see, this drunk and unconscious chick has her titty completely hanging out of her top. The way her top is fashioned, I'd say that the photographer may have altered the positioning of her top. In other words, I think someone pulled her boob out for the photo. Maybe that's what chicks do to eachother when they pass-out, like us dudes draw on eachother or just plain do nasty things eacthother just to embarass the shit of them when they come-to.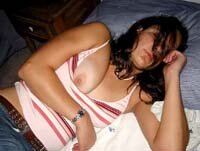 Free Sites:
Uncensored Drunks / Sleeploitation / Drunk Video
Sponsored By:
Sleep Assault
Time & Date:
January 25, 2006 @ 3:11 am
Categories:
This drunk club girl looks like she's a real hot tamale. Too bad we don't have a higher quality photo to show off her real beauty. As most hotties do, she has her chubby, ugly friend with her as a defense mechanism. Her ugly friend will prevent her from going home with, or even meeting men at the club. I don't know how many countless times I've been flanked by the dumpy friend of drunk cutie. Just when I think I'm there for sure, here comes the friend to talk sense into her.
At first, I thought this was a certifiable nipple slip, but now that I'm looking closer I'm thinking this drunk, busty bimbo intentionally flashed her nipple. Those bikini tops do wonders for a quick flash of the nipple, and sometimes they even result in a full-on nip slip. I'll take her nipples, any way I can get 'em!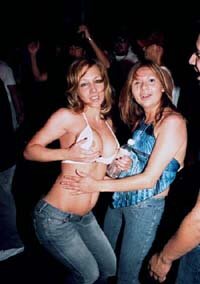 Free Sites:
Teen Rave Pictures / Peep Hole Cams / Exhibitionism
Sponsored By:
Crazy Club Flashers
Time & Date:
January 21, 2006 @ 1:24 am
Categories:
I've gotten pretty dirty on the dancefloor in my time, and I've seen some nasty moves of others as well, but I can't recall ever seeing a girl's tits fully exposed while she's getting groped and felt-up by her girlfriend and another guy. If I did see it I don't think I would forget something like that. They're just a few steps from having full-on sex, right there on the dancefloor, in front of the public. She's "dangerous on the dancefloor"!
Evidently, I'm not the only one digging these sexual dance movies. If you check out the background, there's an onlooker that looks very surprise and excited about the lack of restraint of these drunk girls. If I were him, I would stop pointing in amazement and try to muscle my way into the mix.
Free Sites:
Amateur Album / Teen Rave Pictures / Peep Hole Cams
Sponsored By:
Sex In The VIP
Time & Date:
January 19, 2006 @ 8:41 pm
Categories:
You notice how women always say that us guys are always so perverted, and always have sex and dirty thoughts on our minds? All those things are true, but that's not the point. When chicks get together, they're way nastier than we are. I used to know this male stripper, and he told me that it was unbelievable the things that came out of these girls mouth. He didn't care though, he just mad sure he would stuff something of his back into their mouths. I also overheard an ex girlfriend of mine talking to one of her friends, over the phone and all it was about sex…and dirty sex, at that!
I know what happens on these so-called "Girls Night Out" and we have a perfect example. They get all dolled-up, head to the night clubs, order some cocktails and before you know it, they have a swarm of dudes around them. They are getting looser as the drinks keep flowing and the 'little slut' in them comes out in full force.
Free Sites:
Viva Voyeur / Exhibitionism / Drunk Video
Sponsored By:
Drunken Girls Night Out
Time & Date:
January 16, 2006 @ 10:54 pm
Categories:
Bijou Phillips has been apart of my fantasies ever since I saw the movie, "Bully" (a movie I highly reccomend, by the way), where she played a great 'cheap slut'. Actually, she gets naked quite often on-screen and she's not shy about showing off her hot little body. So a nip slip on Bijou isn't necessarily a big deal when it comes to her, but it's still an accidental slip. If you've never heard of her, you will soon, I'm sure. She's been moving up in the acting world, taking the indie-films route.
She's the daughter of John Phillips, of The Mamas & the Papas, and sister to Chynna & McKenzie Phillips, of Wilson-Phillips fame. That's right, the sister of the two hotties in Wilson-Phillips, and not fatty, Carnie Wilson. She was also a top super-model when she was in her mid-teens, where she was a very well-known party girl in NYC's Manhattan, living in her own loft apartment and already a familar face at famous night clubs, before she was even 18 years old! Currently, only at 25 y.o., she has lived quite the life. I've been seeing her in more & more movies lately and I will be there, front and center, to see her get naked for her fans again!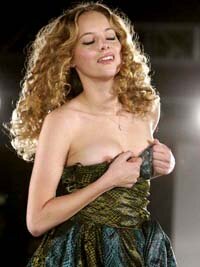 Free Sites:
Celebrity Nipples / Celebrity Movie Blog / Nude Celebrity Post
Sponsored By:
Paparazzi Filth Exposed
« Previous Page | Next Page »