Time & Date:
August 6, 2006 @ 10:27 pm
Categories:
I'm not sure if this is some sort of fashion show at a night club, or if this chick decided to wear a sexy business out to the clubs. Although, that outfit might be a bit on the risque side for a boardroom meeting, but if I was a CEO for a major corporation, I would encourage the women to dress as scanty as possible. My personal "assistant" would be wearing a very skimpy, thong-bikini, high heels and a smile. Now, that's the kind of working environment I could get used to.
That blouse, corset, top, whatever looks pretty damn tight, almost like it's painted on her body. If you look closely, you will notice that her top is about to burst open at anytime. The poor girl probably has to hold her breath so she isn't exposing herself, completely topless. It's no wonder that her tits are being squeezed out of there, to the point where her nipple(s) have popped-out to get a breath of air.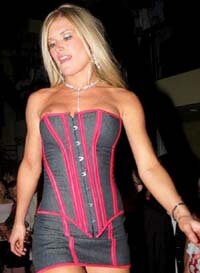 Free Sites:
Uncensored Drunks / Peep Hole Cams / Drunk 365
Sponsored By:
Drunk Club Cuties
Time & Date:
August 3, 2006 @ 2:24 am
Categories:
Oops! It looks like the ole strap-slips-off-the-shoulder routine strikes again. That sometimes happens to women both drunk and sober, except the sober girls usually catch it right away, before they accidentally expose themselves in public. Clearly, this chick is so wasted that she hasn't even noticed that her titty has slipped out of her blouse/dress. Actually, it's more of the other way around, wasn't it? Itr's more like her blouse slipped off her titty. What ever the case maybe…daddy see and daddy like.

Besides the fact that she inadvertantly has her tit(s) hanging out already, this drunk club girl appears like she wants to get close to daper gentleman, in this photo. By the looks of it, he's already "in" that. The only thing has got to do know is, make sure she leaves with him, and he'll be seeing a lot more than just her tits.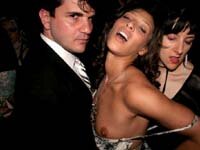 Free Sites:
Rate Nude Girls / Nude Club Pics / Sexy, Drunk & Funny
Sponsored By:
Sex In The VIP
Time & Date:
August 1, 2006 @ 8:34 pm
Categories:
I've said it before, and I'll say it again; It's a blessing when girls go braless in public! Especially when they wear loose or skimpy clothing. Not only do we get a nice view of their boobs' natural bounce, but a lot of the time time it ends up in a beautiful downblouse shot, a nip slip, or in this case, almost a full-on titty slip. All the while she's completely cluless to the wonderful, free titty show she's giving us. Isn't life beautiful? She's (the slipee) not too shabby, either.
Judging by what we can see of her, our drunk party girl, that's accidentally showing us her nipple/boob, has a nice rack on her. They look really firm and perky, and going with the rest of her physique and cute face, I think we've got ourselves an all-around winner. I'd be happy to trick her into sex while she's wasted.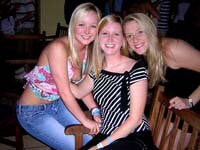 Free Sites:
Drunk Galleries / Stile project / My Drunk Girls
Sponsored By:
Crazy Party Girls
Time & Date:
July 31, 2006 @ 6:31 pm
Categories:
Anyone who follows this blog will know how much I love Mischa Barton. Considering the fact that I've already posted Mischa on this site twice (Post #1, #2), I think Mischa Barton likes to tease her public with her big ole natural boobs, braless and bouncing around freely, giving us just a little peek of what we're missing out on.
I really don't have a whole lot more to say about her, that I haven't already said in prior Mischa posts. She's a beautiful girl and a good actress (despite her work on The OC), so let's just enjoy her beautiful exposed boob/nip slip for all it's worth, because she doesn't get naked for the screen…yet.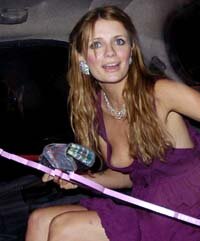 Free Sites:
Celebrity Nipples / Celebrity Movie Blog / Nude Celebrity Post
Sponsored By:
Paparazzi Filth Exposed
Time & Date:
July 30, 2006 @ 10:34 pm
Categories:
I'm sure this drunk coed knew before-hand, that dumping a lot of water over her chest could very well result in her big, fake tits popping out of her bikini, but we can still pretend that she was so drunk that she's completely clueless to her boobs being exposed to the masses, and we're getting free peep show.
I think most girls who get involved with wet t-shirt contests, and the like, are either full-on exhibitionists, or at least a closet exhibitionist, using alcohol as an excuse to come out of that particular closet (not the closet you're thinking of). People usually let things slide a bit more when there's booze involved, so girls won't get judged as harshly because they were drunk. Whatever excuse they need to bare their beautiful naked bodies, I'll except, though!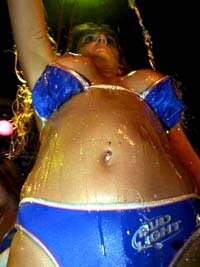 Free Sites:
Uncensored Drunks / Home Made Videos / Drunk 365
Sponsored By:
Girls Gone Wild
..:: Official Web Site
Time & Date:
July 28, 2006 @ 6:46 am
Categories:
Don't ask me what the hell they're wearing or why they're dressed like a couple of club clowns, but the important thing in this photo is that her tiny, little titty is accidentally being exposed, by her loose/open jacket. Now, I know they aren't afraid of color at the "Love Parade", which also promotes the whole "peace, drugs, sex and dance" culture, where a loud, freaky outfit is expected. So, I'm guessing that is where this funky bunch orginated from.
I wonder if her loose and open jacket/blouse, with no bra, is for style? Or is it for easy access for any drunk, horny sex fiend that wants to suckle from her teet? I've known of a few girls that when they go out, their easy-access top (usually a halter-top) gets put to good use by both men and woman, alike.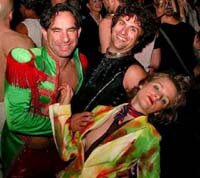 Free Sites:
Dumpster Sluts / Peep Hole Cams / Cute Teen Girlfriends
Sponsored By:
Party Pimps
Time & Date:
July 24, 2006 @ 7:27 pm
Categories:
It cracks me up, seeing these dudes, with ring-side seats, just staring up the skirt of this drunk dancing, club girl. Then again, how could she not realize that her miniskirt is practically draped over one guy's head. It's possible it's her boyfriend with his head up her skirt, but he's not the only one getting a sexy, upskirt show. I mean, her skirt IS pulled-up a bit, in the front.
I used to have a roommate who was a (female)go-go dancer, at several of the local night clubs. She, and other girls who are allowed to dance on the platform for the masses, just love the attention they get from all the horny dudes, watching them. I don't know if it's a turn-on for them or they just feel like the center of attention, but they usually don't care if you stand and drool over them, as they dance. It's part of the reason they're up there, flaunting their stuff.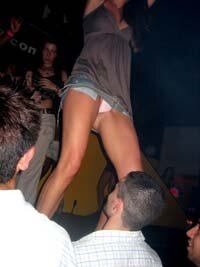 Free Sites:
Rate Nude Girls / My Drunk Girl / Nude Club Pics
Sponsored By:
Party Girl Upskirts
Time & Date:
July 21, 2006 @ 8:39 pm
Categories:
With a blouse, like this drunk girl's, nip slips are very common. Especially, when the girl wearing it is drunk and rolling around on the floor, and wearing no bra underneath. Then again, I don't hink girls wear a bra under those types of blouses, which works out great, in more ways than one, for us.
She looks like she's in the perfect state of mind to be bringing her home with you. She's drunk enough to be wild and uninhibited, but not so drunk where you can't keep her awake. I mean, you got to keep her concious long enough to have some fun with her, right? You don't want some drunk floozy taking up half of your bed without it being worth something.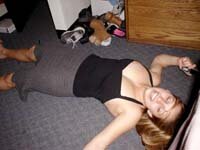 Free Sites:
Drunk Galleries / Stile Project / Teen Rave Pics
Sponsored By:
Drunk Girls
Time & Date:
July 20, 2006 @ 1:11 am
Categories:
I'm betting the cute party girl, with the antennas, has a beautiful rack underneath that bikini top. She's showing us enough cleavage where, if we think and imagine it really hard, we can get a pretty good idea of what those boobs of hers looks like. She even inadvertently took it a step further, by accidentally letting her nipple/areola slip, so we can now even get a better mental image. I'm liking what I'm imagining, too.

Evidently, they're at, or getting ready for some sort of costume party, though, I'm not quite sure what they're supposed to be. Then again, any half-naked (or fully naked) woman can wear whatever the hell she wants, because these two party girls won't be getting any arguments from the men folk. Especially, if their titty/nipple is slipping out of their top.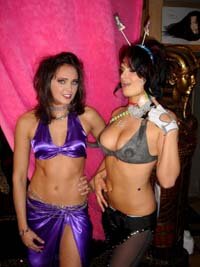 Free Sites:
Uncensored Drunks / Exhibitionism / Sexy, Drunk & Funny
Sponsored By:
Crazy Club Chicks
Time & Date:
July 18, 2006 @ 7:53 pm
Categories:
Once in a great while, you attend a wild party where the booze is flowing and the cute girls are horny. Just mixing those two ingredients (alcohol, horny girls) can equal one hell of a party. It's rare, but it does happen, and that's when a couple of the more loose women get so drunk that they start putting on a little lesbian sex show, for both themselves and all the boys cheering them on. As you can see, these two wasted coeds are about to go the distance. One girl's boob is about to pop right out of her bra, as she's fingering her girlfriend's pussy.
I used to live in a very well-known party house, in my city, and on a number of occasions, both straight and lesbian couples would break into some sort of sexual performance, right in front of the whole party. The strange thing was it became such a regular thing amongest our circle of friends and party pals, that no one cheered them on. No one gawked as they gratified eachother. They just went along and did there thing, as if no one was in the room.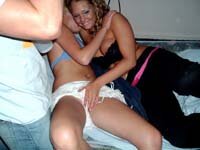 Free Sites:
Home Made Videos / Peep Hole Cams / Drunk College Pics
Sponsored By:
Wild College Parties
« Previous Page | Next Page »