Time & Date:
March 28, 2006 @ 4:55 pm
Categories:
I just love a couple of drunk and wild girls, without a care in the world, who just decide to walk around topless, drink beer and be merry. Plus, a girl who walks around topless, in America, at least, is a pretty good sign of her character, and better yet, her sexual restrain. In other words, with a couple of drunk coeds, like these two, you have a pretty good chance that they are going to be easy.

In a way, this is kind of the opposite of a nipple slip. As you can see, only their nipples are covered by the Playboy insignia, while they are both completely topless in public. Apparently, if a woman's nipple isn't visible, she can let her tits bounce and jiggle as freely as they want. Like, when girl paint their nude bodies. They can walk around nude and/or topless in public, and it's consider acceptable. In some places, at least. I don't see that happening anywhere along the Bible Belt.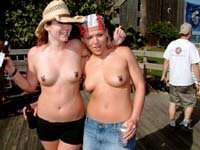 Free Sites:
Rate Nude Girls / Home Made Videos / Stile Project
Sponsored By:
Girls Gone Wild
..:: Official Web Site
Time & Date:
March 26, 2006 @ 12:13 pm
Categories:
I was always under the impression that girls wore a bra under this type of blouse. Apparently, I was wrong, but now I have that image stuck in my head. Braless boobies bouncing around under only a thin, skimpy blouse. Everytime I see a woman wearing one of these tops, I'm going to be checking if she's wearing bra, now.
I'm not exactly sure how this wasted party girl's titty slipped right out of her blouse. It must be one of them spaghetti-strap dealies, that slipped off her shoulder, unbeknownst to her, and before she put her jacket on. So, she may have been walking around with her titty just bouncing and flopping around freely in the wind, without her realizing a thing! Her boob might have gotten a bit cold, but she's drunk as hell and numb. She probably can't feel a thing.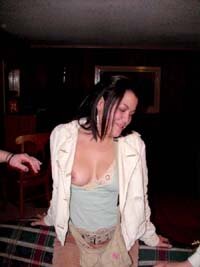 Free Sites:
Dumpster Sluts / Exhibitionism / Peep Hole Cams
Sponsored By:
Party Pimps
Time & Date:
March 25, 2006 @ 12:18 am
Categories:
Isn't great when hot girls get so shitfaced they totally loose their inhibitions? I know that might sound cliche, but there's a reason why 'cliches' exist. I used to date this sexy party girl who couldn't keep her clothes on when she was beyond fuckered-up. Of course, all my buddies loved it, but I wasn't a big fan of my girlfriend running around naked, in front of my drunk and horny friends. But on the other hand, there's a much better guarantee of getting your twinkie, stinky, when the girl is already naked.

This drunk girl, shaking her hot, little ass isn't naked, but she seems to be well on her way. Obviously, she's already drunk enough to pull up her skirt, in public, and shake that beautiful thang. That's the type of girls I like to leave the bar with, if you know what I'm saying. I mean, if she's already got her skirt, up-around her waiste, you're already half-way there. You mine as well bring her home and finish the job. A man's gotta do, what a man's gotta do.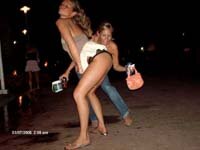 Free Sites:
Uncensored Drunks / Dumpster Sluts / Amateur Made Videos
Sponsored By:
Party Girl Upskirts
Time & Date:
March 23, 2006 @ 10:03 pm
Categories:
First off, I must say, judging by the talent in this photo, I really wish I were at this toga party! They're giving me a boner without being naked at all. Of course, that nipple in the upper left corner, does help the erection process. But, imagine being caught in the mix with this group of drunk coeds. As cliche as it is, I'd be like a kid in a candy store!
I'm not sure how this college girl's nipple/titty slipped out of her top, because I can't tell if it's toga or if she's just wearing some sort of cut-off t-shirt. I can easily see her titty slipping out the side of her toga. In fact, I believe I've see it many times before, but it does kind of look like it's nothing more than a ripped dego-tee, with her titty popping out. Either way, we have a beautiful nipple/titty slip.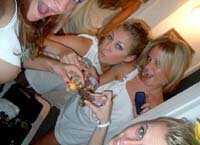 Free Sites:
Home Made Videos / Peep Hole Cams / Amateur Voyeur
Sponsored By:
Frat Party Fuck Fest
Time & Date:
March 22, 2006 @ 10:42 pm
Categories:
I can't decide if I'd rather have one of these drunk coeds sitting on my shoulders with their legs wrapped around my neck, or watching girls grabbing and titties slipping out, from a distance. I wouldn't mind having either one of them wrap their legs around my neck, but I'd much rather have their clothes off when I do that. So, catching an eyeful is just fine with me.
I didn't realize people still had chicken fights (at least that's what they were called where I come from) these days. I've been noticing a lot of chicken fighting on the college circuit, so apparently it's become another great drinking game, so as long as it's only the ladies. No one cares about a couple of dudes doing this, besides maybe the guys involved.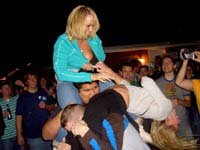 Free Sites:
Drunk Galleries / Dumpster Sluts / My Drunk Teens
Sponsored By:
Girls Get Crazy
Time & Date:
@ 12:21 am
Categories:
As much as I would love to believe that these two drunk coeds' string-bikinis just suddenly came untied in public, I know that they purposely untied their own bikinis. They haven't started flashing those college titties yet, so in my book, this is still a nipple slip. These two party girls just made it very easy for their nipples to appear, is all.
I can tell by the background that all eyes are on these two, so I'm assuming they're about to put on one hell of a drunken, dancing titty show for the whole crowd. We just happened to catch them pre-nude. Judging by the exposed portion of these girls, I'd say the crowd is about to get a nice eyeful of drunk college girl nudity.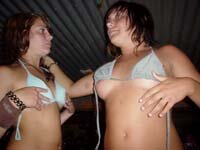 Free Sites:
Uncensored Drunks / Peep Hole Cams / Drunk College Pics
Sponsored By:
Girls Gone Wild
..:: Official Web Site
Time & Date:
March 21, 2006 @ 5:44 pm
Categories:
There have been rare instances I witnessed, where a girl has flashed, or in some way, exposed her boobs in public, in a night club. Of course, the clubs I frequented, a lot of strippers would also be there. So, seeing a couple of mega-hotties making-out, feeling eachother up or exposing their spectacular tits to the public, was not an uncommon occurrence.
I love this clubber party girl's cute, little titties. Plus, I have a real 'thing' for women with pierced nipples. I don't like piercings anywhere else on a women, besides her ears of course; just their nipples. She's flashing them proudly, but it appears she's not the only one pulling her blouse/dress open, either. It looks like another women is trying to get a better view of her tits, as well.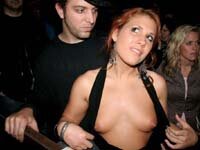 Free Sites:
Exhibitonism / Home Made Videos / Drunk Video
Sponsored By:
Crazy Club Flashers
Time & Date:
March 15, 2006 @ 1:14 am
Categories:
Why don't more women wear loose, skimpy, revealing clothes? They should just let it all hang out and bounce freely within the confines of whatever loose, skimpy, revealing clothing they choose. After all, it IS a women's right to choose. The right to choose how they're going to present their tits, and the rest of their assets, to wanting men, like me.

I really dig this drunk club girl's very small attempt at covering her boobs. She's not wearing a bra or anything, and has only one button fastened on her vest, the only thing she's wearing as a top. In my opinion, she's already swinging around a pole in a club, so she mine as well just keep going and remove the rest of her clothes. I think from the first time she swung around that pole, she found home.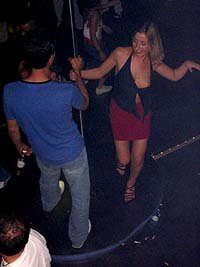 Free Sites:
Uncensored Drunks / Peep Hole Cams / Stile Project
Sponsored By:
Wild Club Videos
Time & Date:
March 14, 2006 @ 7:36 am
Categories:
I gotta say, not a bad rack at all. I've always wondered in photos such as this; does the chick realize that her blouse is see-thru and she's intentionally showing off the goods, or did the light catch it just right and her thin fabric gave-in to the light? I really don't care either way. It just seems so much hotter when when a chick doesn't realize her tits are exposed.
It appears this takes place at a night club, or maybe a rave, afterhours party, etc. You get the idea. My poinbt is that it's obvious this girl and her boobs are at a public setting. I'm assuming that her boobs were at least soimewhat visible in her top, otherwise I don't see why someone would snap a photo of her covered tits. Unless, of course, the photographer was snapping his buddy and ol' Tits McGee got in the way, which would result in a very happy day when your pictures are developed. One of them lucky shots.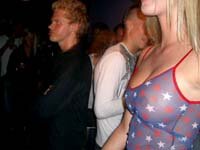 Free Sites:
Exhibitonism / Home Made Videos / Teen Rave Pics
Sponsored By:
Candid Crush
Time & Date:
@ 3:50 am
Categories:
You gotta love the fine people who exploit young, drunk women for nothing more than eye-candy and thrills. I'm not being sarcastic either. I have spent countless hours checking out their videos and photos of drunk coeds dancing naked, or flash some of their goodies. It's part of who I am, today. The enigma, that is eRock.
This looks like it might be some kind of exhibition dancing, like a hot-bod contest or something. I would say it's a wet t-shirt contest, except there's no water or wet t-shirts. It's just a couple of drunk party girls flashing their tits to the whole night club. I don't notice anyone else reaching to pull off their shirts either. So maybe we just have a couple of super-horny hotties on our hands, that just couldn't bare to be in their tight, constricting clothing any longer.
Free Sites:
Drunk Galleries / Dumpster Sluts / Wasted Coeds
Sponsored By:
Girls Gone Wild
..:: Official Web Site
« Previous Page | Next Page »