Time & Date:
July 1, 2006 @ 5:13 am
Categories:
Awww, yeah! It's one thing to see your buddies sucking the whip cream off some drunk coed's nipples, but it's quite another when it's another girl cleaning off her nipples. I don't know if they do it for the attention or because they genuinely want to suck on another girl's tits/nipples, and they're using the alcohol as an excuse, so she's not judged. Maybe it's more acceptable for women, if another girl sucks on their titties, rather than a man.
You have to look closely to catch this drunk coed's exposed nipple(s). It appears another wasted coed is licking whip cream from her tits, while the lickee is exposing her boobs more and more, so her friend laps it all up. Meanwhile, if it wasn't for her hair, she's completely exposing her tits/nipples to the whole party. Always one of my favorite party games to play!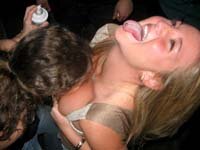 Free Sites:
Drunk Galleries / Home Made Videos / Sexy, Drunk & Funny
Sponsored By:
Wild College Parties
Time & Date:
June 27, 2006 @ 8:42 pm
Categories:
I'm only guessing that this is some sort of formal event, and not a full-on bar or pub. I see a few tuxedos in the background and the lights are a bit bright for a dingy bar. More than likely, it's some sort of charity or auction, or some sort of function where rich people get dressed-up and spend a shitload of money for a dinner.
Definitely the cutest one of the bunch, the girl in the middle has one of her nipples slipping right out the top of her dress or blouse. She appears to have tiny tits, so I can easily see how her strapless attire can slip down over her little speed bumps without much trouble, drunk and careless, or not.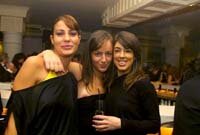 Free Sites:
Rate Nude Girls / Exhibitionism / Adult Ipod Videos
Sponsored By:
Drunk Girls in Public
Time & Date:
June 24, 2006 @ 10:27 pm
Categories:
Ok, obviously this isn't an accidental nip slip. I just think it's a cool photo, and after all, she is throwing-back alcohol and there is a a nipple or two, present. So, I figured you wouldn't mind if I posted a non-slip as long as it's a good, drunken photo that involves female nudity.
Anyway, enjoy the photo for what it's worth. I mean, she DOES have a very beautiful, all-natural rack that I wouldn't mind getting my mouth and hands on.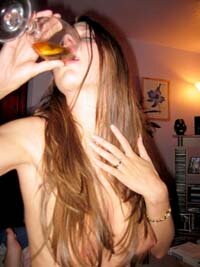 Free Sites:
Drunk Galleries / Home Made Videos / Exhibitionism
Sponsored By:
Hardcore Partying
Time & Date:
June 21, 2006 @ 4:15 am
Categories:
You know this chick is a real party girl. When a drunk girl straddles some dude, while in her loose bra and panties, on the beach, in front of a crowd, you know a girl like that doesn't fuck around when it comes to having a good time. I've dated a few girls that were really wild, like this and there were nights with them that I wanted to last forever.
To me, it appears they're playing some sort of drunken beach game, like something you would see on MTV's spring break. Either that, or they're with some chartered group of young couples on some tropical location, where they can be drunk and naughty and still show their face at their jobs or in public, when they return. But when you break it all down, who really gives a shit what they're doing? There's a young, drunk female accidentally letting her nipple(s) slip out in public. And that's what we're here for.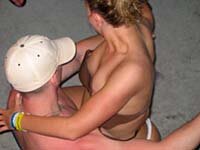 Free Sites:
Drunk Galleries / Dumpster Sluts / Adult Ipod Videos
Sponsored By:
Party Pimps
Time & Date:
June 20, 2006 @ 10:25 pm
Categories:
I think Jessica Alba is one of the most beautiful women walking on the face of this earth, right now. I've been a fan of hers since I saw, "Never Been Kissed", with Drew Barrymore. I believe she broke into stardom after appearing as the lead role in the television series, "Dark Angel", but her acting credits go back as far as 1994. Of course, I'd be lying if I said Jessica Alba is a great actress, but she's very easy on the eyes, so I can sit through just about anything she's in.
I just hope, one day soon, that Jessica Alba's career begins to tank, just so she'll be forced to go into softcore porn to keep the paychecks coming in. I mean, we have been seeing more and more of her lately. Unfortunately, looking her film schedule, she has a LOT of flicks coming out in the near future, so we're going to have to wait out her career to see her get naked. It's bittersweet situation; we get to see more of Jessica Alba, but not "MORE" of Jessica Alba. At least, not yet.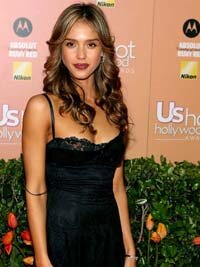 Free Sites:
Celebrity Nipples / Celebrity Movie Blog / Nude Celebrity Post
Sponsored By:
Paparazzi Filth Exposed
Time & Date:
June 19, 2006 @ 6:53 pm
Categories:
Sometimes girls get really goofy and silly when they're drunk. Especially, when they're with other girls. Usually, if they're wasted around a bunch of drunk men, they end up on their back with their legs in the air. The only problem with that is, who's going to be the lucky guy that gets to lay on top of her. There's a lot of intense competition when there's very few women at what would normally be considered a sausage fest, as I'm sure you already know.
I'm not sure what's going on in this photo, but it's obvious this college cutie has tripped and fallen, only for her little, tiny titty and nipple to slip out of her dress, making a public appearance. She looks like she's in some sort of cocktail dress, so I'm assuming she was having an evening out, where she was more than likely getting tanked. If she's falling-down drunk already, this would be the perfect time for a man to make his move.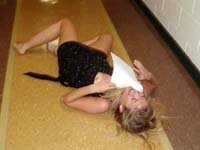 Free Sites:
Drunk University Girls / Peep Hole Cams / Wild Amateurs
Sponsored By:
Real College Girls
Time & Date:
June 17, 2006 @ 6:52 pm
Categories:
Ok, so they're not completely naked, yet, but they're well on their way. It looks like the wasted coed, in the blue panties, couldn't get her clothes off fast enough. As luck would have it, she has a super-cute, little bod on her, and judging by the the hand gesture of the guy behind her, I'd say she has an equally nice ass.
I've never been able to figure out what compels certain girls to get naked or have some form of sex, in front of a crowd of people. I mean, I know the alcohol has a lot to do with it, but I've been really shitfaced many times in my life and never has the thought of getting naked in front of everybody, cross my mind. That's lucky for everyone else, though. Don't get me wrong, I love drunk naked coeds, dancing around and making out in front of me! And, of course, I welcome any of them to jump under the covers with me. I'll take advantage of it, but I just don't understand why they do it. Attention, I guess.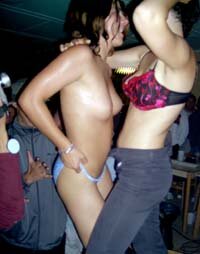 Free Sites:
Uncensored Drunks / Exhibitionism / Drunk College Pics
Sponsored By:
Girls Gone Wild
..:: Official Web Site
Time & Date:
June 16, 2006 @ 11:40 pm
Categories:
This college coed's nipple slip has been floating around cyberspace for quite a while now, so you have seen it already. I posted it because it's still a great nip slip, and on a drunk college cutie. It looks like the ole strap-slips-off-the-shoulder slip, which is actually probably the most common form of nipple slipage.
I have a buddy that was actually at this very party, where this photo was taken. I believe he even knows most of these girls, and that includes the dude be-bopping in the background. It all took place several years ago, at a wild frat party, at Indiana University, also known as one of the top party schools, in the U.S. This group of drunken hussies all belong to the same sorority, from what I remember, and one of one of them happened to get caught slipping.
Free Sites:
Drunk Galleries / Stile Project / Amateur Made Videos
Sponsored By:
Wild College Parties
Time & Date:
June 15, 2006 @ 5:27 pm
Categories:
This drunk club girl reminds of the types of girls I love to bring home after a night of wild partying. She has a bit of that trashy look going for her, which, in my experiences, usually means she's a "sure thing" for a drunken romp in the sack. If you just keep feeding her alcohol, she'll remain yours for the evening.
The fact that she's flashing her milky-white tit in public also tips me off that she might be an easy score. I know I'd be all over her, like a fifth grade crush, once I saw those nipples. She has great tiny nipples, but they're also long and erect, which just drives me crazy. It looks like her girlfriend has the right idea. She's doing what I'm thinkin'.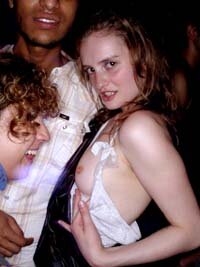 Free Sites:
Rate Nude Girls / Downblouse.It / Sexy, Drunk & Funny
Sponsored By:
Crazy Club Flashers
Time & Date:
June 13, 2006 @ 9:46 pm
Categories:
There's no sign that this girl is drunk, so I'm going to assume that she's not. And you got to love a girl who likes to play her video games, braless. You would think her tits jiggling around freely would be distracting for her, and us, but apprently she has no problem with it, and I most definitely don't have a problem with it.
Something tells me that this gamer chick really doesn't care if her titties have slipped out of her top. I mean, look how loose it is. She had to realize that her tits would be, at least, somewhat exposed to the public, in a less obvious way. Her boobs aren't big enough to stay behind her top, anyway, but I'm digging her cute, little titties. I love it when girls have their nipples pierced, as well.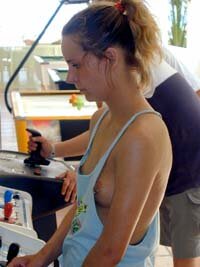 Free Sites:
Drunk Galleries / Peep Hole Cams / Accidental Voyeur
Sponsored By:
Candid Crush
« Previous Page | Next Page »