Time & Date:
March 9, 2006 @ 10:35 pm
Categories:
Apprently, getting one last pop in with a stranger before you tie the knot, isn't just for men anymore. I've been noticing more and more groups of women out at the bars and clubs, all in the name of the 'bachelorette parties'. Here, we all thought soon-to-be brides were only dreaming of their wedding day with the man of their dreams, but in reality, they're out hunting down strange cock for a no-strings-attached one-night-stand, before they get married. a lot of these chicks are running around in the clubs, with dildos and wearing strap-ons. It's very surreal.
It looks like this bachelorette; or at least one oif the girls from the party, is getting in some man time, all the while her titty is sticking out of her blouse. Is that some sort of body-language that's saying, "take me home, rip off my clothes, and bang 'til the next morning"? Maybe the guy she's making out with pulled her boob out while kissing her. I think it's completely accidental, though. It looks like her blouse was pulled back while she was turning away from him.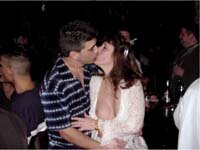 Free Sites:
Splinter Home Video / Dumpster Sluts / Sexy, Drunk & Funny
Sponsored By:
Drunk Horny Bachelorettes
Time & Date:
March 8, 2006 @ 1:43 am
Categories:
Now this is what I always like to see. Two drunk/wasted club cuties accentuating their beautiful bust-line and showing off their sexy bellies. These types of club girls are usually the ones that are there to actually dance, instead of the other types of club girls, that are there mainly to be seen. Their club attire is a bit more athletic and/or loose-fitting for maximum dance moves.
I'm not sure what all these people are looking at, but it was enough to take their attention away from the fact that the tiny, brunette club girl's nipple/titty has slipped out of her top. It's always good to keep hers or her friend's attention away from her slip, so they don't inform her. I figure it's either that, or she had her tit out so someone could suckle on it. Perhaps she was getting a little action in a dark corner of the club. After all, it appears that her lips are a little chapped. Maybe she was just sucking-off someone herself.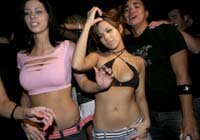 Free Sites:
Amateur Album / My Drunk Girls / Home Made Videos
Sponsored By:
Hardcore Partying
Time & Date:
March 5, 2006 @ 11:08 pm
Categories:
First, let me start by saying that either this is one hell of a side-view titty slip on Linsay Lohan, or someone did a great job in Photoshop. I can't find anything that says this picture is a fake, so for all intents and purposes, Lidsay has once again given the public a sneak peek at her wonderfully big boobs. Something, lately, she has been no stranger to.
You've probably heard of Lindsay Lohan from her most recent minor scandals with drug abuse and bulimia.. She has been the dubbed the "Teen Queen", but hates that title. She has also become part of the latest Hollywood party-girl scene, that includes the likes of Paris Hilton, Nicole Richie and Tara Reid, among others. You may also know her for teen movies; such as: "Confessions of a Teenage Drama Queen", the lastest "Herbie" movie and probably her most popular movie, "Mean Girls" (along with co-star Rachel McAdams

). Outside of "Mean Girls" (which I liked), her movies are pretty run-of-the-mill, but Linsay seems to be here to stay and as long as she keeps showing us more and more of herself, I'm totally cool with that.
UPDATE: I just noticed Celebrity Movie Blog has this full photo series, of Linsay Lohan.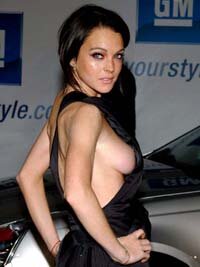 Free Sites:
Celebrity Nipples / Celebrity Movie Blog / Nude Celebrity Post
Sponsored By:
Paparazzi Filth Exposed
Time & Date:
March 3, 2006 @ 10:36 pm
Categories:
God bless the person who designed these kind of tops for women! Either it was a woman, who didn't count on perverted individuals such as us, or it was male designer, who knew exactly what he was doing. I think these tops have produced more nipple and titty slips than anything else out there, besides, maybe bikinis. That happens quite often in bikini tops, if they're not careful.
This chick has to be drunk. I can't think of any other explanation of why a girl in a top likes she's wearing, with no bra, would lay down on top of a bar, in a crowded night club. I know why belly shots are fun, but you would think that she wouldn't want her free and loose titties flopping all over the place, let alone exposed in a public setting. Thankfully, she's either completely shitfaced or clueless to a man's radar for such things. She looks like she has some pretty, tiny titties too. Actually, an all-around nice body, and a cutie to boot.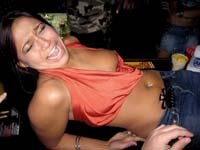 Free Sites:
Rate Nude Girls / Amateur Made Videos / Classic Voyeur
Sponsored By:
Sex in the VIP
Time & Date:
March 2, 2006 @ 5:32 pm
Categories:
What is it about DJs that attracts the ladies so much? Most of the time DJs are nothing more than music/techie geeks with good taste in music. I used to hang with a bunch of DJs back in the day and there was nothing really speacial about any of them, yet they had ass lining up outside their bedroom door. Of course, I used to be a drummer for a band and chicks dug that too. It must be the primal beats that makes their pussy wet.
These club girls are all lined up in front of the DJ booth/tables dancing and flaunting their stuff. The girl in the white bikini top must have been trying out some new moves, because I would think it would take some major wiggling to work her boob out the bottom of her top. And the fact that her titty slip, exposed to the public, has still gone unnoticed makes it all the better.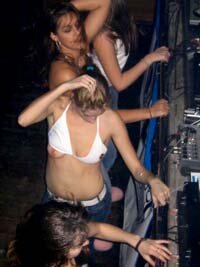 Free Sites:
Drunk Galleries / Peep Hole Cams / Teen Rave Pics
Sponsored By:
Wild Club Videos
Time & Date:
February 28, 2006 @ 3:21 am
Categories:
I might have the look of a psychopath on my face too, if I were shitfaced with beautiful half-naked drunk college girls around me! I would be in drunk-and-horny heaven. Of course, I don't know if I would have the balls to take it upon myself to pull these drunk coed cutie's bikini tops up, but I'm enjoying seeing the end result.
Unfortunately, these girls went and covered their boobs before we could get a look at them, but the coed cutie in the pink bikini-top, wasn't able to cover her nipple in time. They don't look all that pissed off about their drunk male friend pulling up their tops and exposing their boobies. Sounds like my kinda girls! Too bad there aren't more women like that, out there, that will just let whoever check out their goodies, and maybe even let us feel them up while we're at it. I think we should present this proposal to various women's organizations. Whatta ya think?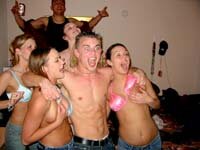 Free Sites:
My Drunk Teens / Stile Project / Drunk College Pics
Sponsored By:
Wild College Parties
Time & Date:
February 20, 2006 @ 12:43 am
Categories:
That blonde-bimbo look can be really hot sometimes. Personally, I couldn't imagine myself have any kind of real relationship with a girl like that, but by all means, I'm still a man and I still love all the features a so-called 'bimbo' might have. The big blonde hair, big boobs, legs that would stop traffic, jacked-up cleavage, the tight ass, heavy make-up and a dainty fake laugh to top it all off. But this drunk chick has REAL boobs, which is al ways a plus in my book, and they're real nice boobs to boot.
I'm not sure if this cute party girl could've planned a titty slip this good, and she has the perfect boobs for a downblouse shot of this calibur. Her blouse being completely loose and open might have something to do with it, but sometimes when you're wasted you don't think of those sort of things. And as guys, we're relying on woman to be drunk, sloppy and forgetful just so we can exploit the situation.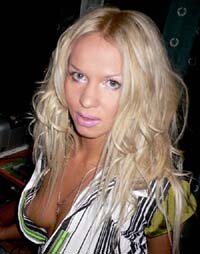 Free Sites:
Uncensored Drunks / Peep Hole Cams / Teen Rave Pictures
Sponsored By:
Real Drunk Girls
Time & Date:
February 17, 2006 @ 6:46 pm
Categories:
I have to say, this chick looks pretty fuckered-up. Not only do I see liquor bottles sitting in front of her, but I'm guessing the alcohol has caught up with her. Plus, I know that demeanor, when your sitting, hunched over and your face is buried into your hands, and all you're thinking is, "Why!? Why, did I drink so much, so fast!? Please, God, gimme the strength to go on!"
The perfect side view of her exposed boob reinforces my opinion. I'm thinking, either she doesn't realize her titty has slipped out the side of her dress, or she's so shitfaced and hurting that she doesn't care. She's tore up from the floor-up, beat up from the feet-up, and the last thing she's thinking about is if some pervert is snapping photos of a hanging, exposed boob.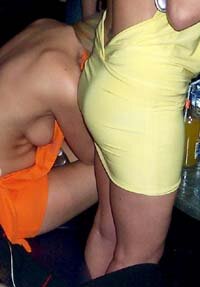 Free Sites:
Viva Voyeur / Splinter Home Video / Night Club Galleries
Sponsored By:
Wild Club Videos
Time & Date:
February 16, 2006 @ 6:05 pm
Categories:
I never even heard of Traci Bingham until she showed up at some awards show wearing nothing but jewels glued to her body, as her top. As it turned out, the designer of her jewel-top is the daughter of a guy I did business with. It was then that I had to find out who Traci Bingham was. I must say, I was very pleasantly surprised. Not only did she look amazing in theat jewel-top, but she was a total hottie all the way around. A gorgeous body, with a rack to match.
Traci Bingham is probably known best for her role as "Jordan Tate", one of the many buxom babes on the "Baywatch" TV series, as well as being a former Playboy Playmate. Since her stint on "Baywatch", she seems to have stuck to television acting and doing a lot of reality TV shows, not to mention a little skin exposure now and then. I believe the guy in this photo, with Traci's tounge down his throat, is either her finace or husband. Either way, she's taken now, fellas.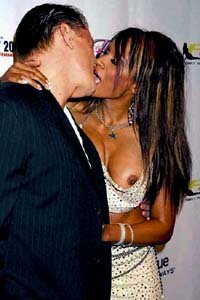 Free Sites:
Celebrity Nipples / Celebrity Movie Blog / Nude Celebrity Post
Sponsored By:
Celeb Tits & Nipple Slips
Time & Date:
February 15, 2006 @ 3:46 pm
Categories:
A group of hotties, all dressed sexy and cute, whether it's for Halloween or not, is enough to get my motor running. There's little hope that you would be able to break into the pack, but it's a lot of fun to try, and once in a while it is possible to get inside, in more ways that just one.

If the drunk coed in the bright green dress hasn't captured your eye already, be sure to direct your attention towards her, and her full titty that's slipped out of her strapless dress. She looks like she's grabbing for something on her dress, but she's reaching in the wrong area, perhaps completely unaware that her bare breast is exposed to whoever is in that room. I bet it's a guy's roon, judging by the pornstar poster in the background. He's probably the lucky guy taking this photo, and more than likely joining them for their night out of doing some serious partying.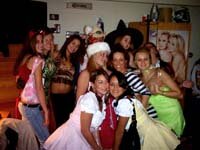 Free Sites:
Rate Nude Girls / Teen Rave Pictures / My Drunk Teens
Sponsored By:
Party Pimps
« Previous Page | Next Page »