Time & Date:
March 11, 2006 @ 5:34 am
Categories:
There's nothing really speacial about this girl that makes her stand out, or wearing anything to says, "Look at me!", either. She just looks like a typical chick out to have a good time, and there's nothing wrong with that. It amazes me that this photo was taken at the precise spot and moment where you can see down her blouse, and see her lovely nipple, from a side-angle.
This poor girl is out partying, dancing and probaly drinking too; not wearing any particularly trampy clothes, and her nipple still gets exposed. You probably wouldn't even be able to catch this downblouse shot if she were to walk by you. It seems this is something only a photo can catch, and it was a pure fluke that it captured her nipple.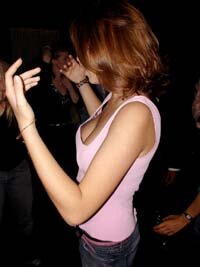 Free Sites:
Viva Voyeur / Exhibitonism / Accidental Voyeur
Sponsored By:
Drunk Club Cuties
Time & Date:
March 10, 2006 @ 3:39 am
Categories:
I've actually had these photos of Nicola Stapleton for quite some time. I didn't know who she was, so I didn't want to post them until I knew for sure. As far as I was concerned, I had a few nip slip photos of some blonde, cutie, but they kind of looked like paparazzi shots, so I had to investigate. You see, I'm from the U.S. and I'm not familiar with UK starlets, such as we have here; with Nicola Stapleton. It turns out she does quite a bit of acting work, starting as a child-actor.
Unfortunately, that's about all I know of Nicola Stapleton, but I have a few more pics of her nipple slips!

Check these out: slip #1, slip #2, slip #3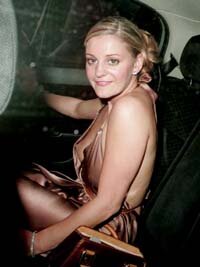 Free Sites:
Celebrity Nipples / Celebrity Movie Blog / Nude Celebrity Post
Sponsored By:
Nude Female Stars
Time & Date:
March 9, 2006 @ 10:35 pm
Categories:
Apprently, getting one last pop in with a stranger before you tie the knot, isn't just for men anymore. I've been noticing more and more groups of women out at the bars and clubs, all in the name of the 'bachelorette parties'. Here, we all thought soon-to-be brides were only dreaming of their wedding day with the man of their dreams, but in reality, they're out hunting down strange cock for a no-strings-attached one-night-stand, before they get married. a lot of these chicks are running around in the clubs, with dildos and wearing strap-ons. It's very surreal.
It looks like this bachelorette; or at least one oif the girls from the party, is getting in some man time, all the while her titty is sticking out of her blouse. Is that some sort of body-language that's saying, "take me home, rip off my clothes, and bang 'til the next morning"? Maybe the guy she's making out with pulled her boob out while kissing her. I think it's completely accidental, though. It looks like her blouse was pulled back while she was turning away from him.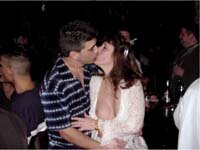 Free Sites:
Splinter Home Video / Dumpster Sluts / Sexy, Drunk & Funny
Sponsored By:
Drunk Horny Bachelorettes
Time & Date:
@ 6:42 am
Categories:
I know exactly how this chick feels. You've been drinking all day, since happy hour, it's only 2:00am and you're completely shitfaced, just barely hanging in there. The only reason is because you don't want to miss the party, so you keep going, getting more wasted by the hour. That's a rough night, and it's usually never worth it.
It kind of looks like the cameraman walked up and told her to flash for the camera and she just barely got her hands up to her neckline, to expose her cleavage. Being completely drunk and careless she pulls down her top a little too much, revealing her areola/nipple. It's not the best one I've seen, but at least she's trying.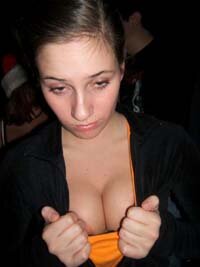 Free Sites:
Uncensored Drunks / Wild Amateurs / Viva Voyeur
Sponsored By:
Drunk Girls
Time & Date:
March 8, 2006 @ 6:08 am
Categories:
I've been to some pretty wild and crazy college parties in my day. Intense binge-drinking, horny naked girlies and whoring myself around with just about any drunk girl that would have me. It was just pure, unadulterated, reckless behaviour and I would repeat every minute of it if I had the chance. It wasn't until I got older that the parties just kept getting wilder and wilder.
I think this girl in the light top got a little more attention than she bargained for. Obviously wanting some kind of attention, by climbing onto the countertop to dance, her nipple was worked itself out of her top. She looks like she's a real party girl, too. Drunk, reckless and having one helluva time! Sounds like my kinda girl. If I were at that party, I would be all over her.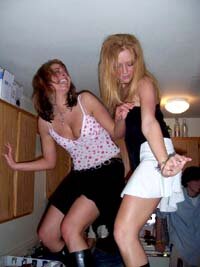 Free Sites:
Drunk Galleries / Teen Rave Pics / Beer Bong Coeds
Sponsored By:
Wild College Parties
Time & Date:
@ 1:43 am
Categories:
Now this is what I always like to see. Two drunk/wasted club cuties accentuating their beautiful bust-line and showing off their sexy bellies. These types of club girls are usually the ones that are there to actually dance, instead of the other types of club girls, that are there mainly to be seen. Their club attire is a bit more athletic and/or loose-fitting for maximum dance moves.
I'm not sure what all these people are looking at, but it was enough to take their attention away from the fact that the tiny, brunette club girl's nipple/titty has slipped out of her top. It's always good to keep hers or her friend's attention away from her slip, so they don't inform her. I figure it's either that, or she had her tit out so someone could suckle on it. Perhaps she was getting a little action in a dark corner of the club. After all, it appears that her lips are a little chapped. Maybe she was just sucking-off someone herself.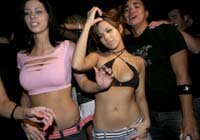 Free Sites:
Amateur Album / My Drunk Girls / Home Made Videos
Sponsored By:
Hardcore Partying
Time & Date:
March 7, 2006 @ 4:18 am
Categories:
I'm not usually attracted to fake tits, but I tend to make an exception when they're so big and hard, they're busting out of a girl's bikini. A tit's a tit, and if they're in plain site, I'm going to check them out no matter if they're fake or not. Especially when the girl looks a bit schnokered and has all the right curves. Being accompanied by a cute, little Asian honey always helps too.

Too bad the photographer didn't continue to follow this girl around more, because I bet her nipple completly slipped out, eventually. Unfortunately, we only get a tease, with her areola just barely coming out the top. Those massive mammaries sure look like they are about to explode out of her bikini top, though. If you look carefully, you can see the outline of her nipple/areola, through the bikini, on her other boob.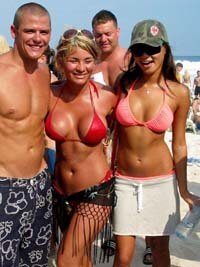 Free Sites:
Rate Nude Girls / Dumpster Sluts / Accidental Voyeur
Sponsored By:
Candid Crush
Time & Date:
March 6, 2006 @ 6:56 pm
Categories:
One thing I love about a woman's ass, besides the obvious, is their ability to shake it. If a girl has a great ass, I could watch her dance, wiggle and shake her butt all day long. You feed a somewhat-dirty girl some alcohol and give her an audience and you just might get her to get slightly naked and shake her bare ass for the crowd. Always a lovely spectacle.
I know how this guy feels. I don't know how many times I've seen girl's beautiful ass and just wanted to reach out and grab a handful of cheek; maybe get in a few spanks in the process. I've never personally had the experience of being at a club and reaching out for a handful of some dancing girl's bare ass, but I can imagine what a wonderful experience it must've been.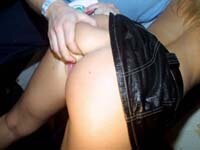 Free Sites:
Drunk Galleries / Viva Voyeur / Stile Project
Sponsored By:
Crazy Club Flashers
Time & Date:
@ 3:43 am
Categories:
Apparently, when a girl pulls another girl's top down (or up), revealing her boobs/nipples is like when us guys depants one of our buddies. Which is always a funny thing to do, except when you're the one being depantsed. Then it's kind of embarassing. It wouldn't stop me from doing to someone else again, though. It appears girls also think it's funny to expose another girl's boobs. I don't know how funny it is, but it's always nice to get a little peek.
The blonde in the little black cocktail number, doesn't appear to be trying too hard to stop her friend from pulliung her boob out. Well, maybe not her full boob, because it looks like her tits are too tiny to actually be pulled out of that top. Nonetheless, we still have have an exposed nipple. A slip by the girl who owns the boobs, but a forced slip, by her drunk friend.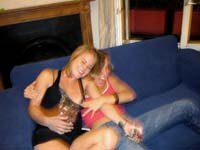 Free Sites:
Uncensored Drunks / Peep Hole Cams / Exhibitionism
Sponsored By:
Girls Get Crazy
Time & Date:
March 5, 2006 @ 11:08 pm
Categories:
First, let me start by saying that either this is one hell of a side-view titty slip on Linsay Lohan, or someone did a great job in Photoshop. I can't find anything that says this picture is a fake, so for all intents and purposes, Lidsay has once again given the public a sneak peek at her wonderfully big boobs. Something, lately, she has been no stranger to.
You've probably heard of Lindsay Lohan from her most recent minor scandals with drug abuse and bulimia.. She has been the dubbed the "Teen Queen", but hates that title. She has also become part of the latest Hollywood party-girl scene, that includes the likes of Paris Hilton, Nicole Richie and Tara Reid, among others. You may also know her for teen movies; such as: "Confessions of a Teenage Drama Queen", the lastest "Herbie" movie and probably her most popular movie, "Mean Girls" (along with co-star Rachel McAdams

). Outside of "Mean Girls" (which I liked), her movies are pretty run-of-the-mill, but Linsay seems to be here to stay and as long as she keeps showing us more and more of herself, I'm totally cool with that.
UPDATE: I just noticed Celebrity Movie Blog has this full photo series, of Linsay Lohan.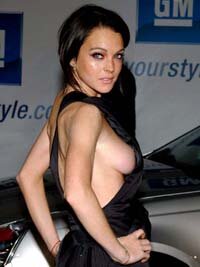 Free Sites:
Celebrity Nipples / Celebrity Movie Blog / Nude Celebrity Post
Sponsored By:
Paparazzi Filth Exposed
« Previous Page | Next Page »