Time & Date:
September 27, 2005 @ 8:36 pm
Categories:
I figured Demi Moore would be appropiate for the lastest installment of the celebrity nipple slips archive. There have been reports that Demi Moore and Ashton Kutcher got hitched over the weekend in front of more than 100 guests. So let's see some of Demi's nipples in celebration for the two.
I can see Ashton dating Demi, because, let's face it, she's pretty hot…but marrying her!? Maybe Ashton has some 'mommy issues' that the public doesn't know about. I'm sure he was the envy of all his friends when he first started dating her. Shit, the envy of a lot of men everywhere. But to marry her seems a little drastic. I know I've always wanted to nail her ever since her naked sex scene in 'About Last Night…'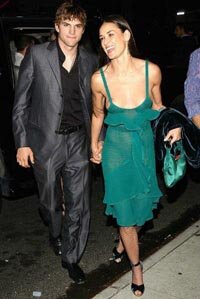 Free Sites:
Celebrity Nipples / Nude Celebrity Post / Bad Girls Blog
Sponsored By:
Nude Female Stars
Time & Date:
September 26, 2005 @ 11:52 pm
Categories:
Oh, wow! This is a major boobie slip! It's one thing to slip a boob or nipple and some lucky dude with a camera just happens to catch it as she passes by. This drunk girl's boob slip isn't a virtually unnoticable 'Oops', lost in the crowd of people, but up on stage, during a rock show and in front of the whole damn club. Poor girl…tee hee.
She looks like she would be a real hottie and has a great rack. She's big city stripper or porn star quality, but with more class. Whatever the case, I'm a much happier man now that this picture has become part of my life.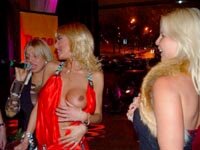 Free Sites:
Uncensored Drunks / Naughty Amateurs / Ex Girlfriend Pictures
Sponsored By:
Hardcore Partyin'
Time & Date:
@ 7:35 pm
Categories:
You gotta love when drunk girls decide they want to show off and dance on the table, or bar. Especially when she's wearing a sexy little number and as hot as this girl! Then you realize it's your lucky day when you look up and notice she has no panties on under that skirt.
I'm not exactly sure why some girl's wear no panties or at least only go pantyless once in a while. I know some do so they don't have panty lines in their dress, but I always thought they usually would wear a thong. In my opinion, I think she didn't wear any panties so she could put on display what she was giving out to one lucky winner that night! Yeah…that's it.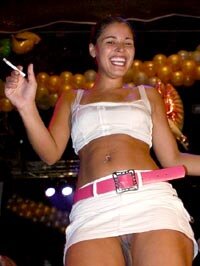 Free Sites:
Dumpster Sluts / Indie Nudes / Night Club Galleries
Sponsored By:
Party Girl Upskirts
Time & Date:
@ 12:10 am
Categories:
You would think a girl with big fake guns like hers would know to be more careful when wearing a skimpy top. Of course, if she's completely shitfaced and dancing around a bar with random dudes, I can see a nice nipple slip like this happening.
I remember these types of girls at the suburban bars. They're in their early 30s, rarely get out, let alone to a bar, and they're complete amateurs when it comes to drinking. They're the ones that are one of the few dancing to classic rock cover tunes being played by the same ole, tired house band. And the best part about them is they are super easy to pick-up. In my early-20s my buddies and I used to go out to the bars specifically to pick-up these women, and bring them to nail all night long.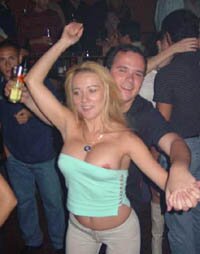 Free Sites:
Uncensored Drunks / Home Made Videos / Drunk Galleries
Sponsored By:
Easy Drunk Girls
Time & Date:
September 24, 2005 @ 11:25 pm
Categories:
This is one of my all time favorite nipple slip pictures! Number one, I just think she is just so smokin' hot. I really like petite, tiny girls and this club hottie fits the bill perfectly. I'm not a huge fan of the fake boobs. They look like two grapefruit were surgically implanted where the saline bags were supposed to go. Since the rest of her is so hot though, I think I can come around where I can accept the big fake boobies.

She sure is having a grand ol' time though, isn't she? She's just dancing the night away like it's nobody's business, and giving us a little nipple show in the process. You would think with rock-solid boobs like hers they wouldn't be bouncing out of her top, but maybe it's the other way around and her top is bouncing off of those boobs. Either way, now that I've stared at this picture long enoguh, I'm going to go to bed with very sweet dreams.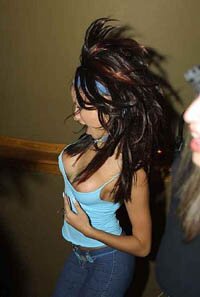 Free Sites:
Dumpster Sluts / Naught Amateurs / Uncensored Drunks
Sponsored By:
Sex In The VIP
Time & Date:
@ 6:25 pm
Categories:
Like I've said before, I really have a thing for the Latinas, and a drunk latina with her boobs coming out of her bra in public I like even more!
She looks like she's bustin' a move at some sort of Latin night club. I went to one of those once with this Puerto Rican girl I used to date. I was heaven! All them hot Latin babes shaking their hips and hot little asses in front of me was almost too much! Needless to say, I had to rush my girlfriend home and relieve the ache between my legs.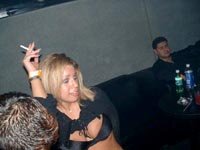 Free Sites:
Amateurs Gone Wild / Teen Rave Pictures / Viva Voyeur
Sponsored By:
Latin Adultery
Time & Date:
September 23, 2005 @ 4:57 pm
Categories:
Actually, I can't tell iuf this drunk clubber girl is actually flashing, or if she was just caught putting her top back on. Maybe she was getting a little action in a dark corner of the night club and the camera man caught her at the tail end. No pun intended.
I nailed this wasted slut one time in one of them photo boothes, in a popular Chicago night club. Unfortunately, we were busted before I had a chance to bust a nut, but it was still a good time, nonetheless. It was ok, because after that we rushed back to her place so we could finish the job. I even had a few pictures of her topless in the booth, but she confiscated them back from me before we split up.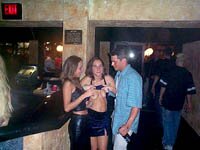 Free Sites:
Teen Rave Pictures / Drunk Girl Galleries / Night Club Galleries
Sponsored By:
Crazy Club Flashers
Time & Date:
@ 12:52 pm
Categories:
Look at that lucky bastard! The only guy hanging out with four hot party girls. I don't recall anytime when I was the only guy with a bunch pf hotties. He's got to be gay. Check out the face he's making. That's a 'gay' face.

This nipple slip is a bit tough to spot unless you're looking in the right place. So, just pay attention to the blonde in white, and follow her loose hanging blouse, down. It's almost like an arrow pointing at her nipples. She looks like she would have a nice set of guns on her too. I think the next picture should have been all the girls completely naked! Or at least topless.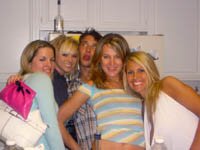 Free Sites:
Dumpster Sluts / Indie Nudes / Naughty Amateur Movies
Sponsored By:
Wild College Parties
Time & Date:
@ 10:45 am
Categories:
I like the attitude the drunk girls presents as she struts her stuff, boobs jiggling right out of her shirt. A sassy beeotch. It even looks like some kind of contest, maybe a wet t-shirt contest. Whatever the case, we have a nipple escaping from the top of this party girl.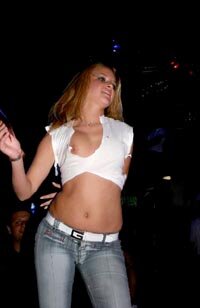 Free Sites:
Amateurs Gone Wild / Accidental Voyeur / Teen Rave Pictures
Sponsored By:
Drunk Girls
Time & Date:
@ 1:18 am
Categories:
This drunk and busty party girl reminds me of the types of girls you would see at the after-hours parties. You know, the parties that continue after all the clubs are closed. Sometimes these parties last for days!
These type of girls are the professional partiers, the ones you see at ever bar and club in town, and at all the wildest parties too. They are usually smoking hot and have a huge appetite for sex, drugs and liquor. They're wild, promiscuous and fun as hell. In other words…my kinda girl. Now, mix that in with a nice, jiggly natural boob, slipping out of her top, and you really have something there.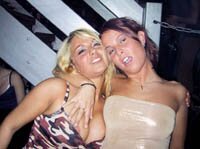 Free Sites:
Uncensored Drunks / Drunk Galleries / Viva Voyeur
Sponsored By:
Hardcore Partying
« Previous Page | Next Page »