Time & Date:
September 25, 2005 @ 3:28 pm
Categories:
Jennifer Aniston has been all the hype lately. She's been portrayed as this poor, broken woman that's an emotional mess after Brad Pitt left her for the ultra Hollywood slut and whack-job, Angelina Jolie. I mean, did Jen really believe that the perceived ultimate Hollywood hunk was being faithful to her? Most guys take what they can get. Can you imagine being able to get any woman your little heart desired? Exactly! The temptation would be over the top.
Don't get me wrong, I love Jennifer Aniston. She does choose some cheesey roles here and there, but for the most part she's a decent actress. Plus, she seems like the type of girl you would bring home to mom. She's clean, classy and has remarkable natural beauty that most women would kill for. Oh yeah, and she has an amazing rack! I got hooked on "Friends" just because of her and those hard nipples poking thru her shirt on almost every episode. You know what I'm talking about. I hope she has a sex tape coming out soon! Until then, we haven't really gotten a view of Jennifer Aniston's boobs yet, so this will have to do for now.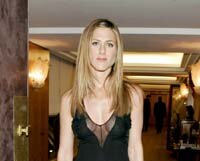 Free Sites:
Celebrity Nipples / Nude Celebrity Post / Bad Girls Blog
Sponsored By:
Mr. Skin's Nude Celebs
16 Responses to "Celebrity Nipple Slip - Jennifer Aniston"
Leave a Comment