Time & Date:
November 1, 2005 @ 7:37 pm
Categories:
Lara Flynn Boyle, a Chicago-native was probably best known for her role as Laura Palmer's best friend, Donna Hayward, in David Lynch's TV series, Twin Peaks. I believe she dated Jack Nicholson for a while too. I don't remember her being in any major film roles though, at least nothing I can think of off the top of my head.
I'm guessing she has been getting some plastic surgery done, because she's looking better tha ever in these photos. I've always remembered her as a freckled face, plain-jane type, and I really never thought much of her. If it's not plastic surgery, Lara Flynn Boyle is definitely aging quite well.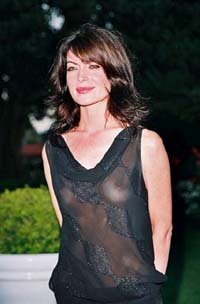 Free Sites:
Celebrity Nipples / Celebrity Movie Blog / Celeb Nip Slips
Sponsored By:
Mr. Skin's Nude Celebrities
Leave a Comment