Time & Date:
November 21, 2005 @ 7:44 pm
Categories:
I guess this really isn't a nipple slip, per se. I think this one might be intentional, but I haven't seen that many photos floating around of Elisha Cuthbert's tits. She could be just another victim of the flashbulb and thin fabric.
For those of you who are not yet familiar with Elisha Cuthbert, she was the blonde bombshell, pornstar in the movie, "Girl Next Door". She also played the hottie high school girl who banged Luke Wilson in "Old School". I haven't really paid attention to her acting ability, but she sure is easy on the eyes. Elisha Cuthbert's boobs is even easier on the eyes.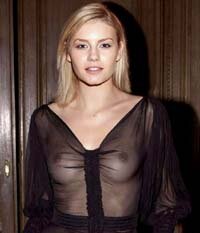 Free Sites:
Celebrity Nipples / Celebrity Movie Blog / Nude Celebrity Post
Sponsored By:
Mr. Skin's Nude Celebs
37 Responses to "Celebrity Nipple Slip - Elisha Cuthbert"
Leave a Comment