Time & Date:
November 29, 2005 @ 8:38 pm
Categories:
I've never really thought much of Jennifer Lopez's so-called 'talent'. I think her singing is medicore, as well as her acting ability. I actually used to be a sort-of fan of hers, during her early career. I remember the Latin hottie as one of the Fly Girls, from TV's "In Living Color". So I was a fan of her physically before I even knew who she was. I also thought she did an awesome job in the movie, "Selena". Then, somewhere between Selena and present day, she turned into J-Lo. Ugh.
For some reason, J-Lo can't hold down a man either. That's got to say something about her off-screen personality. I've lost track on how many marriages, engagements and break-ups she has had in the last decade or so. Plus, what's all the hype about her big ass? That's all you ever hear, that girl has a "J-Lo ass". A big ass is a big ass, I don't see why we're celebrating big asses all the sudden. Jennifer Lopez, J-Lo, whatever. She'll forever be known as the actress with a huge ass. That's why I opted for a nice and simple nipple slip. After all, Jennifer Lopez does like to show off her pretty, little titties.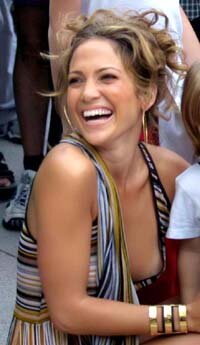 Free Sites:
Celebrity Nipples / Celebrity Movie Blog / Nude Celebrity Post
Sponsored By:
Celebrity Tits & Nipple Slips
36 Responses to "Celebrity Nipple Slip - Jennifer Lopez"
Leave a Comment