Time & Date:
August 17, 2006 @ 9:30 pm
Categories:
Oh, Lindsay Lohan. We just love all the little peep shows you have been giving us, lately. I guess a tiny, little thang like her has a hard time keeping those big, fake tits under control, and under wraps. A lucky break for us!

Lindsay Lohan is another celebrity I've commented on before (see link in first paragraph), so there's not a whole lot left for me to say about her. Although, I know she furiously denies allegations of cocaine abuse, Lindsay IS looking quite skinny for a normal human being. Then again, skinny cocaine using babes have never stopped me before.
**UPDATE - It appears that nipples and tits aren't the only thing body parts Linsay Lohan has been inadvertantly showing.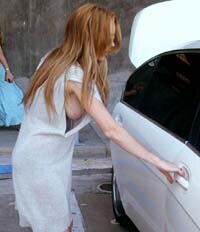 Free Sites:
Celebrity Nipples / Celebrity Movie Blog / Nude Celebrity Post
Sponsored By:
Celebrity Tits & Nipple Slips
Leave a Comment