Time & Date:
September 13, 2006 @ 1:58 pm
Categories:
I've never actually seen a jello wrestling match before, or even mud wrestling, for that matter, but it looks like it would be a lot of fun to watch. It would be even more fun to be able to jump in that pool of jello with a bunch of half-naked honies. Actually, a big, all-naked jello orgy is more along the lines of what I'm thinking.
What I love about this titty slip photo is that when us guys go to see a jello or mud wrestling match, part of the thrill is that there's always the slightest chance that we might get to see a quick tit slipping or popping-out, accidentally. Rarely is that the case, but you get a couple of drunk coeds in their bikinis, putting on a show for the boys at the party, there's always a much better chance of public, yet accidental, nudity. Here's the proof.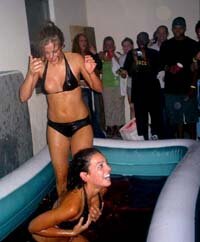 Free Sites:
Uncensored Drunks / Stile Project / Beer Bong Coeds
Sponsored By:
Girls Gone Wild
..:: Official Web Site
3 Responses to "Titty Slip on Drunk Coed Jello Wrestling"
Wombat Said:
September 15th, 2006 at 2:01 am

Such a nice tit and nipple

Matthew Said:
September 15th, 2006 at 3:04 pm

Agreed. Very nice. The Jello-Wrestling website this was on didn't have much else that was very good, although I assume the owner of this blog has scoured it for nipple slips already.

Administrator Said:
September 15th, 2006 at 6:13 pm

I just put that link up for more jello wrestling pics for you to look at. I'm sure they wouldn't let any accidental nudity pics on their site.
Leave a Comment