Time & Date:
November 30, 2006 @ 8:13 pm
Categories:
If you're not familiar Dominique Swain, she's probably most well-known for her role in the film, "Lolita", as the object of desire. She's also a known voice and "activist" in the whole animal rights thang. She's been acting in indie flicks, B-movies and TV ever since, "Lolita", but no break-out performances, as of yet. That's OK, though, because she's very easy on the eyes, in my opinion.
Upon first glance, it only appears that Ms. Swain is only slipping her areola, but if you look closely, you can see her, long, erect nipple being folded and squeezed out of her bra, resulting in what we like to call around here, a nip slip. Now, there's only been very few scenes where Dominique Swain has bared her tits, but unfortunately no shots where the camera hangs on her breats for any length of time. Judging by the path most actresses eventually take to get recognized, she should be appearing in softcore porn very soon. God willing.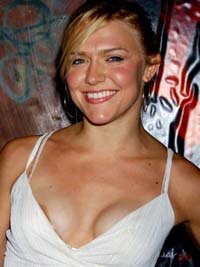 Free Sites:
Celebrity Nipples / Celebrity TGP / Real Celebrity Sluts
Sponsored By:
Celebrity Tits & Nipple Slips
3 Responses to "Celebrity Nipple Slip - Dominique Swain"
anuj raj Said:
May 13th, 2007 at 7:24 am

please increase the nudity level…………………….please

keleapabeweab Said:
December 16th, 2008 at 12:01 am

sextir.com is a free porn site - We provide the world with free: porn videos,porn movies,xxx free movies,free porn,free sex.
Best porn hub and tube on the web

Ovartorkath Said:
December 22nd, 2008 at 9:26 pm

sextir.com is a free porn site - We provide the world with free: porn videos,porn movies,xxx free movies,free porn,free sex.
Best porn hub and tube on the web
Leave a Comment