Time & Date:
September 30, 2005 @ 9:40 pm
Categories:
I guess this is what happens when a sexy babe has really tiny tits, wearing a loose fittting blouse and is completely shitfaced. She gets a little crazy doing shots and, Oops! her blouse just simply slips down, off her shoulders. Score!
I'm actually a big fan of tiny tits. For some reason they seem more feminine to me and I like the 'girly-girl' types. I've also noticed that women who have smaller boobs usually have great, rock hard, pointy nipples. And I'm pretty sure you know my stand on nipples by now…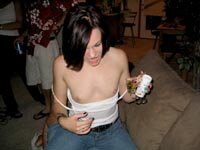 Free Sites:
Home Made Videos / Peep Hole Cams / Naughty Amateurs
Sponsored By:
Drunk Girls Get Crazy
2 Responses to "Drunk Girl's Blouse Falls Down At A Party"
Jared Henderson Said:
November 9th, 2010 at 5:00 pm

I'm pretty sure that's a dude, y'know?

Karen Said:
November 11th, 2010 at 7:32 am

It also happend after the boob job!
Leave a Comment