Time & Date:
October 5, 2005 @ 9:09 pm
Categories:
I've been noticing lately that the girls with a boob job seem to be the ones who like to flash and show off their plastic boobs the most. It seems like they want to show the world, "Hey! I have big boobs now! Check 'em out!" Of course, I have no problem with that, but I wouldn't mind seeing some of the hotties out there with natural boobies, big or small, flash some skin.
Besides the wasted and very busty hottie flashing her nipple, you will notice how the less endowed party girl struggles to keep her top from coming up, exposing her smaller tits. Luckily for us, the busty one made up for it because her boobs are so big! Judging by her eyes, she kind of looks like she's rollin' on 'E' too.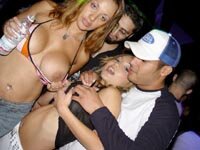 Free Sites:
Amateurs Gone Wild / Private Amateur Videos / Drunk & Slutty
Sponsored By:
Crazy Club Flashers
One Response to "Public Nipple Flash From Wild Party Girl"
bill Said:
February 13th, 2006 at 8:30 am

also, notice the bottle of water in the flasher's hand… tell-tale sign of someone rolling, because the drug dehydrates people at a rapid rate.
Leave a Comment