Time & Date:
October 17, 2005 @ 10:31 pm
Categories:
Forget about being a tease, this girl went right for the nudity! I guess when you're drunk-dancing in front of big crowd at a night club, the pressure is on to start removing your clothes. Judging by this photo, she didn't even hesitate!
It's interesing, becasue she's the only one getting naked in public. If there were a row of drunk women, half naked, naturally I would assume it's some sort of wet t-shirt contest. She's the only one, though, and she's putting on one hell of a show for everyone in the night club. You go, girl!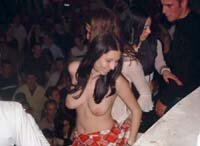 Free Sites:
Teen Rave Pictures / Dumpster Sluts / Exhibitionism
Sponsored By:
Crazy Club Flashers
One Response to "Drunk Girl Dancing Topless In A Crowded Night Club"
Marcucco Said:
July 8th, 2008 at 5:54 pm

Sne certainly has the boos for it. Nice rack!
Leave a Comment