Time & Date:
October 29, 2005 @ 2:06 pm
Categories:
I've always thought Mischa Barton is a hottie. Even when she was much younger, you coulkd tell she was going to grow up to be a beautiful girl. You probably recognize her mostly from Fox's ngiht-time, young soap opera, 'The O.C." Mischa has been a round for a quite a while before The O.C. broke her, manily in obscure, indie flicks. A movie called, "Lawndogs" she was good in, and "Skipped Parts" to name a few.
I haven't heard of anything recently that Mischa Barton has done, besides the very popular, "The O.C." Her earlier roles when she was a young girl, she was very good in, in my opinion. So, I'm sure she will be around for a long time to come. This is only the begining of her career.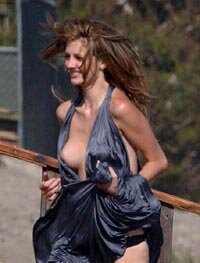 Free Sites:
Celebrity Nipples / Celebrity Movie Blog / Celeb Nip Slips
Sponsored By:
Nude Celebrity Theater
(May Contain Pop-Up)
42 Responses to "Celebrity Nipple Slip - Mischa Barton"
Leave a Comment