Time & Date:
November 11, 2005 @ 7:14 pm
Categories:
This photo was a tough call as far as nipple slips go. First off, let me say that I think Mariah Carey is hot as hell. I get a lot shit from people when I say that, but I don't understand how people can think she's not hot. Yes, she tries a little too hard to be a sex symbol, but that's just eye candy for me. She has great legs, a great rack, a great ass and she has a beatiful face…not to mention she's extremly talented. her music is not my cup of tea, but I can still recognize talent when I hear it. Have you ever seen her movie, "Wise Girls"? It's actually not bad. The first time I noticed she might have an acting career.
Ok, now back to her nipples. Upon close inspection of this photo, I'm almost positive I see a nipple poking out, through her hair. I could be wrong, but that's highly unlikely

Take a look for yourself and see what you think. Until then, I'm going to believe I see Mariah Carey's nipple. Either way, she looks hot in this picture.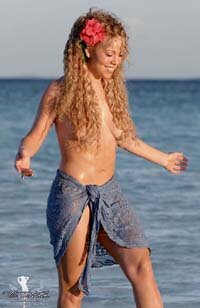 Free Sites:
Celebrity Nipples / Celebrity Movie Blog / Nude Celebrity Post
Sponsored By:
Paparazzi Filth Exposed
(May Contain Pop-Up)
42 Responses to "Celebrity Nipple Slip - Mariah Carey"
Leave a Comment