Time & Date:
November 19, 2005 @ 12:37 am
Categories:
This is exactly how I feel too, when I'm grabbing on to some hottie's tight ass. I just want to bite her buns! If it were an ass as hot as this one, I would be going just as crazy as she is. As I've said before, I also have an ass fetish.
I've seen girls making-out at clubs before, also grabbing boobs and just being down-right dirty girls. As dumb as it may sound, I've never seen one girl get this excited over another girls ass. I get this excited, but as a man, I can't act on it like a woman can. If it were me, the next photo would be the girl's fist against my face.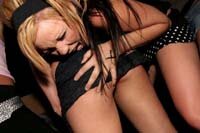 Free Sites:
Viva Voyeur / Private Amateur Videos / Night Club Galleries
Sponsored By:
Party Girl Upskirts
Leave a Comment