Time & Date:
November 25, 2005 @ 6:05 pm
Categories:
Who would've thunk that good ole "Alley McBeal" would expose and flaunt her pretty, little titties to the public? Actually, I never really thought much of Calista Flockhart, also known as the title character on Fox's now cancelled TV show, "Alley McBeal". I always thought she was kinda cute, but she was also WAY too skinny. Plus, I hated that show.
It looks like Calista's at some sort of red-carpet event, with her lover, Harrison Ford. I'm not sure if they're still a couple or not, but they were at one time. Interestingly enough, my dad actually went to high school with Harrison Ford. He doesn't remember him though from those days. He said, "He must have been some kind of nerd or I would've known him." Of course, my dad was also a leader of a large greaser gang back then. But, yeah…check out Calista Flockhart's tits in her see-thru outfit.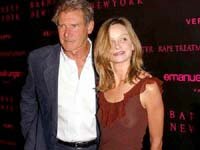 Free Sites:
Celebrity Nipples / Celebrity Movie Blog / Nude Celebrity Post
Sponsored By:
Paparazzi Filth Exposed
Time & Date:
@ 1:32 am
Categories:
Here, we have another areola slip. I know I'm kinda reaching with this one, because it's barely visible, but she's super cute, dripping-wet, and her bra is so waterlogged it's sagging just enough to catch a glimpse of her dark brown areola. I bet what she's got behind that bra is also very nice.
Why is she wet, you ask? Well, I saw the full picture series where this came from. The scenario is, this is an outdoor club/party set around a swimming pool, on a warm summer night. Unfortunately for her, she was pushed into the pool as a joke. Fortunately for us, she looks great soaking wet!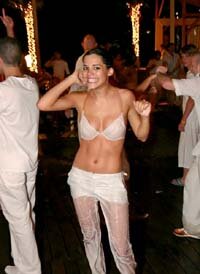 Free Sites:
Drunk Galleries / Teen Rave Pictures / Max Nipple Pics
Sponsored By:
Easy Drunk Girls
Time & Date:
November 24, 2005 @ 12:19 am
Categories:
This is a group of drunk girls I wouldn't mind running into in a dark alley. Well, two of the three anyway. And when I said "drunk girls", I meant drunk enough that there defenses are down. And when I said "dark alley", I meant, them naked and in my bedroom.
Now, if we could just get our little, cutie on thge right to lean in a bit closer, we might have had a full-on boob slip out of her top. Unfortunately, we will have to settle for only her areola this time, but I'll take that, with no complaints, too. I bet those puppies are nice!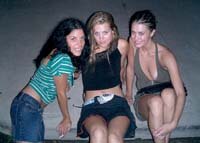 Free Sites:
Viva Voyeur / Amateur Photo Album / Extra Long Nipples
Sponsored By:
Drunk Club Cuties
Time & Date:
November 23, 2005 @ 5:07 pm
Categories:
You may or may not remember, but, besides nipples, I'm also an ass man. A girl with a nice, shapely ass will win over just about everything, in my book. That is, of course, if I'm trying to get my hands on that ass. So, when women wear their thong panties with the straps coming out of their pants' waiste-line and over their hips, it's so freakin' hot.
There's lots of lipstick lesbian action going on at night clubs. Actually, it's more of being playful and naughty with other girls than real lesbianism. I'm not sure if they do it to get attention from the men-folk or just because lots of club girls are just smoking-hot and they can't control themselves. That's why I'm wondering if this drunk clubber girl pulled down her friend's skirt to lick her beatiful buns. That's what it looks like. I would like to see what these two would do if they weren't in public and alone.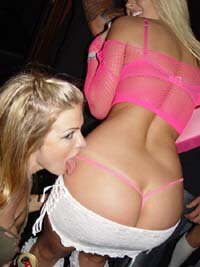 Free Sites:
Uncensored Drunks / Dumpster Sluts / Night Club Galleries
Sponsored By:
Hips & Thongs
Time & Date:
@ 4:27 am
Categories:
I'm not sure exactly what's going on here, but if a bunch of drunk college girls are laying on their backs while the guys throw money at them, it sounds like a party I would like to be at!
They might be getting ready to get naked here. It looks like our nipple slipee is actually tugging down a bit, at her top. All the girls' jeans are undone and a notice one of the coeds grabbing onto her own tits. Damn! This party is sounding better and better! Where can I donate to the fund? I want to see more!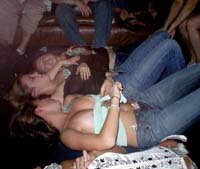 Free Sites:
Drunk Galleries / Amateurs Gone Wild / Peep Hole Cams
Sponsored By:
Wild College Parties
Time & Date:
November 22, 2005 @ 7:04 pm
Categories:
Yes, you probably would see her tits eventually, during a wet t-shirt contest. Most girls end up ripping off their t-shirts to guarantee a win. Let's face it, most of us guys would want see some nice, bare titties rather than her boobs thru a wet t-shirt. Bare breasteses would get a lot more attention.
Since this drunk coed officially still has her shirt on, and it's covering her tits, I think this should qualify as a "nipple slip". Plus, I think it's just a cool photo.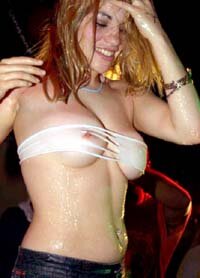 Free Sites:
Teen Rave Pictures / Drunk Girl Galleries / Accidental Voyeur
Sponsored By:
Drunk Girls
Time & Date:
@ 4:27 am
Categories:
Ahhh, yes. The ol' leaning backwards nip slip. When girls stretch this much and in this position, those puppies just want to spring out of there. Of course, wearing skimpy attire and no bra underneath helps quite a bit, as well.
One of the drunk party girl's nipples you can see, plain as day. I think I see an areola slipping out of the other girl's top too. Look closely on the girl on the left (in the colored top), and I'm almost positive I see an aerola. So this may be a double nip slip.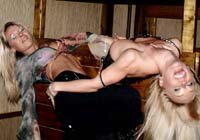 Free Sites:
Viva Voyeur / Uncensored Drunks / Drunk Galleries
Sponsored By:
Hardcore Partying
Time & Date:
November 21, 2005 @ 7:44 pm
Categories:
I guess this really isn't a nipple slip, per se. I think this one might be intentional, but I haven't seen that many photos floating around of Elisha Cuthbert's tits. She could be just another victim of the flashbulb and thin fabric.
For those of you who are not yet familiar with Elisha Cuthbert, she was the blonde bombshell, pornstar in the movie, "Girl Next Door". She also played the hottie high school girl who banged Luke Wilson in "Old School". I haven't really paid attention to her acting ability, but she sure is easy on the eyes. Elisha Cuthbert's boobs is even easier on the eyes.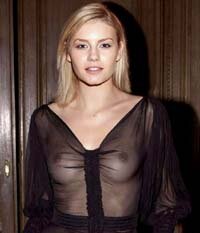 Free Sites:
Celebrity Nipples / Celebrity Movie Blog / Nude Celebrity Post
Sponsored By:
Mr. Skin's Nude Celebs
Time & Date:
@ 3:14 am
Categories:
Usually, real club girls go all-out on their outfits. Being part of the club scene usually means being part of the fashion show. The night clubs aren't just for dancing anymore. Men participate in the pseudo fashion show too, but the real highlight is the ladies. Damn they look good! You probably won't find more beautiful women, in one place, dressed this hot and sexy anywhere else. The sleazier, the better.
This chick seems to have went all-out on the disco duds, at least to some degree. That low-cut, loose-laced top mixed together with a good boob job and maybe a little dancing to the beats and we got ourselves a grade-A nipple slip. Those beats just bounced her boob(s) right out of her top. Well, enough to see some nipple.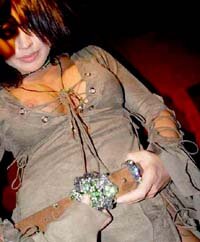 Free Sites:
Dumpster Sluts / Home Made Videos / Max Nipple Pics
Sponsored By:
Sex In The VIP
Time & Date:
November 20, 2005 @ 10:14 pm
Categories:
I've always loved this photos, not only because of the great titty slip, but because this girl is just so wasted. I love it! She has great little tits too!
Judging by how drunk she looks, I would say at least one of those dudes at this little soiree took advantage and scored with her. Your timing has to be perfect for a girl this drunk though, you have to get her before she passes-out. Taking advatantage of a passed-out girl can get you into big trouble. This shitfaced college girl looks like she's about to go down, and not on anyone in particular, but actually pass-out. So, you have to get her to 'go down' before she 'goes down', if you know what I mean…
All in good fun, of course….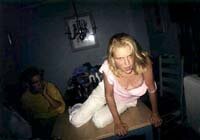 Free Sites:
Amateurs Gone Wild / Peep Hole Cams / Exhibitionism
Sponsored By:
Fucking Drunk Girls
« Previous Page | Next Page »