Time & Date:
November 30, 2005 @ 7:27 pm
Categories:
Such a wonderful site to see, a group of party-girl hotties, getting primed and drunk for their 'girl's night out'. Ready to flaunt their stuff all over town.
These types of group of girls can either go two ways. One, they could be that group that defends eachother from drunk men on the prowl, or two, they could be that group that all goes out together, but all leave with different men they've picked up. The group that defends eachother usually have a few uglies in the mix. These girls are hot, and since at least one of them is letting it all hang out, and slipping a nipple, I'm going to guess they're on the prowl themselves. God bless the lucky dudes that get to take on of these drunk lovlies home.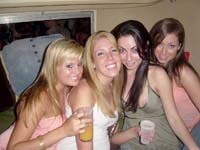 Free Sites:
Drunk Galleries / Home Made Videos / Dumpster Sluts
Sponsored By:
Drunk Girls Night Out
Time & Date:
@ 5:44 am
Categories:
Everytime I scan thru my photo collection of gorgeous club girls and drunk party sluts, this one always catches my eye. Obviously, this isn't a nipple slip. This is one fine-ass blonde club girl, flashing her even finer natural boobs in public, inside the night club. At least, I think those puppies are natural, but definitely a beautiful set, nonetheless.
I know you've probably seen a ton of girls flashing their tits, wheather it was in real-life or just photos on the Net. There's just something about flashing indoors, where the public is plentiful. I think it's because it has a more intimate feel to it, plus it's a rare occurrence, except, of course, strip clubs. She isn't in a strip club though, she's in a regular house-beats pounding, cocaine snorting, glamourama, American night club. For that, I applaud her…and urge her to expose those two lovelies in public more often. Especially when I'm present.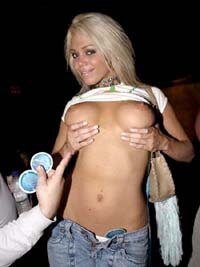 Free Sites:
Uncensored Drunks / Exhibitionism / Night Club Galleries
Sponsored By:
Crazy Club Flashers
Time & Date:
@ 1:16 am
Categories:
I like all kinds of female nipples, but my favorite are them long, pointy nipples. I also really dig puffy nipples. I'm not sure if it's because they are so rare on girls, or if it's just the freaky side of me, being turned-on by abnormal body parts. I guess it's just like a chick that craves monster-size cocks, only nipples in my case. I had to be sure to clear that up. Me like nipples, girls like big dick.
Apparently, this cute Asian club girl didn't anticipate a nice side-view of her semi-open blouse. It's almost a perfect shot of her whole tit. Nipple and all. Very nice, erect and pointy nipples. I like them a little longer and a smidgen bigger, but that's just my personal preference. I'm not complaining though. This club girl's nipples are still very nice and very suckable.
Free Sites:
Viva Voyeur / Teen Rave Pictures / Extra Long Nipples
Sponsored By:
Drunk Club Cuties
Time & Date:
November 29, 2005 @ 8:38 pm
Categories:
I've never really thought much of Jennifer Lopez's so-called 'talent'. I think her singing is medicore, as well as her acting ability. I actually used to be a sort-of fan of hers, during her early career. I remember the Latin hottie as one of the Fly Girls, from TV's "In Living Color". So I was a fan of her physically before I even knew who she was. I also thought she did an awesome job in the movie, "Selena". Then, somewhere between Selena and present day, she turned into J-Lo. Ugh.
For some reason, J-Lo can't hold down a man either. That's got to say something about her off-screen personality. I've lost track on how many marriages, engagements and break-ups she has had in the last decade or so. Plus, what's all the hype about her big ass? That's all you ever hear, that girl has a "J-Lo ass". A big ass is a big ass, I don't see why we're celebrating big asses all the sudden. Jennifer Lopez, J-Lo, whatever. She'll forever be known as the actress with a huge ass. That's why I opted for a nice and simple nipple slip. After all, Jennifer Lopez does like to show off her pretty, little titties.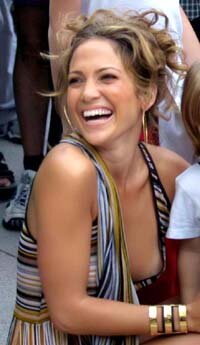 Free Sites:
Celebrity Nipples / Celebrity Movie Blog / Nude Celebrity Post
Sponsored By:
Celebrity Tits & Nipple Slips
Time & Date:
@ 1:38 am
Categories:
When I first looked at this photo, I thought for sure that this shitfaced party girl was passed-out, unconscious while standing in the middle of the dance floor. Especially, since she's looking down, yet she doesn't noticed her nipple slipping out of top. Then, I found this photo of the same girl, all bright-eyed and bushy-tailed.
I've noticed that girls with smaller tits also slip a lot. The other type I noticed slips nips a lot are girls with big, fake boobs. They girls with small tits don't have enough there to hold up their top, while the fake boobie girls, they just can't be contained as easily. Those big ol' mamba-jambas just want to bust right out of the material. I love small tits though, they usually have great nipples.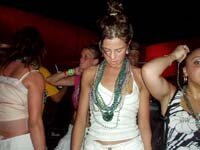 Free Sites:
Amateur Photo Album / Private Amateurs / Sleeploiatation
Sponsored By:
Real Drunk Girls
Time & Date:
November 28, 2005 @ 7:32 pm
Categories:
A very nice downblouse shot of this drunk chick's ample boob, and of course, a faint nipple. It appears her bra and blouse has slipped off her shoulder. I think the photographer knew exactly what he was doing when he snapped her picture from this angle. Evidently, she's too drunk to notice, so it creates a great nipple/titty slip.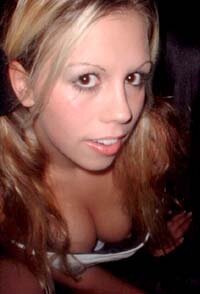 Free Sites:
Drunk Galleries / Amateurs Gone Wild / Accidental Voyeur
Sponsored By:
All Puffy Nipples
Time & Date:
@ 12:04 am
Categories:
You gotta love a girl who isn't shy about exposing her great tits in public, only to cool-off by a big fan. No, she's not lifting her shirt to flash a group of drunk, horny dudes. No, she's not dancing on a bar, hogging all the attention. She's simply hot from dancing and her pierced-nipple boobies need to be cooled off, dammit! When you have a nice pair of tits, they need to be pampered.
I'm sure she's also a little drunk, and she's probably a little trashy too. I mean, most girls don't lift their shirts to cool-off their bare boobies, so I'm guessing this isn't he first time she's whipped out her tits in public. I think she should continue baring her breasts, though. In fact, she should lead the women's movement into their right to bare their knockers in public. Ladies everywhere, unite!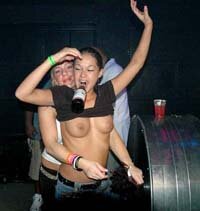 Free Sites:
Viva Voyeur / Home Made Videos / Drunk College Pics
Sponsored By:
Stupid Drunk Coeds
Time & Date:
November 27, 2005 @ 5:02 pm
Categories:
Oh man! How would like to look up and see that waving around in your face? If I saw that, I might grasp on to each of her ass cheeks with each one of hands, pull her hips towards me and I would just bury my face between her legs. Now, that would be an even better site to see.
I'm guessing this club girl was planning on showing off her kitty that night, one way or another. That's a very short skirt she's got on. Plus, she's not wearing any panties under her skirt, and in my experiences, women don't shave their pussy all nice and clean unless someone's going to be seeing it. So, either she was planning on teasing all the boys by waving her pussy around in public, or she's just a flat-out hoe. It just so happens I would be cool with either one.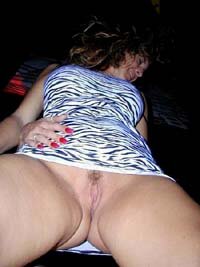 Free Sites:
Teen Rave Pictures / Dumpster Sluts / Peep Hole Cams
Sponsored By:
Party Girl Upskirts
Time & Date:
@ 1:36 am
Categories:
You would think this chick would know better. She's wearing no bra and her shirt is tied together only at the bottom. Apparently, alcohol and a loosely fastened shirt with no bra is a lethal mixture for a grade 'A' nipple/titty slip.
Of course, there's always the possibility that she doesn't care if the party gets a peek of her tiny titties. Especially if she's been drinking. Plus, I think that she can trust a man with a camera, not to take a picture of her titty slipping out of her blouse. Don't you?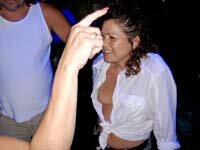 Free Sites:
Uncensored Drunks / Drunk Galleries / Extra Long Nipples
Sponsored By:
Large Nipple Pics
Time & Date:
November 26, 2005 @ 6:59 pm
Categories:
I'm not sure if this chick is in some sort of bikini contest, or if she just got a wild bug up her ass and ripped off her bikini just for the hell of it. Just for the sake of being wild and uninhibited, the center of attention and to be naked in public. I mean, she looks like she's having one hell of a time.
Obviously, she worked herself up to being completely nude, because a crowd of party-goers has gathered around her, of both men and women. Of course, everyone likes to see drunk people being wild and getting naked. I used to date this girl that anytime she got fuckered-up she couldn't keep her clothes on. It was funny and kinda hot at first, but after a while it started to get embarassing for me. She was a wild one though.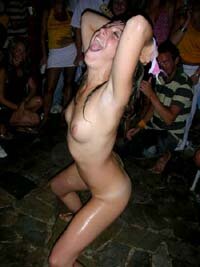 Free Sites:
Amateurs Gone Wild / Viva Voyeur / Exhibitionism
Sponsored By:
Drunk On Camera
| Next Page »