Time & Date:
December 4, 2005 @ 7:12 pm
Categories:
I love it when two drunk and horny sex kittens start getting all playful with eachother. Especially, when they are giving the rest of us drunken perverts a nice, little naughty show.
I can't figure out if these two lovelies have any panties on underneath their short skirts or not. It looks like they're both completely pantyless, but those hot, little asses might have eaten the butt-floss we call "thongs" between their cheeks. Either way, I wouldn't mind grabbing myself a handful of that sexy blonde's ass, panties or not.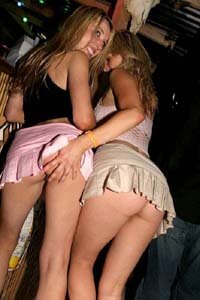 Free Sites:
Amateurs Gone Wild / Amateur Photo Album / Night Club Galleries
Sponsored By:
Public Ass Pics
One Response to "Drunk Club Girls Playing Grab-Ass for the Public"
Norm Said:
December 7th, 2005 at 11:02 am

If you look closely the one on the left is wearing a thong, but I'd still happily grab either of these asses anytime… or even both!
Leave a Comment