Time & Date:
December 12, 2005 @ 7:00 pm
Categories:
Damn! This photo is hot even if her nipples weren't slipping out the top of her bra. Those great, curvy hips are killing me, and her nice tummy just adds definition to her curves. I bet she has a hot, little ass behind those tight, Daisy Duke, short-shorts too.
My guess is that this drunk and sexy club girl is just flashing the camerman her bra-covered boobs during a wild moment she was having. Her nipples slipping out of her bra was merely accidental. More than likely she was bustin' a move on the dance floor and those big natural tits bounced their way almost out of her bra.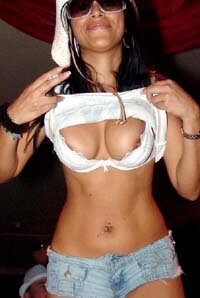 Free Sites:
Viva Voyeur / Exhibitionism / Sexy & Funny
Sponsored By:
Crazy Club Flashers
One Response to "Wild and Drunk Club Girl Accidentally Flashes a Nipple"
Technorgasmic Said:
December 12th, 2005 at 8:59 pm

Thanks for linking to my site!
Leave a Comment