Time & Date:
December 20, 2005 @ 3:34 pm
Categories:
It looks like these party people are dressed-up for Carnivale (no, not the TV show), or some sort of big celebration. I know the dudes aren't painted up for a football game or anything.
Luckily, we don't only see man nipples in this photo. The brunette can not seem to keep her boob in her dress and it's freely hanging out the side. She's completely clueless to the exposure of her tit and nipple too, which I just love!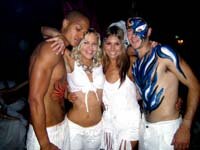 Free Sites:
Home Made Videos / Amateur Made Videos / Drunk Video
Sponsored By:
Crazy Party Girls
Leave a Comment