Time & Date:
January 14, 2006 @ 12:33 am
Categories:
I love when I catch a nipple/titty slip that's not obvious. You know what I mean? Tara Reid's famed nipple slip was obvious, this photo below, is not obvious. It makes me feel special when I get the opportunity to catch the inconspicuous nip slips.
I kind of wish that it was the busty gal in the middle that was accidentally letting her titty slip, but I guess beggars can't be choosers. The slipee is still fairly cute and I wouldn't hesitate to wrap my lips around those nipples of hers. Just as long as her two friends join in later.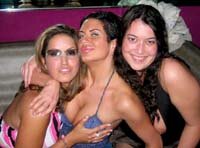 Free Sites:
Uncensored Drunks / Drunk Girl Galleries / Fuck This Porn
Sponsored By:
Sex In The VIP
One Response to "Oops! Drunk Club Girl Let's Her Titty Slip"
Norm Said:
January 14th, 2006 at 3:22 am

I'll bet she'll think her nipple is VERY OBVIOUS if she sees this photo!!!
Leave a Comment