Time & Date:
February 27, 2006 @ 2:53 am
Categories:
A little pre-party action always helps to kick-off the night. Have a few of your closer drinking buddies stop by your place to get primed and a little liquored-up for an evening of heavy partying and skirt-chasing. Of course, in this case it's a group of drunk and horny girls, dressed to show off their best assets. I don't think these party girls are going to be doing any skirt-chasing, but you never know these days. They may be looking for one lucky guy to bring home and use as their house sex slave.
There's no visible nipple in this photo, but this downblouse shot of most of her boob, was just too good not to post. Plus, she's in a cocktail dress, there's a glass of wine/champagne on the counter. I'm guessing she's cleaning up a spilled drink from one of her drunk girlfriends, while carelessly letting her blouse fall open, and almost let her tit pop out. I guess if she's among other woman, why would she care if her boobie accidentally makes an appearance?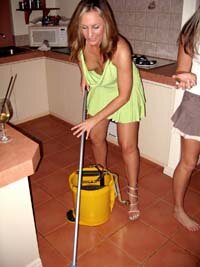 Free Sites:
Drunk Galleries / Rate Nude Girls / Peep Hole Cams
Sponsored By:
Drunk Girls' Night Out
32 Responses to "Careless Downblouse on Drinking Party Girl"
Leave a Comment