Time & Date:
March 9, 2006 @ 10:35 pm
Categories:
Apprently, getting one last pop in with a stranger before you tie the knot, isn't just for men anymore. I've been noticing more and more groups of women out at the bars and clubs, all in the name of the 'bachelorette parties'. Here, we all thought soon-to-be brides were only dreaming of their wedding day with the man of their dreams, but in reality, they're out hunting down strange cock for a no-strings-attached one-night-stand, before they get married. a lot of these chicks are running around in the clubs, with dildos and wearing strap-ons. It's very surreal.
It looks like this bachelorette; or at least one oif the girls from the party, is getting in some man time, all the while her titty is sticking out of her blouse. Is that some sort of body-language that's saying, "take me home, rip off my clothes, and bang 'til the next morning"? Maybe the guy she's making out with pulled her boob out while kissing her. I think it's completely accidental, though. It looks like her blouse was pulled back while she was turning away from him.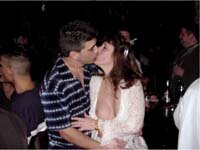 Free Sites:
Splinter Home Video / Dumpster Sluts / Sexy, Drunk & Funny
Sponsored By:
Drunk Horny Bachelorettes
Leave a Comment