Time & Date:
April 2, 2006 @ 9:54 pm
Categories:
I've been in love with, or at least fantasized about, Alyssa Milano since I've been a little kid, and she was only a kid back then, too. The first TV episode of Tony Danza's, "Who's The Boss?", where she played Tony's daughter from Brooklyn, Samantha. My eyes just lit up, like Christmas over this gorgeous Italian beauty. She probably had something to do for my attraction to Italian women as I got older. I watched her show religiously, for pretty much the whole time it was on, but eventually Alyssa Milano disappeared for a few years. When I ran across this cool, new hip magazine, called, "Bikini", I bought a the copy where Alyssa Milano posed nude! She was covered in mud, but that beautiful girl I grew up with was suddenly a woman. And a naked one, at that!
Obviously, Alyssa Milano grew into a beautiful woman, and still is, to this day. After she bared more of her big, fake boobies in a number of B-flicks, her stardom really went up. At least for all heterosexual men, 16-34. I haven't heard what anything about what Alyssa Milano is up to recently, but I do run across one of her many nipple slips, from time to time. Always a good way to stay in the public's eye; slip your nip for the paparazzi. Or you can take the more extreme route, and release your own porno, that some one "stole" from your house.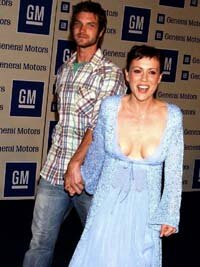 Free Sites:
Celebrity Nipples / Celebrity Movie Blog / Nude Celebrity Post
Sponsored By:
Nitro Celebrities
39 Responses to "Celebrity Nipple Slip - Alyssa Milano"
Leave a Comment