Time & Date:
April 3, 2006 @ 10:13 pm
Categories:
Sometimes I really miss those good ol' college days, with the wild parties, the easy girls and all around drunken revelry. I was always one of them guys that you would see at every party, every bar, every night club, ingesting some sort of scooby snacks or buying a round of drinks for everyone. Not only that, but my roommates and I always were the ones throwing huge after-hours parties. Gorgeous wasted women everywhere, and always giving special 'attention' to the host(s).
Evidently, this is one of them theme-parties, where the idea is to dres up in certain kinds of costumes, depending on the theme, of course. Some of the more popular themes I've heard of, are: Pimps & Hos, Underwear, Pornstars, etc. All of which I'm sure men, or fraternities, have come up with as an excuse to get as many half-naked (or almost naked) women to a party, and get them drunk as hell. Which, in opinion, is one hell of an idea. Create an atmosphere where it's required for good college girls to dress like a slut, get shitfaced and it's all completely accepted. This drunk coed got a little wild and carried away when jumping into this guy's arms, and let her nipple/titty slip out a bit, while giving us a beautiful downblouse peek. Perhaps a 'Pormstar' party?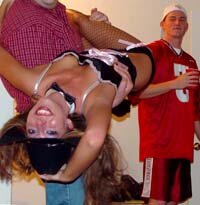 Free Sites:
Dumpster Sluts / Drunk University / Stile Project
Sponsored By:
Wild College Parties
One Response to "Oops! Downblouse Peek on Wild Drunk Coed"
will Said:
April 4th, 2006 at 9:55 pm

i luv nipples
Leave a Comment