Time & Date:
May 20, 2006 @ 7:27 pm
Categories:
I've always thought bikinis at the beach are such a cruel tease for men. I mean, you have this beautiful girl walking around with only enough material just barely covering where we all really want to see. You know, to get the full picture. Then, men are shamed if they look at her. What kind of crazy shit is that? They're only a tug-on-the-bikini-string away from being completely topless, and we are only men. Women should expect to deal with us drooling all over them.
I'm not exactly sure what's going on here. Did she undo her top herself, did her top accidentally come untied, or does the dude grinding into her ass from behind, have sneaky fingers? No matter how you look at it, it turns out as a very pleasant surprise. Especially, since she has such a great, all-natural rack. I think I would get hypnotized by watch her bare boobies bouncing and dancing around.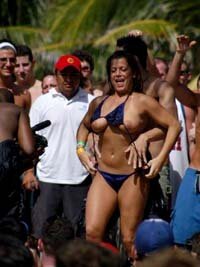 Free Sites:
Dumpster Sluts / Peep Hole Cams / Exhibitionism
Sponsored By:
Party Pimps
Leave a Comment