Time & Date:
October 4, 2006 @ 11:21 pm
Categories:
Oh man! I love this party girl's erect, perky nipples! That's one reason why I prefer smaller tits on women, because girls with tiny, little titties, usually have great nipples. Apparently, the exhibitionist in her leaves her completely comfortable being exposed in front of all those people.
Where a lot of women might be a bit shy about exposing their tiny tits to the public, this chick seems to be more than proud to be laying on her back, on a bar and topless, participating in body shots. Or maybe she's just completely drunk with zero inhibitions. Judging by her erect nipples, one might say that she's even a little turned-on by the whole event, but then again, she might just be laying underneath the air conditioning. Actually, I really don't care how or why her nipples are erect, I just wish I was there with my lips latched around them, right about now.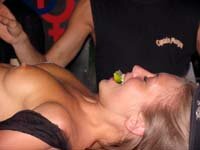 Free Sites:
Drunk Galleries / Platinum Voyeur Videos / Teen Rave Pics
Sponsored By:
Girls Gone Wild
..:: Official Web Site
4 Responses to "Body Shots Make Drunk Girl's Nipples Erect"
Leave a Comment