Time & Date:
February 5, 2007 @ 3:54 pm
Categories:
I think this is one of them shots where it was completely a coincidence that her nipple was visible in the photo. I mean, some shots are taken only because someone noticed a nip slip on a girl, but then there's the photos where no one even noticed, besides a carefully trained eye. It's not like her boob bounced right out of her blouse, but a carefully timed snapshot caught her nipple, by way of down her blouse, making a quick, little appearance.
This chick doesn't look like you're average party girl (unless she's just some drunk coed), which makes it hotter to see her nipple(s), because she doesn't seem like the type of girl that shows those puppies to just anyone. My only complaint is that we don't get a better look, but nip slips are very rare, so I'll take what I can get!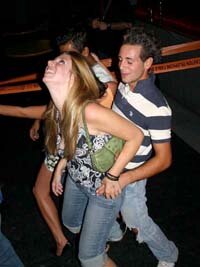 Free Sites:
Uncensored Drunks / Dumpster Sluts / Party Galleries
Sponsored By:
Wild Club Girls
One Response to "Downblouse Nip Slip on Dancing Club Girl"
login Said:
January 12th, 2009 at 12:10 pm

Super site darlings. Thanks awfully
Leave a Comment