Time & Date:
November 29, 2005 @ 1:38 am
Categories:
When I first looked at this photo, I thought for sure that this shitfaced party girl was passed-out, unconscious while standing in the middle of the dance floor. Especially, since she's looking down, yet she doesn't noticed her nipple slipping out of top. Then, I found this photo of the same girl, all bright-eyed and bushy-tailed.
I've noticed that girls with smaller tits also slip a lot. The other type I noticed slips nips a lot are girls with big, fake boobs. They girls with small tits don't have enough there to hold up their top, while the fake boobie girls, they just can't be contained as easily. Those big ol' mamba-jambas just want to bust right out of the material. I love small tits though, they usually have great nipples.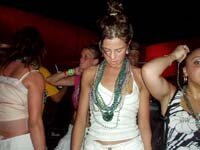 Free Sites:
Amateur Photo Album / Private Amateurs / Sleeploiatation
Sponsored By:
Real Drunk Girls
Time & Date:
November 28, 2005 @ 12:04 am
Categories:
You gotta love a girl who isn't shy about exposing her great tits in public, only to cool-off by a big fan. No, she's not lifting her shirt to flash a group of drunk, horny dudes. No, she's not dancing on a bar, hogging all the attention. She's simply hot from dancing and her pierced-nipple boobies need to be cooled off, dammit! When you have a nice pair of tits, they need to be pampered.
I'm sure she's also a little drunk, and she's probably a little trashy too. I mean, most girls don't lift their shirts to cool-off their bare boobies, so I'm guessing this isn't he first time she's whipped out her tits in public. I think she should continue baring her breasts, though. In fact, she should lead the women's movement into their right to bare their knockers in public. Ladies everywhere, unite!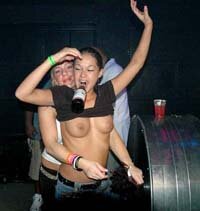 Free Sites:
Viva Voyeur / Home Made Videos / Drunk College Pics
Sponsored By:
Stupid Drunk Coeds
Time & Date:
November 26, 2005 @ 6:59 pm
Categories:
I'm not sure if this chick is in some sort of bikini contest, or if she just got a wild bug up her ass and ripped off her bikini just for the hell of it. Just for the sake of being wild and uninhibited, the center of attention and to be naked in public. I mean, she looks like she's having one hell of a time.
Obviously, she worked herself up to being completely nude, because a crowd of party-goers has gathered around her, of both men and women. Of course, everyone likes to see drunk people being wild and getting naked. I used to date this girl that anytime she got fuckered-up she couldn't keep her clothes on. It was funny and kinda hot at first, but after a while it started to get embarassing for me. She was a wild one though.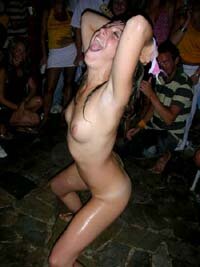 Free Sites:
Amateurs Gone Wild / Viva Voyeur / Exhibitionism
Sponsored By:
Drunk On Camera
Time & Date:
November 25, 2005 @ 6:05 pm
Categories:
Who would've thunk that good ole "Alley McBeal" would expose and flaunt her pretty, little titties to the public? Actually, I never really thought much of Calista Flockhart, also known as the title character on Fox's now cancelled TV show, "Alley McBeal". I always thought she was kinda cute, but she was also WAY too skinny. Plus, I hated that show.
It looks like Calista's at some sort of red-carpet event, with her lover, Harrison Ford. I'm not sure if they're still a couple or not, but they were at one time. Interestingly enough, my dad actually went to high school with Harrison Ford. He doesn't remember him though from those days. He said, "He must have been some kind of nerd or I would've known him." Of course, my dad was also a leader of a large greaser gang back then. But, yeah…check out Calista Flockhart's tits in her see-thru outfit.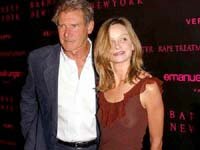 Free Sites:
Celebrity Nipples / Celebrity Movie Blog / Nude Celebrity Post
Sponsored By:
Paparazzi Filth Exposed
Time & Date:
November 23, 2005 @ 5:07 pm
Categories:
You may or may not remember, but, besides nipples, I'm also an ass man. A girl with a nice, shapely ass will win over just about everything, in my book. That is, of course, if I'm trying to get my hands on that ass. So, when women wear their thong panties with the straps coming out of their pants' waiste-line and over their hips, it's so freakin' hot.
There's lots of lipstick lesbian action going on at night clubs. Actually, it's more of being playful and naughty with other girls than real lesbianism. I'm not sure if they do it to get attention from the men-folk or just because lots of club girls are just smoking-hot and they can't control themselves. That's why I'm wondering if this drunk clubber girl pulled down her friend's skirt to lick her beatiful buns. That's what it looks like. I would like to see what these two would do if they weren't in public and alone.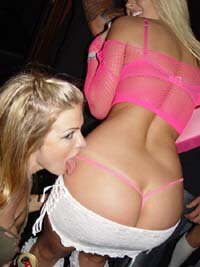 Free Sites:
Uncensored Drunks / Dumpster Sluts / Night Club Galleries
Sponsored By:
Hips & Thongs
Time & Date:
@ 4:27 am
Categories:
I'm not sure exactly what's going on here, but if a bunch of drunk college girls are laying on their backs while the guys throw money at them, it sounds like a party I would like to be at!
They might be getting ready to get naked here. It looks like our nipple slipee is actually tugging down a bit, at her top. All the girls' jeans are undone and a notice one of the coeds grabbing onto her own tits. Damn! This party is sounding better and better! Where can I donate to the fund? I want to see more!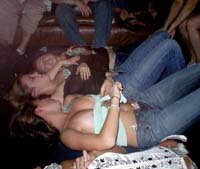 Free Sites:
Drunk Galleries / Amateurs Gone Wild / Peep Hole Cams
Sponsored By:
Wild College Parties
Time & Date:
November 22, 2005 @ 7:04 pm
Categories:
Yes, you probably would see her tits eventually, during a wet t-shirt contest. Most girls end up ripping off their t-shirts to guarantee a win. Let's face it, most of us guys would want see some nice, bare titties rather than her boobs thru a wet t-shirt. Bare breasteses would get a lot more attention.
Since this drunk coed officially still has her shirt on, and it's covering her tits, I think this should qualify as a "nipple slip". Plus, I think it's just a cool photo.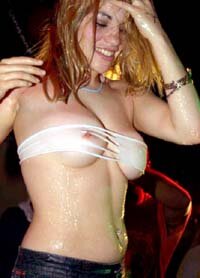 Free Sites:
Teen Rave Pictures / Drunk Girl Galleries / Accidental Voyeur
Sponsored By:
Drunk Girls
Time & Date:
November 21, 2005 @ 7:44 pm
Categories:
I guess this really isn't a nipple slip, per se. I think this one might be intentional, but I haven't seen that many photos floating around of Elisha Cuthbert's tits. She could be just another victim of the flashbulb and thin fabric.
For those of you who are not yet familiar with Elisha Cuthbert, she was the blonde bombshell, pornstar in the movie, "Girl Next Door". She also played the hottie high school girl who banged Luke Wilson in "Old School". I haven't really paid attention to her acting ability, but she sure is easy on the eyes. Elisha Cuthbert's boobs is even easier on the eyes.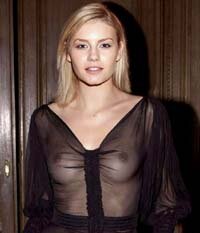 Free Sites:
Celebrity Nipples / Celebrity Movie Blog / Nude Celebrity Post
Sponsored By:
Mr. Skin's Nude Celebs
Time & Date:
@ 3:14 am
Categories:
Usually, real club girls go all-out on their outfits. Being part of the club scene usually means being part of the fashion show. The night clubs aren't just for dancing anymore. Men participate in the pseudo fashion show too, but the real highlight is the ladies. Damn they look good! You probably won't find more beautiful women, in one place, dressed this hot and sexy anywhere else. The sleazier, the better.
This chick seems to have went all-out on the disco duds, at least to some degree. That low-cut, loose-laced top mixed together with a good boob job and maybe a little dancing to the beats and we got ourselves a grade-A nipple slip. Those beats just bounced her boob(s) right out of her top. Well, enough to see some nipple.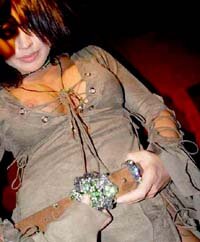 Free Sites:
Dumpster Sluts / Home Made Videos / Max Nipple Pics
Sponsored By:
Sex In The VIP
Time & Date:
November 18, 2005 @ 5:38 pm
Categories:
Wow! A gorgeous party girl in a loose, skimpy cocktail dress. Now that's some sweet eye-candy! I love it when I see chicks dressed like this, and I like it even better when it's slipping off their hot, little bodies, exposing their boobs in public.
I used to date this club girl who dressed like this all the time, and she never wore anything under it. No bra, no panties, nothing. She was completely naked under that skimpy dress and it totally turned me on. I would love copping feels under her dress while standing at the bar. Sometimes me would sneak-off into a dark corner of the night club and I would take things a little further. Let's just say it made for easy access.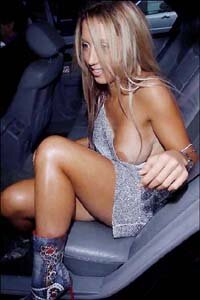 Free Sites:
Extra Long Nipples / Amateur Album / Dumpster Sluts
Sponsored By:
Public Exposure
« Previous Page | Next Page »