Time & Date:
November 10, 2005 @ 6:27 pm
Categories:
It seems these drunk party girls decided to strip down to their bra and panties, and go for a little late night dip in the pool. Always a good time after a night out drinking, especially with a bunch of drunk hotties! I'm not sure how that one dude got himself involved with three wet, drunk cuties only in their underwear, but he's one lucky guy!
I'm ready to strip off my clothes and jump in the pool, myself! As long as I get to party with these three girls. Of course, it's only 44 degrees here, in Chicago, and it's not exactly the backyard-pool capital of the world. I guess I will, have to wait all the way until June for that.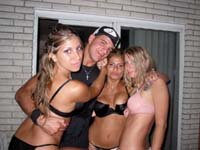 Free Sites:
Dumpster Sluts / Peep Hole Cams / Private Amateur Videos
Sponsored By:
Wild Drunk Chicks
Time & Date:
@ 1:42 am
Categories:
This drunk girl's big ol' titties were just begging to be grabbed (or cupped). I can see why this guy came up behind her to take advantage. Actually, it looks like she probably knows him, but her tits were still begging to be groped.
During this drunken grope-fest, it appears one of her huge boobs has started to work it's way out of her top. You may have already noticed that her areola is already making an appearance. Maybe that's why the guy is feeling her up. It's to distract her so he can help her top the rest of the way open. That way it will be fun for us all!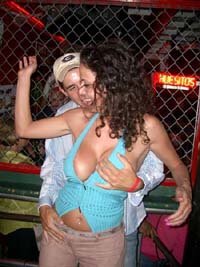 Free Sites:
Viva Voyeur / Extra Long Nipples / Drunk Girl Galleries
Sponsored By:
Hardcore Partying
Time & Date:
November 8, 2005 @ 1:43 am
Categories:
I don't really know much about Beverley Mitchell, besides that she was on the TV show "7th Heaven". I also know that if you look closely down her blouse, you can see some nipple.
I pulled up this bio link from AskMen if you want to know more about her.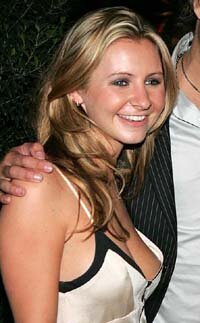 Free Sites:
Celebrity Nipples / Celebrity Movie Blog / Nude Celebrity Post
Sponsored By:
Celeb Tits & Nipple Slips
Time & Date:
November 7, 2005 @ 7:08 pm
Categories:
My guess is either this drunk party girl either was just getting nailed in that SUV and forgot to tie her top, or her blouse somehow came untied, unbeknownst to her. Either scenario is a good one to believe, but I'm going to believe she was getting drilled in the backseat.

Of course, there's always the option that she likes to walk around with her blouse open, worn like a smock. She will get a lot of attention, that's for sure.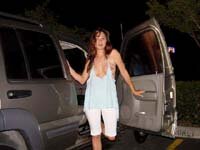 Free Sites:
Viva Voyeur / Teen Rave Pictures / Exhibitionism
Sponsored By:
Easy Drunk Girls
Time & Date:
November 6, 2005 @ 10:27 pm
Categories:
Every now and then I get together with a group of friends. We get all decked-out and meet at some fancy restaurant and pretend like we can actually afford it. Little does anyone else know that my beat-up, rust-ridden car is parked a few block away.
A group of close friends is a safe place to get ripped without it being totally embarassing. I mean, they probably have seen you do your worst anyway. What's a little erect nipple slipping out of your top going to hurt?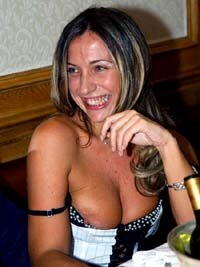 Free Sites:
Amateurs Gone Wild / Extra Long Nipples / Accidental Voyeur
Sponsored By:
They Drunk
Time & Date:
@ 3:18 pm
Categories:
Boat parties are always a lot of fun. They're fun for me, anyhow, but that might be because I'm from the Midwest. Boating isn't exactly a way of life in the midwest, so when we get the opportunity, we take it. Evidentaly, these party people like to get tanked on the boat too.
This is a pretty obvious boobie slip, but we also have a little upskirt panty shot on the same girl, as well. Most women are pretty good at keeping the goodies under wraps, but when this chick gets drunk she lets it all hang out..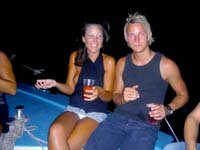 Free Sites:
Dumpster Sluts / Peep Hole Cams / Amateur Voyeurs
Sponsored By:
Crazy Party Girls
Time & Date:
November 5, 2005 @ 4:03 am
Categories:
That's right! Raise the roof, baby! Just keep those arms up and those nipples out in public view! She's at some college party, and it looks like she's doing some kind of drunk-dancing on a table or something.
I love these types of girls at parties. The only problem is that there's always about 10 other dudes that also notice how shit-faced she is. Then they're all swarming around her, cock-blocking your game, so they can be the ones to nail her that night. I got to be the lucky one, one night, with some fuckered bimbo. It was great. She just took me into the back bedroom of the party and did her thing. The only problem was, she kept passing-out on me. Damn her!.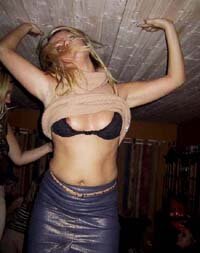 Free Sites:
Drunk Galleries / Amateur Photo Album / Viva Voyeur
Sponsored By:
Wild College Parties
Time & Date:
November 4, 2005 @ 10:39 pm
Categories:
There seems to be a lot of nipple and boob slips during a foam party. I've been seeing more and more lately. I guess I can see why slips would happen during this. You can't see well, arms are swinging around, shirts are being weighted down by the wet foam, and most people wouldn't be paying attention if their nips were showing or not. And I'm not even figuring in being drunk as hell, either.
Of course, this girl doesn't look like she has a bubble of foam on her. Her reaction looks like she's both surprised and embarrassed, which I would assume is typical when one's boob pops out of her top. I probably would have a smilar reaction if my member suddenly popped out of my pants.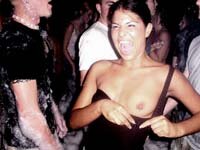 Free Sites:
Teen Rave Pictures / Exhibitionism / Naughty Amateur Movies
Sponsored By:
Crazy Club Flashers
Time & Date:
@ 5:02 pm
Categories:
In honor of Pamela Anderson retiring her tits, I figured I would give you one of the last looks at her massive boobs. Well, at her nipples anyway. Of course, you will always be able to find early pictures Pam Anderson and her tits, but there will be no more new boobie pictures of Pam. She already got rid of her implants once, and had them put back in once she relized they are her meal ticket. So, we shall see how long she keeps her top on.
If that were me in this picture with Pamela, I would have had it blown up to large, poster-size and put on my wall. It's one thing to have your picture taken with Pam, but to have her Nipples slipping out of her top in that picture is a whole 'nother story. It's worth the bragging rights alone!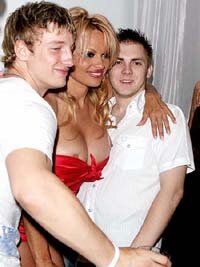 Free Sites:
Celebrity Nipples / Celebrity Movie Blog / Celeb Nip Slips
Sponsored By:
Nude Female Stars
(May Contain Pop-Ups)
Time & Date:
@ 2:59 am
Categories:
I would be all wide-eyed and smiling too, if I were looking downblouse on this club girl cutie. She looks like she's carrying a nice, firm rack. The kind that should be exposed to us all!
I think she's just giving him a sneak-peek, becasue she was in the mood for some dark meat that night.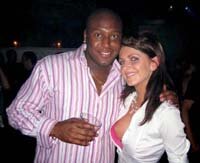 Free Sites:
Uncensored Drunks / Dumpster Sluts / Max Nipple Pics
Sponsored By:
Wild Club Videos
« Previous Page | Next Page »