Time & Date:
March 9, 2006 @ 6:42 am
Categories:
I know exactly how this chick feels. You've been drinking all day, since happy hour, it's only 2:00am and you're completely shitfaced, just barely hanging in there. The only reason is because you don't want to miss the party, so you keep going, getting more wasted by the hour. That's a rough night, and it's usually never worth it.
It kind of looks like the cameraman walked up and told her to flash for the camera and she just barely got her hands up to her neckline, to expose her cleavage. Being completely drunk and careless she pulls down her top a little too much, revealing her areola/nipple. It's not the best one I've seen, but at least she's trying.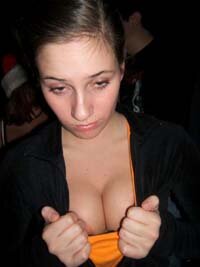 Free Sites:
Uncensored Drunks / Wild Amateurs / Viva Voyeur
Sponsored By:
Drunk Girls
Time & Date:
March 6, 2006 @ 6:56 pm
Categories:
One thing I love about a woman's ass, besides the obvious, is their ability to shake it. If a girl has a great ass, I could watch her dance, wiggle and shake her butt all day long. You feed a somewhat-dirty girl some alcohol and give her an audience and you just might get her to get slightly naked and shake her bare ass for the crowd. Always a lovely spectacle.
I know how this guy feels. I don't know how many times I've seen girl's beautiful ass and just wanted to reach out and grab a handful of cheek; maybe get in a few spanks in the process. I've never personally had the experience of being at a club and reaching out for a handful of some dancing girl's bare ass, but I can imagine what a wonderful experience it must've been.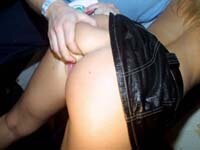 Free Sites:
Drunk Galleries / Viva Voyeur / Stile Project
Sponsored By:
Crazy Club Flashers
Time & Date:
March 3, 2006 @ 10:36 pm
Categories:
God bless the person who designed these kind of tops for women! Either it was a woman, who didn't count on perverted individuals such as us, or it was male designer, who knew exactly what he was doing. I think these tops have produced more nipple and titty slips than anything else out there, besides, maybe bikinis. That happens quite often in bikini tops, if they're not careful.
This chick has to be drunk. I can't think of any other explanation of why a girl in a top likes she's wearing, with no bra, would lay down on top of a bar, in a crowded night club. I know why belly shots are fun, but you would think that she wouldn't want her free and loose titties flopping all over the place, let alone exposed in a public setting. Thankfully, she's either completely shitfaced or clueless to a man's radar for such things. She looks like she has some pretty, tiny titties too. Actually, an all-around nice body, and a cutie to boot.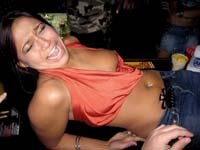 Free Sites:
Rate Nude Girls / Amateur Made Videos / Classic Voyeur
Sponsored By:
Sex in the VIP
Time & Date:
March 2, 2006 @ 5:32 pm
Categories:
What is it about DJs that attracts the ladies so much? Most of the time DJs are nothing more than music/techie geeks with good taste in music. I used to hang with a bunch of DJs back in the day and there was nothing really speacial about any of them, yet they had ass lining up outside their bedroom door. Of course, I used to be a drummer for a band and chicks dug that too. It must be the primal beats that makes their pussy wet.
These club girls are all lined up in front of the DJ booth/tables dancing and flaunting their stuff. The girl in the white bikini top must have been trying out some new moves, because I would think it would take some major wiggling to work her boob out the bottom of her top. And the fact that her titty slip, exposed to the public, has still gone unnoticed makes it all the better.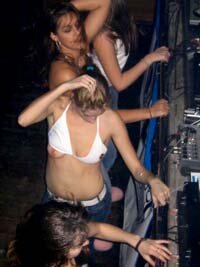 Free Sites:
Drunk Galleries / Peep Hole Cams / Teen Rave Pics
Sponsored By:
Wild Club Videos
Time & Date:
February 18, 2006 @ 10:21 pm
Categories:
Two pretty party girls just hittin' the clubs. It seems innocent enough. They go out and have some drinks, maybe get some dancing in, and more than likely pick up a few horny studs while they're at it. And then it's back to someone's place for a night of hot, drunk sex. Sounds like my kinda night.
Though they look like a couple of hard partying girls, don't appear to be wearing anything particularly slutty, that would easily result in a nip slip. So, apparently, this is just a good old fashioned accidental nipple slip, unless, of course, she just had her titty out to let some passer-by suckle on her teat. Either way, that little sucker is out there, exposed in public.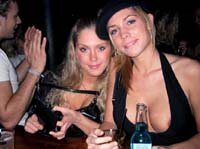 Free Sites:
Drunk Galleries / My Drunk Teens / Stile Project
Sponsored By:
Night Club Girls
Time & Date:
February 16, 2006 @ 12:44 am
Categories:
You gotta appreciate some drunk, cute party girl so wrapped up in dancing and wiggling her body that she doesn't even notice her nipple slipping out of her top. She's just dancing the night away, like she would if her tiny, little titty wasn't popping out of her blouse. A very fortunate accident for us.

She has all the makings going on to insure a public nip slip. A loose shirt, small titties with pierced nipples, a heavy mane of beads bouncing and moving her already loose shirt around, and she looks pretty sloshed to me. Plus, her nipple-ring has snagged her top under her exposed nipple, making sure the her nipple stays in public view, for everyone to see. I love it!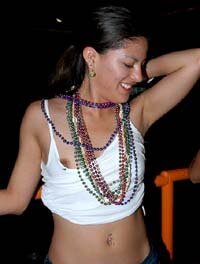 Free Sites:
Dumpster Sluts / Exhibitionism / College Dorm Spy
Sponsored By:
Drunk Girls
Time & Date:
February 14, 2006 @ 1:45 am
Categories:
I think it's pretty sexy when hottie country girls get all dressed up in their cowgirl gear for a night of two-steppin' on the town. At least it's hot when they know how to dress sexy, and a lot of them do. My sister-in-law is a big country music fan, so for her birthday we all went to see Josh Gracin (remember that geek from "American Idol"?), and their were a ton of drunk hotties there in full cowgirl attire. I was getting whiplash from turning my head so much to check out all the tail everywhere. It made me really wish I dug country music a lot more. That just ain't happenin', though. Josh Gracin sucked-ass, by the way.
I'm not a huge fan of big, fake tits, however, I am still a man and a couple of massive mammories busting out of some drunk chick's top, fake or natural, is still going to get my attention, and maybe even keep it. Now, if I notice some of her dark areola/nipple starting to slip out of her tight, black leather vest, than she will definitely have my undivided attention, whenther she likes it or not.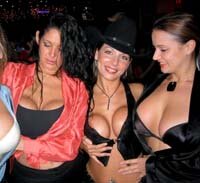 Free Sites:
Viva Voyeur / Home Made Videos / Stile Project
Sponsored By:
Amateur Party Girls
Time & Date:
February 13, 2006 @ 1:34 am
Categories:
I love when drunk girls are on the dance floor and they're getting horny and loose. Even though they're not the most graceful dancers at the time, they try harder to have sex appeal, and sometimes over-shoot. It can be a little embarassing when a chick is obnoxiously sexual with you in public, but who in their right mind would ever try and stop? Personally, if I'm getting all that attention and sexual vibe from her, she can do whatever the hell she wants. Just as long as she's coming home with me that night.

One of the factors I found interesting in this photo is that it was taken from the ground up. That means we're looking up these two drunk dancing girl's short skirts, at their thong covered ass. Not a bad upskirt shot at all! The party girl in red looks likes she's riding or stradling her dance partner somehow, exposing her spread ass cheeks. I think I see a little 'brown eye'. The drunk girl with the blue skirt looks like she's exposing some pubic growth out the side of her thong panties.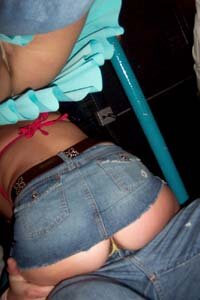 Free Sites:
Uncensored Drunks / Dumpster Sluts / My Drunk Girl
Sponsored By:
Party Girl Upskirts
Time & Date:
February 11, 2006 @ 4:09 pm
Categories:
In most cases, aging rocker-bimbos, with big fake boobs and draped in faux-bling, don't do a thing for me. She might catch my eye, because, after all, I am a man and just about any girl wearing a tight t-shirt of types is going to grab my attention. Especially is that big ol' fake titty is poking out the side, completely exposed in public.
When I first saw this photo I thought it was a full-on titty slip, where somehow her boob found it's way out the side of her top, through the arm hole. After closer inspection, I don't see how that big, hard boob would be able to escape her tight shirt, and especially at that angle. So apparently, like a lot of girls with boob-jobs, she likes to show them off to anyone will pay attention. It works, becasue it got my attention!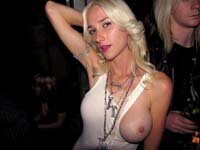 Free Sites:
Rate Nude Girls / Viva Voyeur / Sexy, Drunk & Funny
Sponsored By:
Crazy Club Flashers
« Previous Page | Next Page »