Time & Date:
January 16, 2007 @ 3:58 am
Categories:
It's been a while since I've posted a nice upskirt shot of some party girl's barely thong-covered clam. Of course, if she were wearing no panties at all underneath her skirt, it would be much better, but I think you would agree that this is still a very sexy photo. I mean, I know I wouldn't mind poking my head up her skirt and let her gyrate and grind on my tongue.
I think it's the invention of the camera-phone, or other small, palm-sized cameras, that have led to the influx of upskirt photos of cute girls, both with panties and without any panties. Especially from club girls dancing, because they're all caught up in the moment and aren't watching for perverts, like us, sticking their camera-phone up her skirt and between her legs, snapping photos of her puss. God bless all you sneaky photographers!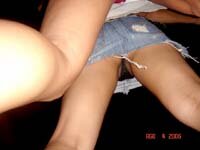 Free Sites:
Rate Nude Girls / Nude Club Pics / Buck's Voyeurs
Sponsored By:
Party Girl Upskirts
Time & Date:
January 7, 2007 @ 11:13 pm
Categories:
To be honest, I'm having a hard time distinguishing whether this is an accidental titty slip or if this drunk club girl is intentionally flashing her big ol' plastic boob. Upon first look, it appears she's just posing with her boob intentionally exposed for the camera, but studying the photo harder, it could just as easily have been a slip. Her boobs look hard and I could see how her top could slip right down, making one of them hard boobs pop right out into the public.
One of the many things I learned, hanging out in the night club scene for many years, is that a lot of those girls have fake boobs, and boy do they love to show them off. That's what's mainly holding me back from believing this to be a titty slip, but either way, we have cute, drunk girls and public nudity. That's what I like to see!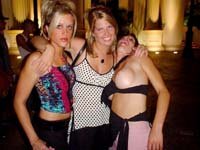 Free Sites:
Uncensored Drunks / Party Galleries / Sexy, Drunk & Funny
Sponsored By:
Crazy Club Flashers
Time & Date:
December 27, 2006 @ 10:17 pm
Categories:
Don't you just love when cute girls go out in scantily-clad attire; loose fitting and wearing no under garments? Not only do they usually look amazing, but there's always a helluva better chance for nip slip, or quick upskirt shot, while on the dance floor, wiggling and jiggling without a care in the world. It's during these times that they don't notice that their titty has bounced right out of their blouse, or they forgot they went pantyless, while platform dancing.
It's obvious that this club girl cutie doesn't have a clue that her nipple, and almost her full boob, has worked itself out the top of her blouse/dress, as she dances at the night club. Lucky for us, there was an observant and quick photographer at the scene to catch this girl accidentally slipping her nipple in public. She's pretty cute, too, and what appears to be possessing a very nice rack. I would love to see the rest of her, now.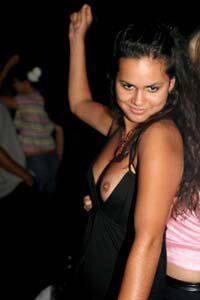 Free Sites:
Rate Nude Girls / Nude Club Pics / Drunk 365
Sponsored By:
Wild Club Videos
Time & Date:
December 4, 2006 @ 11:10 pm
Categories:
Getting naughty in the night club is always a lot of fun. It's dark, not many people are paying attention or are just too drunk too notice. Best of all, the thrill of actually getting caught be someone really makes it even hotter. Several years ago, I was taking pictures with an ex girlfriend of mine in one of them instant photo booths. Before we knew it, we were just going with the flow when she removed her top. This, of course, led to some nipple play, which led to us TRYING to have sex in there. BUT…we got caught by the bouncers. We had to hurry home, after that, and finish the job.
I haven't been able to figure out if this girl realizes her skirt has ridden-up, exposing her pierced pussy lips yet, or not. It definitely appears she's teasing some dude by giving him a booty-rub over over his jeans, but does she notice that cold draft going between her legs? Obviously, someone noticed this drunk and horny girl's pussy exposed to the public, and it looks like it's with a married man, too.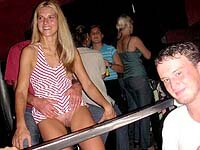 Free Sites:
Exhibitionism / Wild Amateurs / Accidental Voyeur
Sponsored By:
Sex in the VIP
Time & Date:
December 3, 2006 @ 9:41 pm
Categories:
I'm not exactly sure what's going on in this photo, but it appears that a shot-girl, or Jager-girl has accidentally let her big, bare boob plop right out of her top, as she leans over. It doesn't seem like she realizes her boob is out, in the open yet, either. Which probably means she had to stand upright, exposing her boob(s) to the entire bar, before she or someone even noticed. Now, that's hot!
I used to party with a few Jager-girls, and one thing I know for sure, they get pretty freakin' wasted while they're working. For one thing, they are all usually drop-dead gorgeous, have amazing bodies and dress very scantily. I can see how one of these drunk shot-girls could easily, inadvertently expose themselves, while working. They do shots with their male customers, wear revealing clothing, and make more money, the more skin they show. It's a nipple/titty slip in the making.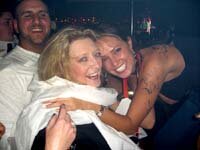 Free Sites:
Uncensored Drunks / Nude Club Pics / Buck's Voyeur Links
Sponsored By:
Drunk Club Cuties
Time & Date:
November 27, 2006 @ 2:45 am
Categories:
Ok, so it's not a full nip slip, but the slutty nurse's costume with the big cleavage really helps emphasize her areola/nipple, that's beginging to make a public appearance. I'm sure she purposely unzipped her suit a bit, to expose her cleavage, making the "nurse" look even sluttier. And what man doesn't fantasize about a hot, sex-starved woman who waits on them, hand-and-foot? Her nipple slipping out of her bra makes her even more appealing.
Unfortunately, most nurses lok nothing even close to this club girl cutie. I'm one of them "accident-prone" people, so I've spent a lot of time in the hospital, for long stays. I can't think of one time where I had a hot nurse, or even doable nurse. I mean, I wouldn't have stopped any of them if they wanted to check to make sure ALL of my "equipment" was working up to par, but by no means would any of them end up in any of my nurse-keeps-me-sexually-satisfied fantasies. The club girl with the cleavage below, would be involved in those fantasies.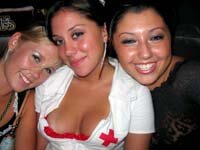 Free Sites:
Exhibitionism / My Drunk Teens / Couples Home Videos
Sponsored By:
Wild Club Videos
Time & Date:
November 21, 2006 @ 11:49 pm
Categories:
There's always one sure-fire way to witness a nip slip, if you really must, and that's to just appraoch a woman and pull down her top until her titty pops-out. Of course, I wouldn't recommend this option, because it's also a good way to get your ass kicked, but apparently some chicks are totally cool with grabby hands.
I'm guessing this wild club girl is one of the types that doesn't mind being groped and exposed in public, which is a quality that I can always respect, as long as it's not my own girlfriend, or anything. It's either that, or she's just too damn drunk to stop their hands, or too drunk to care. Whatever the case, I think more women should let us paw and grope them as they walk by. My days would be much more active.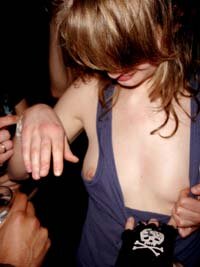 Free Sites:
Drunk Galleries / Nude Club Pics / Wild Amateurs
Sponsored By:
Crazy Club Chicks
Time & Date:
November 3, 2006 @ 4:20 pm
Categories:
I love it when a girl, who ordinarily looks to be such a sweet and innocent cutie-pie, gets so drunk and wasted that she decides that it's her duty to expose her own beautiful boobs to the world. I mean, it's always a possibility that flashing her boobs is in her normal character, but I like to think it's not. It makes it sexier when it's not in her nature to reveal her nakedness in public.
Obviuously, this drunk coed cutie is no innocent virgin. It appears like she may have a boob job, and I definitely see a pierced nipple. Plus, the hot pink panties are usually a dead giveaway that she's a bit on the wild side. I don't know of too many church-going gals with boob jobs, pierced nipples and hot pink panties, underneath their sunday dress. Then again, that WOULD be hot if she were a church-going gal.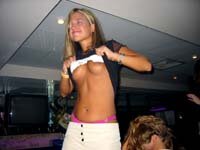 Free Sites:
Rate Nude Girls / Sexy, Drunk & Funny / Teen Rave Pics
Sponsored By:
Girls Gone Wild
..:: Official Web Site
Time & Date:
October 30, 2006 @ 2:25 pm
Categories:
When I was younger, I always always so tempted to pull the string on some girl's bikini, exposing her beautiful rack for all the world to see, namely me. Of course, I would never actually do that, but that string being the only protection between me and boobies, is like dangling lunch money in front of a bully. He knows he can't get away with it, but how sweet would it be if he could.
Lucky for us, this drunk coed's bikini string accidentally came untied, revealing her nipple and partially her boobs. It appears there's some sort of exhibitionism already going on, judging by bar patrons watching the girls, but they're definitrely not strippers, and since they're in a bar, I'm only assuming the girls already fairly schnockered.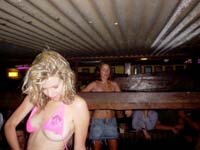 Free Sites:
Drunk Galleries / Amateur Voyeur Movies / My Drunk Teens
Sponsored By:
Drunk Club Cuties
Time & Date:
October 24, 2006 @ 11:02 pm
Categories:
I would have to say that this runs more in the 'forced' nip slip category. In other words, her nipple(s) being exposed to the public, like that, probably wasn't intentional, but it's definitely not accidental, either. In fact, it's her drunk and aggressive lesbian girlfriend that is taken advantage of her horniness and her need to be touched. But she's not the only one. If you look in the background, another drunken club girl has her blouse pushed-up, over her bra.
I used to be a big part of the club scene in my city, and seeing a couple of hotties go at it, nudity and all, was part of the norm. Don't get wrong, it never got old, but it was usually at the after-hours parties (usually at my pad) is where it got really hot. A lot of strippers hung-out in the scnene and they were not shy about getting naked in front of people, and even go as far as having lesbian sex in front of party people. Those visions has kept me company many lonely nights.
Free Sites:
Uncensored Drunks / Nude Club Pics / Wild Amateurs
Sponsored By:
Sex in the VIP
« Previous Page | Next Page »