Time & Date:
June 7, 2006 @ 3:29 am
Categories:
This poor girl in white. When she saw these pictures of her and her friend, she was probably thinking, "Damn blonde bitch! She stole my thunder again!" Someone was finally giving her attention by taking a her picture, while the whole time, her drunk-ass girlfriend in the background, is letting her bare boob hang out. Oh well, I guess she's going to have to expose her tits the next time, to stay in the competition.
This titty slip is obviously accidental. It looks like it's the ole strap-slips-off-the-shoulder slip, which can very easily happen to any woman, busty or flat-chested. They have nipple tape, you'd think they would have something to keep their shoulder straps on, too. Of course, I don't want to give any women any bright ideas about making their boobs less visible. Judging by the expression of the dude sitting next to her, I'd say he would agree with me.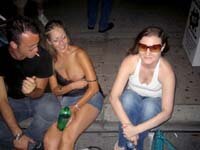 Free Sites:
Uncensored Drunks / Home Made Videos / Teen Rave Pics
Sponsored By:
Real College Girls
Time & Date:
June 5, 2006 @ 9:20 pm
Categories:
These drunk party girls are dressed a bit too hip to be at your regular, everyday house party. My guess is that this is some sort of after-hours or primer party, for a bunch of wild clubbers. They are already looking a little on the 'wasted' side, so I'm sure they already had a long night of partying, before this photo.
It appears a few buttons have popped open on this perky-breasted, braless blonde. I do like it when women wear tight fitting shirts with a few buttons undone, but I never have see that style with this much flesh showing. I'm not complaining, though! I'll take it where I can get it.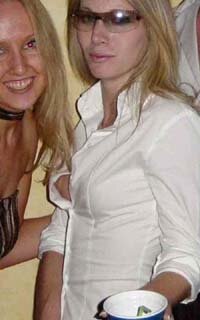 Free Sites:
Rate Nude Girls / Exhibitonism / Stile Project
Sponsored By:
Hardcore Partying
Time & Date:
June 3, 2006 @ 6:33 pm
Categories:
I love it when I'm at some wild party and a couple of the drunk hotties are so far gone that they're already becoming lesbians, for all the male attention. I've had a few crazy bashes, where some of the girls actually go as far as having full blown sex with eachother! It's beautiful! The only problem is, that you better make sure you have a woman around , because you're going to be so horny after that, that you'll have no other choice, but to bust a nut anyway you can. If you're really lucky, maybe one of the drunk lesbos will be so horny that they just MUST have you right then and there! That's wishful thinking, of course.
In this photo, it's actually the nipple sucker, rather than the suckee, that's slipping her nipple, as she's bending down to suck on her girlfriend's nipple/titty during some drunken revelry. If you notice in the background, that there's a lot of booze bottlews, and what looks to be a group of drunk and horny frat dudes, cheering the girls on. A typical scene during some of the wildest parties you will ever see.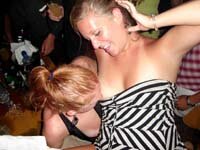 Free Sites:
Drunk University Girls / Sexy, Drunk & Funny / Drunk College Pics
Sponsored By:
Wild College Parties
Time & Date:
May 31, 2006 @ 6:09 pm
Categories:
Yes, it's true. I do love a woman's nipples, but I double as a legs-and-ass man, as well. When I first saw this photo, I was reminded why I love those appendages on women, so much. I couldn't (and still can't) stop drooling, and rom what we can see, she's flawless, from the waist–down. I bet she looks absolutely amazing in a mini-skirt and high heels.
I'm sure some women intentionally put on a show for the boys, by shaking their uncovered ass, but I really believe most of the upskirt photos, including this one, is drunk party girls, forgetting that their sexy, little ass is exposed. I don't see any evidence that she's wearing a thong, either. Too bad this picture wasn't taken at a different angle, where we could see more than just her ass. I'm cool with this angle too, though.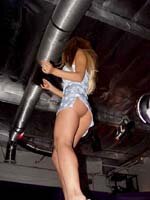 Free Sites:
Drunk Galleries / Peep Hole Cams / Night Club Galleries
Sponsored By:
Party Girl Upskirts
Time & Date:
May 28, 2006 @ 4:21 am
Categories:
As I'm sure you can already tell, I love girls when they're drunk. They're so much fun and usually very horny, but when they get together with their drunk girlfriends, sometimes they really act like goofs. Almost like they're drunk for the first time in their lives, but still in high school. It's kind of annoying, especially when you're out at some posh night club, but as long as they're as easy and naive as drunk high school girls, then I can deal with it.
You might have to look carefully for this nip slip, because it's not where you would normally think it would be. Actually, I'm surprised I caught it. If you look closely to the far left of the photo, you will see a nice, long erect and pierced nipple peeking out of a girl-in-white's blouse.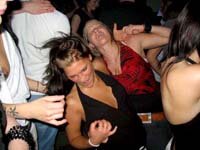 Free Sites:
Rate Nude Girls / Amateur Voyeurs / Nude Club Pics
Sponsored By:
Sex in the VIP
Time & Date:
May 22, 2006 @ 3:14 am
Categories:
At first, I was going to say that this party girl was a bit more sophisticated than what we usually see here, but when a woman wears an open blouse, she's even more susceptible to a nipple slip than most. And how I could I really say that this one's classier when her nip has slipped out into the public, like all the rest? I just can't. I won't!
It appears that both this blonde party gal and her boyfriend have a thing for showing off their chests. Like, "Hey! Look at me!" The only difference is that with her, it's hot; with him, it's not. Although she obviously had a boob job to make her little tits, that perky, but she still have a nice set of torpedos on her, nonetheless.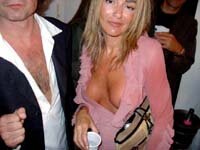 Free Sites:
Uncensored Drunks / Home Teen Series / Teen Rave Pics
Sponsored By:
Candid Crush
Time & Date:
May 19, 2006 @ 6:45 pm
Categories:
I can honestly say, that I've never seen this variation of a body shot, and for some reason, I've never even thought of it. Of course! Why didn't I think of mixing two of nature's best juices? Pussy and alcohol. Life's blood. I could drink that cocktail all damn day!
I would say a woman would have to be awfully drunk to let some bartender pull-up her panties, exposing her pussy to the public, and pour tequilla down her snatch. I'm just wondering who the lucky guy was, who got to lap it up? Maybe she let him snort lines off her ass, too, later on. All I know, is if she's already that far gone, she more-than-likely gave it up to at least one guy (or girl) that night.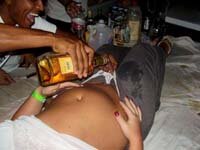 Free Sites:
Drunk Galleries / Home Made Videos / Wild Amateurs
Sponsored By:
Drunk Girls
Time & Date:
May 15, 2006 @ 5:50 pm
Categories:
This drunk cutie is showing a bit more than we usually show here, but those natural boobs are just too perfect not to post! And the fact that she's so wasted and caught up in the moment, that she rips her wet t-shirt off is also a major contributing factor to posting her topless, rather than a nip slip.
I'm guessing that this drunk and wasted coed won the wet-t-shirt contest. Not just because she's the only one topless, or that she has a perfect set of tits, but for the near-sexual activity as she's straddling another drunk college girl, who has a beautiful pair of legs on her, by the way. I saw one video where the girl was surrounded by drunk, horny men as she stripped for the crowd, from a boat. Before she was done, the men were holding her up by her arms and legs, while other dudes fingered her, and one even penetrated her pussy with a drilldo. The hot thing about it was, that she was enjoying every minute of it. It even looked like she had an orgasm.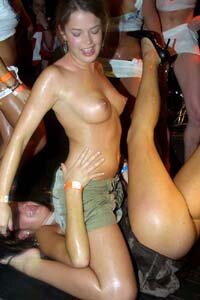 Free Sites:
Drunk Galleries / Exhibitionism / My Drunk Teens
Sponsored By:
Girls Gone Wild
..:: Official Web Site
Time & Date:
May 13, 2006 @ 11:43 pm
Categories:
Yummy! This drunk coed is a cutie! I don't know what kind of dress she's wearing, but it accentuates her hot, little bod. Judging by her friend's t-shirt showing "The Shocker", my imagination is running wild with what those two may be up to later on that night.
I don't know if it was intentional to wear her bra as a top (like Sue Ellen Mishky), or if she somehow lost her top during her drunken stupor, but it looks like she's about to loose her bra, too! *fingers crossed* Judging by her cleavage and her dark brown areolas/nipples becoming visible as her bra slips down her little body further, I'd say she's got a very nice rack behind that lycra.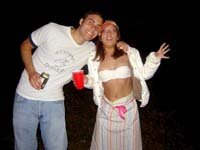 Free Sites:
Drunk University Girls / Dumpster Sluts / Peep Hole Cams
Sponsored By:
Frat Party Fuck Fest
Time & Date:
May 10, 2006 @ 8:21 pm
Categories:
There's always been something I've loved about sorority girls. I think it's the idea of so many young, naive girls in one place, together; having cocktails, getting drunk, talking about dick-size, then having a pillow fight in their skimpy nighties and it all ends in a sweaty heap of naked, lesbian lust. That is, of course, until the men arrive, where they have the task of satisfying all those horny coeds. A man's job is never done, is it?
It never hurt anyone to have an active imagination. Of course, I'm sure none of those things happen in a sorority house. They're girls. They're made of sugar, spice and everything nice. But not men. When we see an opportunity to catch a downblouse shot of a drunk sorority girl's tit/nip slip, we're going to take it, and maybe even exploit it, if possible. It's a good thing for booze or we may never get to see girls exposing themselves, accidentally or not.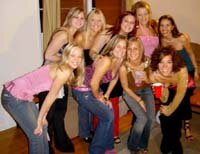 Free Sites:
Drunk Galleries / Viva Voyeur / Drunk College Pics
Sponsored By:
Wild College Parties
« Previous Page | Next Page »